The burden of how to build new cities across Africa to mitigate the mass migration of people from rural to urban settlements continue to raise an eyebrow over the broken relationship in the global dialogue on climate change and sustainable development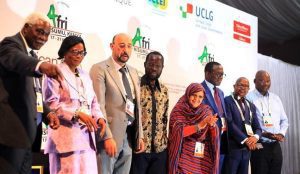 Although migration is a global trend, it is believed that the highest numbers of people moving from rural communities to settle down in urban cities are Africans. Different studies reveal that over 50 percent of Africa's population most of who are going to be young people will live in informal areas by 2050.
This is the future reality for the people of the continent if nothing is done to arrest the effects of this disaster on livelihood sources. How to provide and manage the socio-economic needs of this group to align with the concept of climate change and sustainable living remains a big question waiting for an answer.
With over $110 billion in annual infrastructural deficit, there is no doubt about the need for urgent action on resource mobilisation to tackle this problem. The debate around loss and damage, social justice, as well as inequality has to be speedily revisited and sincerely approached to facilitate the delivery of Africa's development aspirations.
The 9th Africities summit in Kisumu, Kenya, did justice to this issue. Its focus on: "The Role of Intermediary Cities of Africa in the Implementation of Agenda 2030 of the United Nations and African Union Agenda 2063," reinforces the long-awaited call to involve local communities in the implementation of every development programme.
Hosting the event in an intermediary city for the first time in its history to celebrate success and draw global attention to Kisumu, further buttresses the observation that small and big cities in Africa must be harmonised to be able to control this anticipated and massive urban movement.
Interestingly, for the very first time as well, the summit highlighted the continent's urban framework, which is made up of around 1,500 intermediary cities with populations of between 50,000 and 500,000 thousand inhabitants. This layer of its urban landscape currently accounts for a little over 30 percent of the population and it is the basis for the development of local economics that structure relations between populations living in rural and those in urban settlements.
This action reflects a bold attempt to harness the local potential and improve economic activities across the region. It also represents the first stage in the structural transformation and acts as a buffer and shock absorber in the migration flows between rural, large cities, and metropolitan areas.
Intermediary cities are in the best position to envision a more harmonious relationship between rural and city dwellers. They are also undoubtedly the junction where production, consumption, and exchange systems towards a low-carbon and ecologically more sustainable development path can best be initiated. These cities serve as a settlement ground for the reconciliation of traditional and modern systems of governance in African societies.
Kisumu rose to its enviable position after Kenya adopted a new constitution in 2010 and decentralised power to local authorities. The beautiful city has suddenly become the referencing point for Africa's development and how to replicate its model across the region dominated various discussions at the meeting.
Devolution of power between two arms of government may have worked in the case of Kenya, but stakeholders after critically reviewing the concept described it as a very complicated system that may not be applicable in all situations. So, they urged the adoption of a case-by-case approach to capture national peculiarities.
Nigeria for instance operates a federal system where power is shared among three tiers of government. Decentralisation of power under this arrangement obviously defers from the other.
Now, looking within these peculiarities, how then can Africa overcome these differences and meet up with her development targets?
"It depends on management and good leadership," says Umar Shuaibu, the coordinator of Abuja Metropolitan Management Council.
Nigeria can also be well-organised with its three tiers of government if there is proper leadership and management. It's not because Kenya is operating two tiers of government that makes it more efficient, it was adopted because they discovered its benefit to them.
If other countries across Africa in the process of their development decide to adopt this method as a form of power-sharing, it is still good, although it is a constitutional matter that takes a very long time with a cumbersome process.
Commenting on the theme of the programme and its significance to Africa's urban growth, Shuaibu said the continent has everything it takes to transform to whatever capacity of development that is required.
For him, the problem is not lacking resources or intellect, "Our major problem is respecting law and order, and constituted authorities."
Africa can overcome its development crisis and build new cities if laws are enforced. "And that is what I will do if I have the power – it is what we need," the town planner decried.
The European Union (EU) is helping many countries in Africa to formulate policies on how to ensure the successful implementation of power decentralisation. This is one of the most complicated operations from the EU's experience because it is very difficult to decentralize.
In some countries, according to Ambassador Henriette Geiger, Delegation of the European Union to Kenya, "we have only seen a decentralisation of responsibilities, but not the money that goes with it."
In Kenya, the so-called devolution has rather been successful because they see the local level as part of their wellbeing, which is a sign of successful decentralisation.
The idea of building new cities as a key development target in Africa is to take development back to the local communities because you can only improve people's living conditions by relying on the action and dynamics driven by their local authorities.
Truth be told, this bottom-up approach to contribute to the dynamics of integration and unity of the continent is probably one of the best ways to achieve the sustainable development goals and the ambitions of Africa we want.
By Etta Michael Bisong, Abuja