On Independence Day October 1, 2023, Nigeria woke up to a sad tale of an explosion and fire on the busy stretch at the Ologbo-Ugbenu axis of the Warri-Sapele Road, the boundary between Edo and Delta states. The fire, which was said to have started at about 12 am, happened due to a fallen petroleum tanker, leaving scores of commuters stranded, injured, and dead.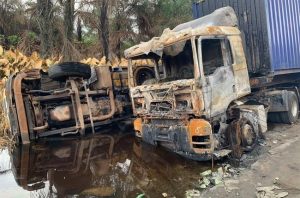 Health of Mother Earth Foundation (HOMEF) officials who visited the explosion site on October 4 observed what they describe as a lack of government presence days after the explosion. It was gathered that those who died in the incident were well over 20 persons at the time of the field visit. More bodies were being discovered, and about 10 persons were reportedly buried along the roadside in unmarked graves.
An eyewitness, Samson Ismail, a truck driver, explained that, while in traffic, he noticed several people running towards a tanker carrying petrol.
He said: "I was wondering what was happening when I heard the loud sound of an explosion and a huge fire behind my bus. I and my colleague had to run for our safety. When we returned, the fire had gone down. I saw three dead bodies by the side of my burnt bus. My bus was totally burnt down with 133,000 gallons of palm oil I was transporting from Warri to Abuja. I have lost my only source of livelihood. I cannot relay to the owner of the goods; I am now stranded, but I must thank God that he spared my life."
Michael Emmanuel, a bike rider, stated that while picking passengers, "I heard a loud noise of something falling, followed by a loud bang and fire that engulfed vehicles. I had to abandon my bike and jump into the Ologbo River for safety. When I returned this morning to carry my bike, I counted over five dead bodies and, as we speak, we are still recovering dead bodies from the river."
Also, Mr. Abraham Oworo narrated that he had travelled only to return to the news of the demise of his wife.
His words: "I was not at home when the incident occurred; I was on a business trip when I got a call from my in-law that my wife had been missing since Sunday. I arrived today, October 4, and I have been searching for her until I identified her corpse in the swamp. I am shattered because I have a three-year-old daughter in the house whom she left behind. Presently, I don't even have money to take her to the village for burial. We have contacted her family, but they are yet to come. We just had to leave her body there for now because we don't have money to get an ambulance to take her to the mortuary or even for her burial now."
Another victim, Mrs. Grace Okorefe, a trader from Oghara town, narrated how her husband's bus conveying market women was burnt to ashes; all their goods were burnt to ashes. Her husband is still receiving treatment from the injury he sustained.
''This burnt bus is our family's main source of income, and now it is burnt, we are calling on the government to come and help us. The pains and suffering are too much on this road," she lamented.
HOMEF's Project Lead, Cadmus Atake-Enade, called on the Federal Government to declare a state of emergency on the Benin-Warri Road, especially the Ologbo-Ugbenu axis of the highway, noting that the road plays a very vital role in the economy of the nation.
"The whole of East-West Road must be fixed. The road has caused a lot of harm to the people, lives have been lost, investments have been destroyed, and lives and livelihoods of surrounding communities are all being affected by the deplorable state of the road. We call on the Federal Government to commence immediate repairs and reconstruction of the road in order to avert more dangers and deaths," he said.
Executive Director of HOMEF, Nnimmo Bassey, regrets that the state of the road has further compounded the deplorable environmental conditions of the Niger Delta.
"Although the issue of bad roads is a reoccurring decimal across Nigeria, the East-West Road has suffered unconscionable neglect, and this has further constricted the livelihoods of the people."
Bassey further talked about pollution that has greeted the environment following the explosion.
He said: "It is sad that our air, and soil have been contaminated. The dead have been consigned to watery graves in the swamp. Our collective humanity is severely damaged by the neglect of the road, the environment and the dead. Government should wake up to it's responsibility. This is no time to be silent. What happened here on Independence Day is a nativism tragedy.
"Contrary to some reports that about five lives were lost to the fire, information gathered from some eyewitnesses and community people put the number of lives lost at over 20 persons. During the field investigation, three dead bodies were found lying by the side of the road while more corpses were being discovered."
HOMEF called on the government to immediately rehabilitate the Benin-Warri Highway and rehabilitate the survivors of tragic incident.
The group also demanded an urgent construction of coastal railway as an alternative way of conveying goods and passengers in this part of the country.