Dr Godwin Uyi Ojo, Executive Director, Environmental Rights Action/Friends of the Earth Nigeria (ERA/FoEN) in an address at the opening of the group's National Environmental Congress in Abuja on Thursday (November 3, 2016), urges the government to eschew its false step towards diversification and, instead, break free from fossils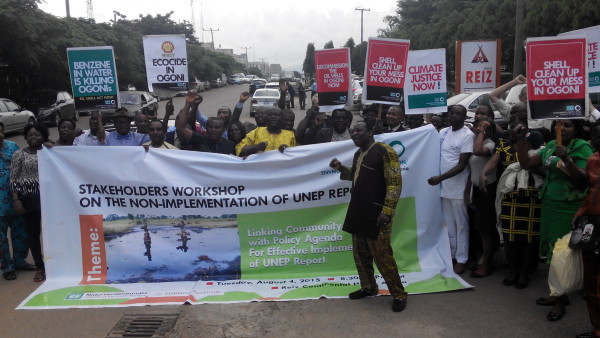 Our nation is passing through trying times. Will this country overcome as a nation? The economy, we are told, is in recession due to sliding oil prices. Yet, every day, the media is awash with reports of monumental corruption, wastage and unbridled abuse of the commonwealth. Nigerians are suddenly at a loss about the paradox of a nation so rich, yet so poor. Nigerians now ask questions without expecting answers because no one is providing any. How did we get into this trap?  How did Nigeria end up in the resource course conundrum? There exist strong nexus between natural resource governance, corruption, wastage, violent conflicts and wanton destruction of the environment, be it in the Niger Delta, the middle belt, the south west, and the east or in northern Nigeria. The connecting thread is that the environment sustains and nurtures us hence it must be managed in a sustainable manner.
Break Free From Fossils
The oil dependent economy fuels corruption and wastage and contributes to climate change hence the national and global call to break free from fossils. Indeed, Nigeria's oil and gas reserves make it the 10th most petroleum-rich nation. Natural gas reserves are well over 187 trillion ft³ (2,800 km³), three times as substantial as the crude oil reserves which stands at 37.2 billion barrels (5.91×109 m3) as of 2011. Nigeria is also endowed with a variety of precious metals such as Barites, Gypsum, Kaolin and Marble.
Despite cheap revenue from oil, vast agricultural lands, and solid minerals spread across the entire landscape, the country has found itself in a cul-de-sac due to resource mismanagement, corruption, lack of foresight total disregard of the environment and the relegation of local communities and local livelihoods to the background.
The Economic and Financial Crimes Commission (EFCC) recently made startling revelations about funds meant to redeem the environment are stolen outright.  Between 2011 and 2015, over N432 billion received from the Ecological Funds  were  pilfered by some governors. The EFCC and Nigeria Extractive Industry Transparency Initiative (NEITI) say that the Ecological Funds were diverted to other use by many of the ex-governors of states affected by environmental disasters and the livelihoods and lives of their people in need of dire attention. The states include Adamawa, Bauchi, Borno, Gombe, Kogi, and Enugu. Others are Delta, Cross River, Plateau, Benue, Jigawa, Ondo, Sokoto and Abia states.
False Steps Towards Diversification
The recurrent jingo in government circles these days is economic diversification yet there is no clear blueprint to achieving this. It is sad that, rather than look towards sustainable resource management, the government is looking the way of another round of reckless extraction of natural resource. This government, through its new National Policy on Solid Minerals, said it would commence full extraction of Bitumen, Nikkei and just everything under the earth. A break from fossil has indeed become the option for sustainable development and as a response to climate change. By favouring large scale agribusiness and encouraging land grabbing, local farmers are displaced, leading to food production and supply deficit in our local staples. We want to caution that the environment, local communities and sustainable pathway is key to avoid another circle of resource jinx.
Long Wait For CHANGE
Just few days ago, Minister of State for Petroleum Resources, Ibe Kachikwu, disclosed that the federal government would increase the penalty for gas flaring, and end the obnoxious practice by 2020. Speaking at the 10th International Conference and Exhibition of the Nigerian Gas Association in Abuja, Kachikwu stated that the hike in penalty would be driven by the National Gas Flare Commercialisation Programnme which would commence in the first quarter of 2017.
The government said there are $51 billion investment opportunities in gas processing and transmission and general infrastructure development, noting that $35.4 billion of the opportunities exist in flare gas commercialisation, gas exploration and production, and virtual pipeline, among others. Kachikwu added that $16 billion investment opportunities are expected from Free Trade Zones infrastructure development and concessioning of gas transmission pipelines and Liquefied Petroleum Plants, among others.
Flares-for-Cash Is No Solution
While this might seems a welcome development, it should be stated that gas flaring is illegal by virtue of a 2005 High Court judgment which has not been appealed or repealed till date. Flares-for-cash is a false solution. Ending gas flaring has been a moving target with over a dozen times and government demonstrating less than feeble attempt at enforcement. Government requires the political will to act to contend with corporate impunity and maintain our national sovereignty.
While corruption thrives, the environment suffers. The Federal Government flagged off the clean-up of Ogoni communities but once the cameras lights went, nothing has been heard. There is no holistic plan and no funds from the initial $1 billion has been released. The entire Niger Delta clean up would require a clean-up fund of $100 billion. Shoreline communities are sinking. Tremors are more frequent. Whole communities have lost their ancestral homes to erosion. The Sahel is losing its flora. thereby driving the herdsmen southwards.
What responses have we gotten from our policy makers? It does appear that that CHANGE we need in resource governance and environmental management has not come.
Let's transit from oil dependency to renewables alternatives of community controlled energy systems. Let's protect the environment, because the environment is our life.