A global wave of peaceful direct actions lasting for 12 days took place across six continents targeting the world's most dangerous fossil fuel projects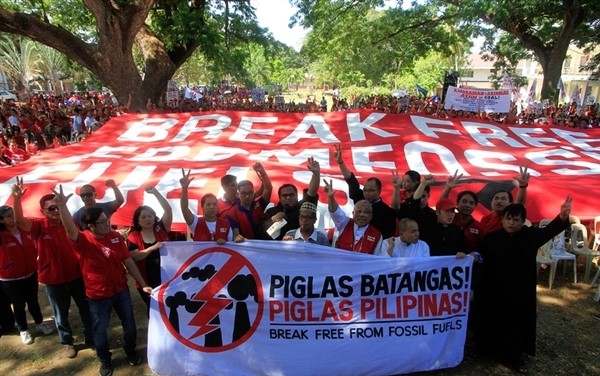 Twelve days of unprecedented world-wide action against fossil fuels have just concluded, showing that the climate movement will not rest until all coal, oil and gas is kept in the ground. The combined global efforts of activists on six continents now pose a serious threat to the future of the fossil fuel industry, already weakened by financial and political uncertainty.
Tens of thousands of activists took to the streets, occupied mines, blocked rail lines, linked arms, paddled in kayaks and held community meetings in 13 countries, pushing the boundaries of conventional protest to find new ways to demand coal, oil and gas stay in the ground. Participants risked arrest – many for the first time – to say that it's time to Break Free from the current energy paradigm that is locking the planet into a future of catastrophic climate change.
Driving this wave of demonstrations is the sudden and dramatic acceleration in the warming of the planet, with every single month of 2016 shattering heat records – combined with the growing gap between world governments' stated climate ambitions, and their demonstrated actions in approving new fossil fuel projects. On the last day of mobilisation, a key monitoring site on Tasmania recorded atmospheric carbon-dioxide exceeding 400 parts per million for the first time ever.
These actions took place under the banner of Break Free, which refers to the need to shift away from our current dependency on fossil fuels to a global energy system powered by 100% renewable energy. In 2015, 90% of new energy capacity came from renewables, signaling that a rapid transition to 100% renewable energy is more feasible than ever.
As the impacts of a warming planet become more visible in the form of rising sea levels, drought and stronger storms, the citizens who joined Break Free will continue to be a part of the next phase of the movement as it becomes more vocal, disruptive and powerful.
Highlights of the actions:
Thousands worldwide risked arrest during the actions, many for the first time
$20 million worth of coal shipments were halted by activists shutting down the largest coal port in the world in Newcastle, Australia.
The UK's largest opencast coal mine was shut down for a day.
Hundreds occupied the first Nigerian oil well at Oloibiri, marched at Bori Ogoni and Ibeno demanding for an end to oil spills and gas flares, a clean up of the Niger Delta. They also demanded that the polluting oil should be kept in the ground to tackle global warming.
Hundreds stood up to South Africa's most powerful family with a march that delivered coal to their front door, despite their attempts to silence civil society by pressuring police to revoke permits for a march
Dozens of people occupied train tracks overnight on both coasts of the United States to stop oil-filled 'bomb trains' from rolling through communities — including less than 100 feet from low-income public housing in Albany, New York.
3,500 people shut down one of Europe's biggest carbon polluters in Germany, occupying a lignite mine and nearby power station for over 48 hours, reducing the plant's capacity by 80 percent.
10,000 marched against a proposed coal plant in Batangas, the Philippines
3,000 sent an ear-splitting message to Indonesia's president with a whistle demonstration against coal in Jakarta, and a few days later 12 activists climbed the cranes supplying coal for the Cirebon Coal Power Plant, and dropping banners to Quit Coal and for Clean Energy, Clean Air.
Community members blocked traffic outside the gates of Brazil's largest thermal coal plant, in Ceará
On land and water, indigenous communities and local activists blockaded the Kinder Morgan tar sands facility in Metro-Vancouver, unceded Coast Salish Territories.
150+ local activists marched and occupied the entrance of two fossil fuel refineries, which are the largest unaddressed source of carbon pollution in the Northwest of the United States
In Aliaga, Turkey 2000 people marched to the gates of the Izmir region's largest coal dump, and surrounded it with a giant red line, as a call to end plans for the massive expansion of coal in the country.
Overview of the actions:
May 3: Wales – UK
Three hundred people halted operations at the UK's largest opencast coal mine at Ffos-y-fran in South Wales, making it the biggest ever mass action in a UK coal mine with the majority of participants joining a climate action for the first time. The occupation and blockade ended after 12 hours with no arrests.
May 4, 14: Philippines
Some 10,000 people marched in the streets of Batangas City opposing a proposed 600MW coal-fired power plant and to demand the cancellation of another 27 proposed plants in the country. The march, led by Archbishop Ramon Arguelles, Archbishop of the Roman Catholic Archdiocese of Lipa, also included activists from many organisations as well as thousands of people from coal-impacted communities. Days later, hundreds of community members in Calaca demonstrated against a proposed coal plant expansion project there.
May 5-15: United States
In Sacramento, Central Valley community members sat­-in outside of Governor Brown's office. In Philadelphia, hundreds of people marched to the largest refinery on the east coast. In Colorado, hundreds of people disrupted an auction selling public lands for fossil fuel extraction, as seven people held a sit­-in blockading the room where the auction was being held. Over 2,000 people protested refinery pollution in the Pacific Northwest and blockaded oil trains for three full days culminating in at least 52 arrests. In Albany, 2,000 people marched and blockaded bomb trains, resulting in five arrests. Hundreds occupied a proposed fracking site outside Denver, and in California dozens blocked the road to the Porter Ranch gas facility, which was the site of the largest methane leak in the history of the US. Led by frontline community members, 1,300 people marched in Washington, DC to call on President Obama to end to offshore drilling; and outside of Chicago, 1,500 people protested proposed the expansion of BP's Whiting refinery.
May 6-13: New Zealand
Day after day dozens of people shut down ANZ bank branches in ChristChurch, Wellington, Auckland, and Dunedin calling for ANZ to divest from fossil fuels.
May 8: Australia
An armada of kayakers blocked the Newcastle harbour entrance while 70 people blocked a critical rail crossing preventing any coal from getting to the port for over six hours. In total 2,000 people took part in the action shutting down the world's largest coal port for a day, preventing the shipment of almost 2 megatonnes of coal during the protest. In Western Australia, over 150 occupied the headquarters of BP & Chevron, blockading a busy intersection in front, with two arrests.
May 9-14: Brazil
A series of anti-fracking events led up to over 300 people marching through the streets of Uruamama, in the state of Paraná, towards the City Hall where a Bill to ban fracking in this city was being voted. In the presence of the marchers, the city councilors unanimously agreed to declare Umarama fracking free. Then on the 14th, over 500 people marched on the highway used to deliver coal to a power plant in Ceará. The march included people from 20 municipalities, four Indigenous ethnic groups (Anacé, Pitaguary, Tapeba and Tremembé), fishermen and residents of the coastal zone, farmers and residents of the inner cities severely affected by drought.
May 10-14: Nigeria
A coalition of climate justice organisations gathered with representatives of oil communities at Oloibiri, the site of the first oil well in Nigeria, as well as at Ogoni and Ibeno to emphasize fossil fuel's role in climate change, call an end to the Nigerian economic dependence on oil and to reduce adverse effects of climate change. The activists also demanded an end to the extreme pollution caused by endless oil spills and toxic dumps in the Niger Delta. At the concluding action at Ibeno, fisherfolks called for a halt to oil extraction, insisting that fish is far more valuable than crude oil.
May 11-15: Indonesia
More than 3,500 participants marched in Jakarta carrying banners with slogans such as 'Stop Dirty Energy Investments' and 'Stop Pollution, Stop Using Coal', as they called for President Joko Widodo to move Indonesia, one of the world's biggest coal producers, away from coal and embrace renewable energy. On 15 May, 12 Greenpeace activists stopped operations at the Cirebon Coal Power Plant for 12 hours, the activists unfurled banners saying 'Quit Coal' and 'Clean Energy, Clean Air' from both cranes supplying the coal terminal.
May 12-14: South Africa
Affected communities represented by 200 people including farmers and private citizens gathered to speak about the daily realities of living in a town with the most polluted air in the world at Emalahleni, which directly translated means "place of coal." A picket of 45 people was organized outside Medupi and Exxaro coal mine in Lephalale, which will be one of the world's biggest coal-power stations. Also 400 participants joined the National Bread March to protest the increasing cost of food as a consequence of the severe drought the country is suffering. Finally, despite efforts by the Guptas to shut down a mass action at their residence – hundreds of people rallied at the nearby Zoo Lake to speak out about corrupt mining deals, and 15 people delivered a coffin of coal to the doorsteps of the Gupta residence.
May 13-15: Germany
More than 3500 activists from all over Europe shut down the opencast coal mine Welzow-Süd in the Lusatia coal fields. While hundreds entered the mine, others blocked coal trains and conveyor belts transporting coal to the power plants. Around 300 people continued the blockade overnight. On 14 May another 2000 activists cut off coal power plant Schwarze Pumpe from all coal supplies. Around 120 were arrested and released the next day. Five occupations continued over another night. After the power plant had been blocked for more than 48 hours, the activists stopped the blockade on Sunday, May 15th.
May 14: Canada
Over 800 people took action to surround the Kinder Morgan facility on the Salish Coast. On the land, activists locked messages onto the gates of the facility, staged a sit-in and painted a giant mural. On the water a massive kayak flotilla swarmed the pipeline's tanker terminal.
May 14: Ecuador
The group Yasunidos took over close to 500 hectares destined to built an oil refinery called Refinería del Pacífico, where Ecuador plans to process the oil extracted at the Yasuní National Park. Yasunidos planted 1 tree in the area, and managed to stay in the premise for about three hours after peacefully passing through the security control. Since the action, members of the Yasunidos have been facing harassment and public discredit on behalf of Correa's government and those backing the fossil project.
May 15: Turkey
Community leaders, led two thousand people in Aliağa in a march through to a coal waste site and called for the stopping of four fossil fuel projects in the surrounding area. The activists made a human chain and spelled out the word "Stop" ("Dur" in Turkish).
Reaction to the actions:
Payal Parekh, 350.org Programme Director: "As global temperatures continue to rise, so are the people. Across continents people are challenging the status quo by pushing the boundaries of conventional protest to demand fossil fuels are kept in the ground. Ordinary people are joining the fight for our collective survival as communities worldwide are experiencing first hand the consequences of climate change and the damage inflicted by the fossil fuel industry. It's up to us to break free from fossil fuels and accelerate the shift towards a just transition to 100% renewable energy."
Bill McKibben, co-founder of 350.org: "This is the hottest year we've ever measured, and so it is remarkably comforting to see people rising up at every point of the compass to insist on change."
Yeb Saño Executive Director of Greenpeace Southeast Asia: "In our fight against fossil fuels, Southeast Asia is a major battleground and we cannot afford to cede to those who think of nothing but profit instead of people, and plunder instead of protecting the environment. As our communities rise against this addiction to coal, we hope to inspire massive civil participation all over the planet. Break Free is a breath of hope for all communities who are standing up to the fossil fuel industry's relentless expansion despite climate change."
Hannah Eichberger, Ende Gelände (Here And No Further), grassroots anti-coal alliance: "Every new tonne of coal that is dug up is one too many. We are hitting the emergency brakes now. We won't leave climate action to governments and corporations any longer. We are taking matters into our own hands now."
Nnimmo Bassey, Nigerian activist from the Health of Mother Earth Foundation: "Breaking free from fossil fuels is a vote for life and for the planet. The Paris Agreement signed by world leaders ignored the fact that burning fossil fuels is the major culprit in global warming. In these actions the peoples of the world will insist that we must come clean of the fossil fuels addiction."
Naomi Klein, award winning journalist/author: "The global climate justice movement is rising fast. But so are the oceans. So are global temperatures. This is a race against time. Our movement is stronger than ever, but to beat the odds, we have to grow stronger."
Wael Hmaidan, Director of Climate Action Network: "People power in our cities, in our villages and on the frontlines of climate change have brought us to a point where we have a global climate deal – but we do not stop now, we need more action and faster. Civil society is set to rise up again, to fight for our societies to break free from fossil fuels, to propel them even faster towards a just future powered by 100% renewable energy."