Proceeds from illegal wildlife trade are used to fund organised criminal activities like insurgency and kidnapping around the world.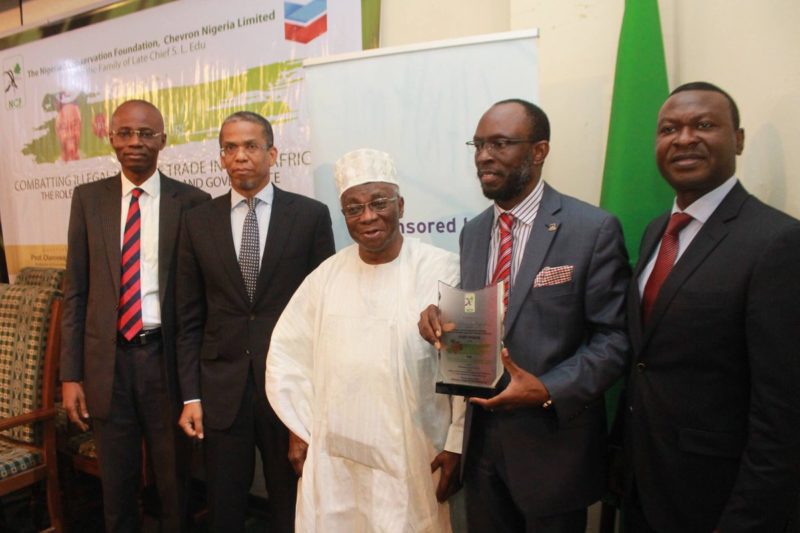 Vice Chancellor of Lagos State University (LASU), Ojo, Professor Olanrewaju Fagbohun, disclosed this on Wednesday, January 17, 2018 during the 16th S.L. Edu Memorial Lecture held at the Nigerian Institute of International Affairs (NIIA), Victoria Island, Lagos.
The lecture, titled "Combating Illegal Wildlife Trade in West Africa: The Role of Environmental Law and Governance", was organised by Nigerian Conservation Foundation (NCF).
EnviroNews gathered that oil major, Chevron Nigeria Ltd., had been sponsoring the lecture since inception.
Fagbohun said: "Organised criminal groups involved in drug trafficking, human trafficking and terrorism, and controlling large transnational networks, resources and access to information and institutions are often involved in the entire illegal supply and demand chains.
"Allegations are rife that some of these criminal groups channel funds raised at times into purchase of firearms in aid of armed conflicts, insurgency or to perpetrate large-scale poaching and slaughtering of wildlife."
According to the professor of Environmental Law and Policy, an undercover reporter once traced a criminal gang that traded in elephant tusks. He had fixed a monitor on a tusk and sold same to the gang. It was later discovered that the gang engaged in brutal murder and other illicit activities like drugs.
He identified illegal wildlife trade as a valuable illicit commerce.
"Illegal wildlife trade is believed to be the world's fourth most valuable illicit commerce after drugs, human trafficking and arms trade.
"In financial terms, some estimates put the worth of illicit wildlife and plant trade at between eight million euro and 20 million euro annually, while some have placed the estimate at between $15 billion and $20 billion or $10 billion and $30 billion per year," he disclosed.
According to him, the illegal trade's negative impact includes threat to health and security, undermining rule of law, fuelling corruption and restriction of economic development.
He posited that the illegal business would continue until government summons the political will to stop it.
Other issues that came up at the lecture include traditional practices were the use of outlawed animal parts serve as status symbol. It was the former Secretary-General of the Commonwealth, Emeka Anyaoku, who at the event raised the issue of using tusks and animal skins to adorn title-holders in parts of Africa.
On this, the lecturer said "you can't throw away cultural practices and the legitimacy of them." So, he advocated that better alternatives should be made available to the locals, so they would lose interest in conservable nature.
"We should integrate orthodox practice in traditional practices," he added.
Chairman, National Executive Council (NEC) of NCF, Ede Dafinone, had in his welcome address noted that "the choice of this year's theme is to mobilise support through partnerships, collaborations and alliances and to encourage positive actions geared towards combating illegal trade in wildlife in the West African sub-region as part of the global call for action."
In his welcome speech, President, Board of Trustees (BoT) of NCF, Philip Asiodu, had noted that hunting of wild animals sometimes lead to diseases.
Asiodu said: "Despite the promulgation of the Endangered Species Act in 1985 and Nigeria's adherence to all the international treaties and protocols for the protection of the environment positive action, real effective action and expenditure on environmental conservation in Nigeria has been negligible."
He called for urgent action, given the pressure of Nigeria's population on available land and the need for sustainable rapid economic growth.
In his goodwill message, Esimaje Brikinn, the General Manager, Policy, Government and Public Affairs, Chevron, noted that Chief Edu's vision for establishing the NCF had continued to flourish soon after his death.
He added that "the preservation of wildlife and by extension the biodiversity is very important to our existence and, therefore, we must take every step possible to conserve it."
The event was graced by representatives of the National Assembly, Federal Ministry of Environment, British High Commission, and the United States Consulate, among others.