The Rotary Club of Ikeja has made a donation of sanitation materials to the Ipodo Community Market. This community development gesture, according to the President, Rotarian Adeniyi Adelaja, is in further demonstration of the club's support for, and commitment to, the current Clean Lagos Initiative of the state government.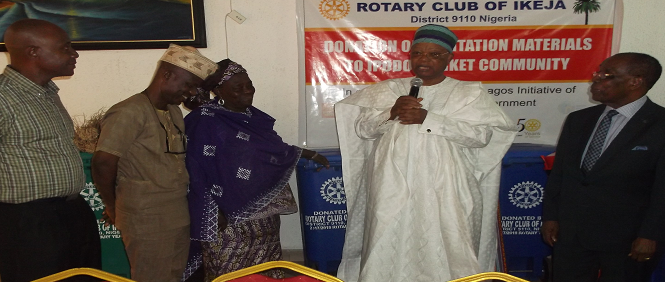 Presenting the materials which included plastic waste bins, shovels, and brooms, a Past District Governor of Rotary International (District 9110), who is also a Past President of the club, Prince Julius Adelusi Adeluyi, expressed satisfaction that the club had continued to sustain the tradition of promoting healthy environment. He commended the club members, while also urging the beneficiaries to deploy the items to good use as intended by the Rotary Club.
Earlier, a Past President of the club, Rotarian Tosin Kadiri, had stated that Rotary, among other things, is concerned about the environment, and always carrying out activities to ensure and promote clean environment in order to reduce the incidences of diseases that are consequences of unhealthy or badly kept environment.
Members of the Ipodo Community Market were on hand to receive the items, and they were full of praises for the club's continued support. The leader of the market, Alhaja Abiodun Bintu, also expressed the community's appreciation for the club's unwavering commitment and support to the community.
Mr Olasupo Sode represented the Lagos State Commissioner for Environment while Honourable Mayungbe represented the Chairman of Ikeja Local Government.