The International Fund for Agricultural Development (IFAD), Community Based Resource Management, Niger Delta has disbursed N26. 7 million to Youth in Agriculture Foundation in Akwa Ibom State.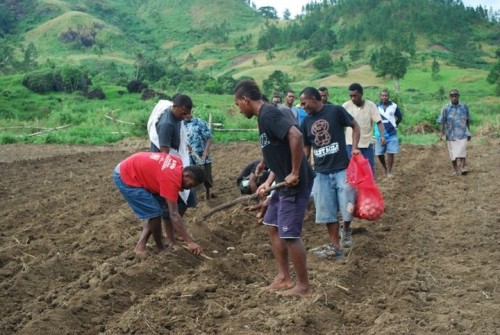 The state Commissioner for Agriculture and Natural Resources, Mr Godwin Afangideh, presented the cheque to the Chairman, Commodity Apex Development Association (CADA) in Uyo on Thursday.
Afangideh, who was represented by the Director of Agriculture in the ministry, Mr Okon Nsungwara, urged the youths to see agriculture as a business that would enhance their living standard.
He said that agriculture has gone beyond being only for subsistence but a business enterprise that could provide them with sustainable means of livelihood.
The commissioner charged the youths to take agriculture to their communities and work hard to encourage other youths to embrace the message of going back to the farm.
"Nigeria before today lived and survived through agriculture and business, not oil. The price of oil has fallen below expectation and very soon oil will be exhausted.
"We will not achieve agricultural revolution in the country except the youth and women embrace agriculture. Carry the fire of agriculture to the land and produce the food we need in this country.
"Make your farms your office and your tools your pen and extend the benefits of agriculture to other youth in the state and provide food for the teeming population," he said.
In his remarks, Mr Ernest Nwogu, the IFAD Senior Technical Adviser, said that the programme was designed to improve the living standard of people in Niger Delta, especially youths and women.
The technical adviser disclosed that the IFAD's community based resource programme in the nine states of Niger Delta would exit by September 30, 2015.
He said that plans had been put in place to ensure that the rural farmers were not abandoned after the exit of the programme. Nwogu said that they have established for the farmers what they called Commodity Apex Development Association (CADA).
He explained that this rural institution would take care of farmers after the end of the IFAD programme in the region. He said that CADA would continue with the standard set through formation of cooperatives to collect revolving loan to farmers.
The technical adviser said that IFAD community based natural resource management programme has taken a lot of farmers out of poverty.
Earlier in his opening address, the state Programme Officer, Mrs Essien-Uwe Bassey, said that the Youth in Agriculture Foundation was established to stem youth unemployment and restiveness.
Bassey added that the programme had also encouraged youths to engage in profitable agriculture in a way that would attract investors.
She said that the youths had been trained in agri-business anchored by small Holder Foundation in collaboration with Songhai Centre at the instance of the National Office.
The highpoint of the event was the inauguration of executive council of the Youth in Agriculture Foundation in the state.
By Augustina Ogbonna-Armstrong