Officials of Climate Adaptation and Agribusiness Support Programme (CASP), an IFAD programme, have visited Borno and Yobe states to sensitise farmers to the application of modern farming techniques to boost agricultural production.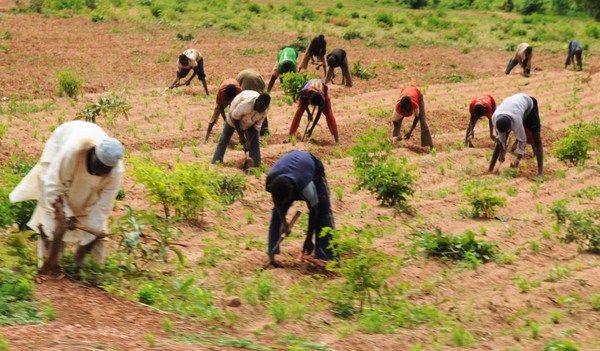 Mr Abdullahi Surajo, the Communication Officer of International Food and Agriculture Development (IFAD)-CASP, made this known via a statement in Abuja on Wednesday, January 10, 2018.
Surajo said that the National Coordinator of IFAD-CASP, Alhaji Lawal Idah, led the officials on the sensitisation mission to the two states.
He said that the team leader visited Damaturu to sensitise farmers to modern crop production techniques which would also boost their economic well-being.
He said that Idah called on the farmers to consider the impacts of CASP in efforts to develop agriculture in rural areas.
He said that the team leader said that this would promote the economic standing of smallholder farmers with low income who were particularly vulnerable to the challenges of climate change.
"I maintained that the IFAD-CASP collaboration with Nigerian Meteorological Agency (NIMET) is a step in the right direction, as farmers and other stakeholders in crop production will be supplied with meaningful information.
"The information will help them to determine the type of seeds to plant, in relation to the rainfall predictions, at every farming season.
"As such, this measure will surely eliminate all forms of unfortunate results, which could emanate from poor or non-availability of enough rainfall, to expect a bumper harvest at the end of the day,'' Surajo quoted Idah as saying.
Besides, Surajo said that Mr Charles Olu of NIMET Office, Abuja, spoke on seasonal rainfall predictions that would be experienced in places like Southern Borno and Yobe.
"It will cover local government areas like Fika, Gulani, Potiskum and Fune in Yobe State; while in Borno State, Biu, Chibok, Askira/Uba and Gwoza, among others, are the expected areas which the predictions would affect,'' Olu was quoted as saying.
NAN reports that the development objectives of IFAD-CASP include increased incomes, enhanced food security and reduced vulnerability for smallholder farmers, particularly women and youths, in the participating states.
Borno, Jigawa, Katsina, Kebbi, Sokoto, Yobe and Zamfara states are currently participating in the six-year programme, which started in 2015.
By Kudirat Ogunyemi