The International Climate Change Development Initiative (ICCDI) has launched a compelling documentary titled "The Evolution of Plastic: From Problem to Potential Solution." It is aimed at shedding light on the detrimental effects of plastic pollution on the environment while showcasing innovative ways to tackle the global problem.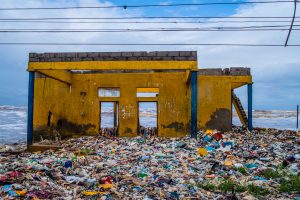 Plastic pollution has emerged as one of our most pressing environmental challenges, with devastating effects on ecosystems, wildlife, and human health. By 2050, it is estimated that there will be more plastic in the ocean than fish if we fail to take action.
Recognising this urgency, ICCDI, in collaboration with leading experts and activists, has produced the documentary to enlighten and inspire individuals, communities, and policymakers alike.
"The Evolution of Plastic" takes viewers on a journey through the history and rise of plastics, highlighting its once-revolutionary nature and extensive use in various industries. It also sheds light on the unintended consequences, such as its infinite lifecycle, widespread pollution, and contribution to greenhouse gas emissions.
The documentary intertwines scientific research, personal narratives, and real-life case studies to provide a comprehensive perspective on the plastic crisis.
According to ICCDI, the documentary goes beyond merely highlighting the problem, presenting a multitude of innovative solutions that can help combat plastic pollution. It explores groundbreaking technologies, such as plastic alternatives derived from organic materials, advanced recycling methods, and responsible waste management practices.
By showcasing these potential solutions, the ICCDI hopes to inspire individuals, businesses, and governments to act and contribute to a healthier, more sustainable future.
The ICCDI also intends to leverage the impact of the documentary by partnering with international organisations, NGOs, and policymakers. The aim is to create a global platform for collaborative action and knowledge-sharing to address this pressing issue.
Through coordinated efforts, it is possible to transition from a linear economy built on single-use plastics to a circular economy that fosters innovation, responsible consumption, and sustainable practices..
"The Evolution of Plastic: From Problem to Potential Solution" is not just a documentary; it is a rallying call to drive positive change in the fight against plastic pollution.
With awareness, education, and collective action, we can reimagine the role of plastics in our society and explore their potential as a sustainable material, stated ICCDI.
The ICCDI invites potential partners to join the movement and be part of the solution to this global challenge we all face.
Link to the Video: https://youtu.be/WPdndpTxQO4