Governor of Cross River State, Prof. Ben Ayade, has said that his administration will do all it can to ensure the success of the country's UN-sponsored REDD+ Programme, which the state is hosting.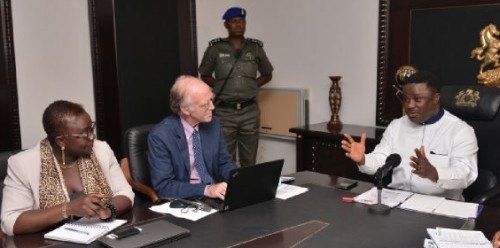 This statement is coming on the heels of growing fears that the new governor might discontinue with the programme following the arrest and detention several weeks ago of some senior forestry officials, and claims that he (Ayade) had concessioned the forest reserves to a Chinese firm to be exploited for financial gains.
But Ayade disclosed in his office in Calabar, the state capital, on Wednesday, July 15 2015 at a meeting with key local and international stakeholders that, if possible, he would amend the state budget to make a special provision so as to fully support the project, host an international conference on climate change at the Obudu Cattle Ranch and establish a Green Police force, among others.
REDD+ implies Reducing Emissions from Deforestation and Forest Degradation. It is regarded as an effort to create a financial value for the carbon stored in forests, offering incentives for developing countries to reduce emissions from forested lands and invest in low-carbon paths to sustainable development.
"I will give you all the support you need," he told the delegation comprising Elsie Attafuah (Senior Regional Technical Advisor for the UNDP/UN-REDD+ Regional Programme for Africa), Muyiwa Odele (UNDP Nigeria Environment/REDD+ focal person), Allen Turner (Nigeria UN-REDD+ Chief Technical Advisor) and Perpetua Aji (Permanent Secretary, Cross River State Forestry Commission).
While Turner presented the UN-REDD programme's support and progress to date and proposed next steps, Attafuah made a presentation on what REDD+ is all about, why it should be embraced, what it means to be REDD+ ready, and what other countries are doing, including Brazil's access to some $1billion from international funding.
She stressed that, firstly, a country must have a strategy in place for implementing REDD+ to be able access such funds. She said Cross River will be REDD+ ready and be able to access such funds when it has addressed the four Warsaw elements – the four key elements required for developing countries participating in REDD+.
Laying emphasis on Attafuah's submission regarding other countries already receiving payments, Ayade said he was "highly provoked" and would desire an urgent turnaround of the present situation.
His words: "Cross River State has over 640,000 hectares of undisturbed forest. I'm setting up a Green Police to protect and restore our forest. Also, we're starting a Green Carnival. Yet, we're still at the back door. It's a rude shock. Brazil has received one billion. Yet, Cross River State, for all the efforts we're making, has gotten nothing like that yet."
He reiterated, "We are going to work with you. We will protect our forest." He noted that, during the first years of the programme, "we never got to move to forward on those four (Warsaw elements)."
He said this is "a marriage" between, firstly, our nature (that is, our character as Cross Riverians) and our love for the forest and, secondly, the way we do business. "I want the whole world to know that Nigeria is making progress. We should be opportunistic. We need to be positivistic. We need to support most of these projects," declared the governor.
He called for "a practical workshop at Obudu (Cattle Ranch) on climate change", for which the UN would provide "technical content and help us with the institutional backing. We'll agree on a date. A workshop 100 percent hosted by us at Obudu."
If required, he would "amend the state budget to make a special provision," the governor emphasised, adding that he would demonstrate that "we've shown our own best, and we've funded them to get to the point to be REDD+ Ready. The world will see and, let's not be denied. Africa has continued to be a key source of forest carbon emissions, essentially from slash and burning. In terms of CO2, in spite of that, we have huge forest carbon stocks.
"This programme has now given us a direction, a clear map and methods, and we need to follow these steps." He pledged to make available the "time, men, and materials". He wants the team to guarantee "that you will take us to where we need to go."
Ayade stated that because of the ongoing REDD Readiness programme, the world renowned Calabar Carnival that holds in December will this year have one day for "Green Carnival," where over 10,000 people will plant trees.
"Each person will be given an opportunity to buy young trees, and 5,000 to 10,000 people will carry their trees to a point where they will raise a new forest, a 10,000-man march, each one carrying a tree. This is a creative method, through which each and every one of us will take on the "moral burden. You will have a mother feeling for the tree you've planted, and it will bring you back again."
The governor said that Cross River State is the first state to have such a thing as the Green Police, which "comprises young men and women committed to grow forest; to motivate a new generation of foresters; to plant trees as a project; they are trained on how to grow trees."
He noted the importance of urban forestry: "Go to Abuja, you have big houses with bare soil. In Cross River State, we've planted trees. This is part of the role of Green Police." Through the Green Police, he adds, the communities will "carry out forest protection, to stop illegal logging. The Green Police will hand over the criminals to the police."
As the Green Police is being constructed, he said, "We need your inputs on this, now at the drafting stage. A chairman will be announced soon. One thousand people will be employed as the Green Police. We need the World Bank. We need others."
He expressed hope that the REDD+ programme moves from the readiness stage quickly. "Let's put all of the documentation into place and make it more than practical," he said.