Due to the popular misconceptions about agriculture, many young Africans have no interest in agribusiness ventures. Upon completing their academic pursuits, young graduates usually scuttle for jobs and in many cases, remain unemployed while waiting for the "golden opportunity".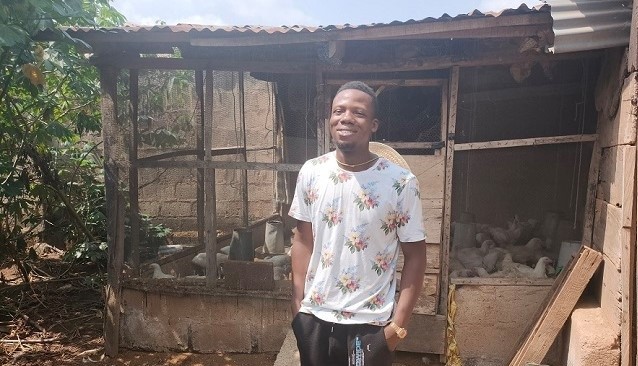 Whereas many who attempted agribusiness have run into loss due to inadequate training and mentorship, however, the case of Ayotomiwa Ogunsua is different.
After graduating from the university and upon completion of the compulsory Nigerian National Youth Service Corps (NYSC), Aytomiwa got a job with a Microfinance Bank in Ibadan, Oyo state in South-West Nigeria.
At first, it seemed like a breakthrough, being the dream of many of his colleagues. Shortly after, he participated in a poultry training organised by the Youth in Agribusiness Compact of Technologies for African Agricultural Transformation (TAAT).
Life never remained the same for Ayotomiwa as the knowledge and hands-on experience he garnered at the training led to the establishment of his start-up comprising 250 birds. Since then, his enterprise has continued to expand.
Sponsored by the African Development Bank as part of its Feed Africa Initiative, TAAT's main objective is to improve the business of agriculture across Africa by raising agricultural productivity, mitigating risks and promoting diversification and processing in 18 agricultural value chains within eight priority intervention areas.
The programme increases agricultural productivity through the deployment of proven and high-performance agricultural technologies at scale along selected nine commodity compacts such as cassava, orange-fleshed sweet potato, aquaculture, small livestock, high iron beans, maize, rice, sorghum and millet, and wheat.
These work with six enabler compacts addressing transversal issues such as soil fertility management, water management, capacity development, policy support, attracting African youth in agribusiness and fall armyworm response.
Led by the International Institute of Tropical Agriculture (IITA), the compact, also known as ENABLE-TAAT (Empowering Novel Agribusiness-led Employment), provides capacity building and technical assistance for the establishment and expansion of youth-led agribusiness enterprises along TAAT value chains such as high iron beans, cassava, fish, maize, small livestock, rice and orange-fleshed sweet potato.
"Compared to my days as banker, I am better off now as a farmer. I have made more from agribusiness in a short while than I did from my bank job," Ayotomiwa says with glee.
While this might seem like the conventional sayings of businessmen who have made remarkable profit, it goes deeper for the young poultry farmer who has equally made social profit and recognition from his venture.
"I advocate for the involvement of more youth in the agribusiness sector, on television and radio, and people respect my opinion because I am living it," Ayotomiwa added.
According to him, the apathy of African youth towards agribusiness is borne out of their inability to see agriculture as a sector that can be commercialised as well as mechanised to maximise profit.
"Where the investment is properly monitored," he continued, "a poultry farmer can make up to 50% return on investment on broiler production within the space of eight weeks."
Ayotomiwa is already expanding his knowledge in agribusiness and venturing into other commodities such as Orange-fleshed Sweet Potato (OFSP) and rabbit farming. He has two support staff and exports his product across Africa and to the United States.