Hydrogen-fuelled cars have been on display at the ongoing UN Climate Change Conference in Bonn (which ends on 26 May), as part of a demonstration to show that clean transport technologies are available today and, if scaled up in a timely way, can play a major role in helping governments achieve their goals set under the Paris Climate Change Agreement.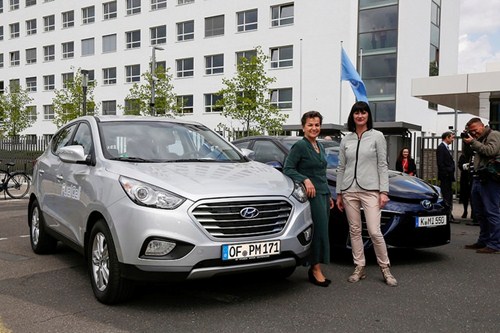 During the conference, governments are looking at economic sectors with the highest potential to curb emissions, and transport is one focus area. Salaheddine Mezouar, Morocco's Foreign Minister and incoming President of the UN Climate Change Conference in Marrakech (COP22) along with the UN's top climate change official Christiana Figueres test-drove hydrogen cars provided by the Clean Energy Partnership, an international consortium of 20 companies working together to jointly scale up the technology, co-funded by the German government.
"I believe that electro-mobility is the only way to make the transport sector emissions free, so hydrogen-cars are a big contribution towards the objective of the UN to achieve climate neutrality," said Claudia Fried, spokesperson for the Clean Energy Partnership.
"We are in a phase in which we can see the technology works and is ready to be applied. We need the gas industry, because they know how to produce hydrogen, we need the mineral oil industry because they have the fuelling stations and we need the car manufacturers who know how to build the fuel cells."
Clearly, hydrogen as a fuel is only clean if produced with the help of renewable energy such as solar and wind and the Clean Energy Partnership says that at least half of the hydrogen produced will come from such sources, if not more.
Hydrogen cars use five kilograms of hydrogen to drive a range of around 500 kilometres and it takes about three minutes to tank a car with hydrogen.
While the Clean Energy Partnership is made up of 20 industrial companies there is a way to go before the technology can be scaled up to the point that the cars are a common sight on the roads of the world. A country like Germany would for example need at least 100 fuelling stations before hydrogen can be sold at scale.
Andy Fuchs, a spokesperson for Toyota who was in Bonn, expects that 50 fuelling stations will be built in Germany by the end of 2016 and 400 are expected to be ready by the end of 2020, providing a network for much of the country.
Japanese car manufacturers have set their sights on being the lead exporter of hydrogen-powered vehicles. Toyota announced last year that it was willing to share its thousands of patents with other manufacturers and delivered the first of its new Mirai fuel cell cars to owners in Japan, the USA, Denmark, Germany and the UK.
Not just cars can be powered by hydrogen – Tokyo expects to have a fleet of hydrogen powered buses running in the Japanese capital in time for the 2020 Olympics.
The Toyota Mirai is not exactly cheap at around $66,000. But Andy Fuchs expects the costs to come down to around 30,000 per vehicle by 2020 for slightly less luxurious models.
And whilst the costs of such vehicles may still be prohibitive for average consumers, CEP spokesperson Claudia Fried would like to see at least the official fleets of government ministries made up of hydrogen and other types of electric cars, given that ministries can be role models for clean transport.
The Clean Energy Partnership will have a second guest appearance on 23 May at the UN Climate Change Conference during a Technical Expert Meeting on shifting to more efficient public transport and increasing energy efficiency of vehicles.