The mountains and deserts of Southern California are expected to see the highest risk for dangerous, even deadly, flash flooding from heavy rain due to Hurricane Hilary from Saturday through Monday, according to a climate scientist.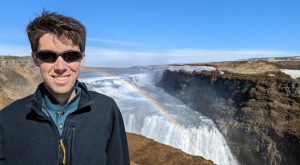 "If you're in the eastern slopes of the mountains in Southern California in particular, especially San Diego and Riverside counties, but also the high and low deserts, from the Imperial Valley up through Inyo County, this is going to be a major flood event," UCLA climate scientist, Daniel Swain, said in his Friday live YouTube forecast.
"It could potentially be a historic flood," he added.
Hurricane Hilary was creating 130 mph winds (210 kilometres per hour) and churning over the Pacific Ocean, just off the coast of Cabo San Lucas, as a Category 4 storm on Saturday morning.
Even though Hilary's centre isn't expected to reach California until Sunday, and the system will be a weaker tropical storm when it arrives, forecasters are sounding the alarm bells that Southern California will begin to see significant, rare and dangerous impacts on Saturday, which will continue into Sunday and Monday.
While dangerous wind conditions are likely, the larger concern is the tropical moisture surge that the storm is expected to pull into California which could lead to torrential rain and historic flooding.
The National Hurricane Center is predicting "catastrophic and life-threatening" flooding in portions of Southern California.
With the storm's track unlikely to shift substantially in coming days, meteorologists are honing in on those areas that are likely to see the heaviest rainfall and most severe flooding.
California's desert areas could see a year's rain in two to three days.
It's not unusual for remnant moisture from a fizzled-out tropical storm to push into southeastern California's desert areas, but it's highly unusual for an intact tropical storm to reach places like Death Valley, the Mojave Desert, Joshua Tree National Park, Palm Springs, Coachella Valley and Antelope Valley.
According to Swain, "once-in-century-level precipitation" is possible in these desert areas that usually receive less than 5 inches of rain in a year.
But with the coming storm, Swain said some desert areas could record upward of five to 10 inches across just two to three days.
Interstates and bridges could be washed out in southeastern California, Swain warned.
Debris flows are possible in areas of higher terrain and in wildfire burn scars, such as in the Mojave National Preserve, where the York Fire is still smoldering.
The National Park Service closed Joshua Tree National Park and Mojave National Preserve to keep people from becoming stranded amid flooding.
Death Valley National Park sees just over 2 inches of rain annually on average.
"They could easily see that in a weekend – especially the mountains of Death Valley," Jenn Varian, a forecaster with the weather service's Las Vegas office, told SFGATE on Friday.
Varian said that the soil in Death Valley can't easily absorb water and that much of the rain that falls will flow across the desert floor.
"There are a lot of washes, which is a fancy word for dry rivers, so they will be flowing," she said.
"It is not at all advised to recreate in Death Valley this weekend," Varian added.
Swain said Death Valley could see "terrain-altering" flooding – flooding that changes the appearance and behavior of rivers, valleys, and other geographic features.
"This is the kind of event that could wipe out national park infrastructure, particularly in Death Valley," Swain said.
Palm Springs records 4.6 inches of rain annually on average and is forecast to receive 5 to 6 inches, while Thermal, an unincorporated area in the Coachella Valley that usually sees just under 3 inches a year, could record 5 to 6 inches, maybe even a little more, said Adam Roser, a meteorologist with the weather service's San Diego office.
"There's a very high flash-flooding risk, especially Sunday and Monday. That's going to be the biggest threat.
"We could also see roadways impacted and debris flows or mudslides."
Eastern slopes of Southern California's mountains at risk for catastrophic flash flooding
Eastern slopes of the mountains in Southern California, particularly in San Diego and Riverside counties, are especially at risk for flooding, mudslides, rockslides and debris flows.
Mark Moede, a forecaster with the weather service's San Diego office, said these mountains will become efficient rainmakers in this event as uplift from wind and mountains triggers excessive rainfall rates.
Eastern slopes with sparse vegetation and rocky slopes will be particularly vulnerable to flash flooding.
"This is our greatest area of concern with this system," said Moede.
He added, "The east winds will help support rain development over the mountains and then the rain falls over the eastern slopes, in and over the deserts.
"Due to the desert ground there and the terrain that floods easily."