Perennial flooding is one of the most prevalent natural disasters in Nigeria, as more states in the North-East experienced devastating floods during the rainy season.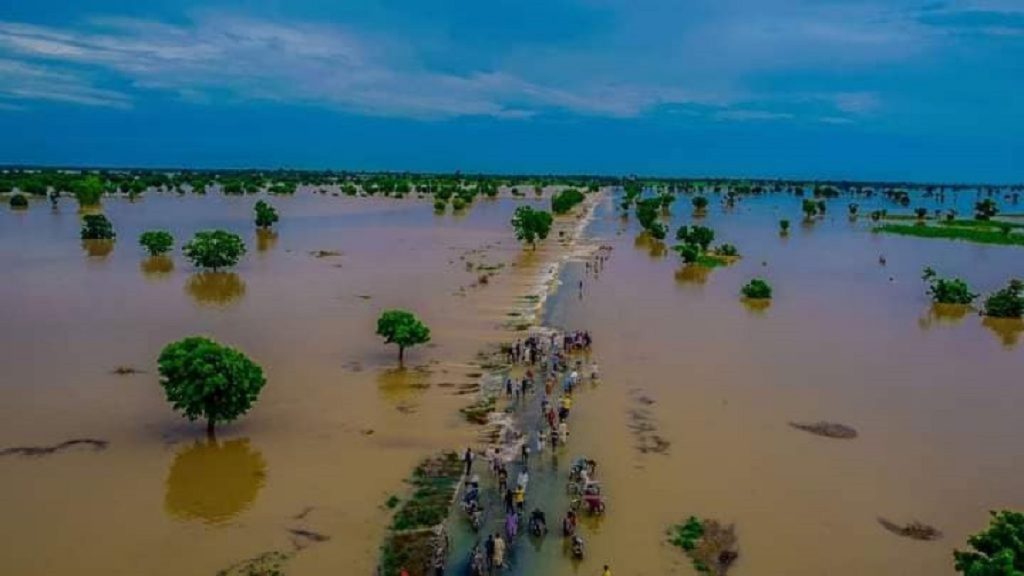 The Nigeria Metrological Agency (NiMet) in its 2022 Flood Outlook predicted flooding in many states across the country.
The agency advised governments and the people on safety and preventing measures to avert flooding.
According to some environmentalists, there is a link between increase flood incidences, human factor and climate change.
The experts said that floods triggered by increase volume of rainfall could be controlled with proper planning and deployment of necessary infrastructure.
The noted that human induced factors, poor urban planning practices and inadequate environmental infrastructure are largely responsible for flooding in the country.
During the 2022 rainy season, Nigeria recorded its worst flooding in recent history, thus escalating humanitarian impacts.
Mrs Alice Gombe, General Manager, Adamawa State Urban and Regional Planning Development Board, attributted perennial flooding in North-East to human and physical factors such as poor environmental sanitation and erection of illegal structures on waterways.
According to her, lack of town planning and the inability of town planning agencies to enforce compliance with environmental regulations compounded the situation.
In his contribution; Mohammed Suleiman, Executive Secretary, Adamawa State Emergency Management Agency (SEMA), said flood negatively impacted security and agriculture in the state.
He said the disaster has been recorded across 11 local government areas of the state.
"The disaster affected many farmers and dashed their hope for bumper harvest," he said.
In Jigawa, Executive Secretary, State Emergency Management Agency (SEMA), Sani Yusuf, said poor attitude to the environment by the residents contributed to devastating flood in the state.
He said the state government in its response to NiMet early warning, constructed embankments in flood prone areas to control the disaster.
The scribe attributed the floods to vandalisation of the flood control facilities by the people.
"Some residents, who are expected guard the embarkments for thier safety and property, converted the sands used for erecting the structure for personal use.
"Others cut it to channel the blocked water to their farms.
"The government also deployed equipment to clear typhar grass on Hadejia River to ease flow of water to control flooding," he said.
The DEMA boss urged the Federal Government to dredge the Hadejia River to provide lasting solutions to control perennial flooding in the state.
Statistics of the Jigawa government in its 2022 Wet Season Farmland Flood Assesment showed that the disaster ravaged 1,554 communities and 138,422.36 hectres of farmlands across 22 local government areas of the state.
The report recommended for construction of reservoirs, dams, embankments and spillway, desilt of water ways, afforestation programme as well as food and inputs support to the victims of the disaster.
To address the disaster, Mr Isma'il Bima, Chief  Executive Officer, Jewel Environmental Initiative (JEI), a Gombe-based non-governmental organisation, advocated enforcement of town planning and environmental laws to control the disaster.
Bima said the menace manifested itself due to non compliance or enforcement of environmental laws.
"If there is proper town planning, proper sensitisation of communities on the dangers of flooding, more lives and property would be saved.
"In Kwami, Funakaye, Yamaltu/Deba LGAs, people living in the riverine areas, they have been affected heavily with communities displaced.
"When the Dadin Kowa dam project completed, there was clear boundary on areas to be flooded but people encroached, built houses or farm in these areas without regards to possible environmental disaster.
"Government needs to ensure that people do not build on these areas by taking necessary measures to enforce compliance to proper town planning,'' he said.
He said the impact of the disaster would be minimal when people respect environmental laws and shun erecting structures on water ways.
"For instance, If you look at areas hit by flood in Gombe, Jigawa and Kano States, the people in those communities build without creating proper water channels so that when the rain water comes, it can easily pass."
He advised governments to carry out detailed assessment of flooding situation in the country in collaboration with key stakeholders and come up with solutions to forestall future occurrences.
"The response of the government to flooding is not enough; beyond issuing warnings and providing relief materials, government should not wait for next year's rainfall beyond acting''.
He also called for more awareness creation activities to sensitise communities to understand the impact of flooding, and discourage erecting structures on waterways.
The environmentalist further urged communities to desist from indiscriminate dumping of waste on drains, tree felling and adhere to town planning regulations.
In Yobe, the state government decried spate of deforestation and poor waste management which exposed communities to flooding.
SEMA's Executive Secretary, Dr Muhammed Goje, said logging and other unfriendly environmental habit aggrevated desertification which also resulted to flood in parts of the state.
"Peaple engage in tree felling without replacing the cut down trees resulting to large scale deforestation in spite of government's effort to control the menace.
"Some residents are also building structures on waterways without complying to the guidelines of ministry of land and Geographical Information System," he said.
He said the Agency had sensitised the people in flood prone communities on the flood warning by NiMet and other agencies.
"We issued early warning after receiving alert from NiMet and Nigeria Hydrological Services Agency (NIHSA), which predicted that Yobe, among other states in the country would likely experience flood.
"However, most of the communities ignored the warnings, which exacerbated effect of the disaster," he said.
Corroborating the stance, Mr Ibrahim Abdul-Rahman, said that town planners play significant role in flood mitigation to attain sustainable environment.
He charged town planners to work towads creating green settlements where people would be safe and protected against environmental disasters.
"Government at all levels should recruit qualified town planners, train and retrain the exiting ones.
"Effective measures are also necessary to ensure that residents and other land developers obtain building permits before erecting structures". he said.
Moreso, Dr Manu Joseph, Executive Director, Environs and Tech Consult in Bauchi State, decried spate of non compliance to flood early warning by NiMet and other relevant environmental authorities.
He noted that lack of compliance to Land Use Act aggravated natural disaster effect on the people and the economy.
"This is a serious problem in the country, cities are growing without adequate planning amid poor waste management and population growth," he said.
According to Joseph, uncontrolled urbanisation and rapid population growth, without the expansion of the necessary infrastructure to address them would exacerbate the destructive force of natural disasters.
Similarly, Malam Yusuf Mai-Abba, Lecturer with the College of Agriculture, Bauchi, said that human induced activities resulted to flood and deforestation ravaging farmlands and the ecosystem.
He stressed the need for sustainable agriculture to meet the increasing demand for food to achieve food security.
"We need to understand the climatic changes around us, how it affect agricultural productivity and rural livelihood.
"The greenhouse emission from gas flaring, open burning, vehicle emissions, deforestation, and use of fossil fuel for cooking are some of the causes of climate change," he said.
According to him, practicing rain fed agriculture exposed the country vulnerable to the adverse effects of climate change.
"Preparing disaster is generally more cost effective than responding to its aftershocks.
"It should be a priority to design adaptation measures that reduce the cost of climate related disasters and build resilience against future shocks.
"For a place so exposed to calamity, building such resilience is not a matter of choice but of survival," he said.