An environmentalist, Mr Toyin Oshaniwa, has said that weather could play a fast one on the electoral process in Nigeria.
Oshaniwa, founder of Nature Cares Resources Centre, a not-for-profit organisation, said in Lagos on Wednesday, February 20, 2019 that the year's electoral process had in one way or another sparked surprises due to weather conditions.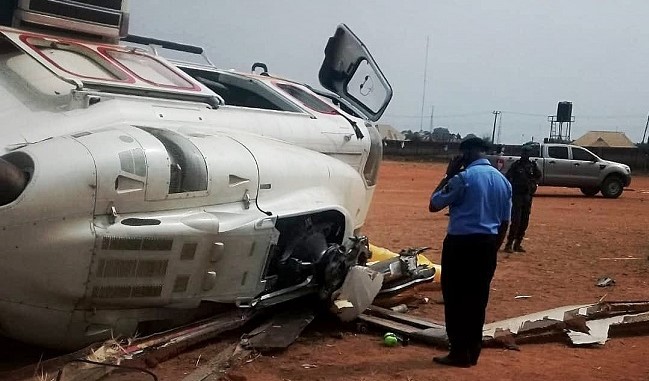 He said that these conditions had been affecting lives, properties and might have stimulated election violence and instability in Nigeria.
According to him, some scenarios include the crash landing of Vice President Yemi Osinbajo's chopper and the postponement of the Feb. 16 elections.
"An old saying goes that nature does not really care about man but that it is the sole responsibility or duty of man to care for nature or its environment.
"The 2019 election process has in one way or the other sparked surprises due to weather conditions that might have cost loss of lives and properties.
"Bad weather conditions may even stimulate election violence and instability in the country.
"Good case studies of weather interference in electoral processes include the instance that the INEC chairman ascribed to the Feb. 16 postponed elections to 'bad weather and sabotage'.
"Also, the helicopter crash of Feb. 2 with the Vice-President Osinbajo inside and the Accident Investigation Bureau (AIB) said it was due to a `blown out', meaning, chopper landed on a dry, sandy environment.
"The owners of the chopper also said that unusual weather conditions caused the crash," he said.
Oshaniwa, however, lamented the dispositions of political parties and candidates who had shown no sign or commitment to address the "wicked" environmental related challenges.
He said: "Most political parties and their candidates did not mention in their various manifestos what specifics they will apply to address the wicked environmental related challenges in Nigeria.
"Such as waste management, deforestation, annual flooding, climate change, disease epidemic, water scarcity and many others.
"What they have focused on is elements of environmental nexus in their various debates and meetings, centered on food security (herders and farmers clashes).
"Of cause, that has strengthened the concept of `Farmers Manifesto' during political rallies."
Oshaniwa also said that 2019 elections in Nigeria stimulated the generation of datas, ideas, information and concepts that showed socio-economic situations of the nation.
"However, not much on ecological situations. The basis is due to lack of `Ecological Literacy' in Nigeria. Ecological perspectives are missing; ecology has become an unimportant subject to history.
"Politics, economics and society and so forth, have resulted in a generation of Ecological Yahoos, without a clue about nature or environment," he said.
He urged Nigerians to raise a voice for the protection and conservation of nature because a nation without natural resources would soon plunge back to darkness.
By Itohan Abara-Laserian