The beautifully adorned Ekiti State University gate is surrounded by colourful flowers with fresh scents that welcomes visitors, staff, and students into the academic citadel.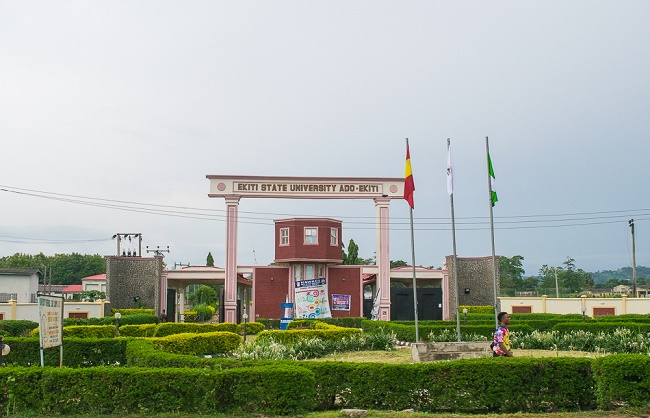 The university is located in Iworoko, a small-sized town along the outskirts of Ado-Ekiti, the Ekiti State capital.
The indiscriminate practice of "open dumping" by residents and locals of Iworoko area is seen all over the roads, as well as nooks and crannies of the town.
The prevalence of this environmentally unfriendly trend in the community has gradually become a norm, causing serious threats to residents' health and businesses.
The practice has also been found to disrupt ecological balance despite the government's efforts in providing a municipal waste management structure to combat open dumping and other sanitation-related issues.
Students are responsible for most waste generated
A walk through the student-dominated area revealed an eye saw of trash fields and a preponderance of dumping grounds which seemed to be intentionally positioned in front of every residential building and shop.
The streets are also littered with garbage and trash from overflowing dumping grounds sited across or on either side of the road.
A student of the Ekiti State University, Oladayo Fabulous, who doubles as chairman of his hostel of residence, narrates his ordeal managing the wastes generated by the over 50 occupants of the hostel.
Oladayo revealed that students are responsible for most of the solid waste generated in the area because the students don't have any organised strategy for waste management.
"Since I moved into the area as a student of Ekiti State University, the problem of waste disposal has been a major concern for many of us. The situation is very alarming, and the cause of this problem is that most hostel owners do not stay in school areas, and therefore can't monitor the waste disposal practices of their tenants. There are also no adequate provisions for waste bins or government involvement.
"There should be a method, but that is not the case in the school area. The only method we indulge in is mainly burning the refuse and that, in turn, pollutes the environment."
Oladayo expressed concern that the burning system threatens students' health, having observed regular complaints of catarrh or cough and asthma attacks for asthmatic people.
Another waste management system by residents is filling up drainage channels with solid wastes, expecting they will be flushed by rain. This has led to flooding and the spillage of solid waste into the road ruining road channels in Iworoko town.
Aside from the tarred road that links Oshekita junction to the University's Satellite gate, every other road network, and street, in this student-dominated area, is in bad shape.
Arinola Fatorin, a trader who owns a shop in the Phase 2 area, said she gets rid of her waste by dumping them along drainage channels with hopes that the rains will wash them away.
However, during the dry season when there are no rains, Arinola says she does what everyone else does by burning and incinerating the heap dumps.
Poor waste management is a long-standing problem in Iwokoro community
Waste disposal has always been a topic of discussion in Iworoko as the poor disposal system has lingered for years with no end in sight.
Mrs Oluwakemi Busari, one of the market leaders and a landlord in the community, walked our reporter through the sanitation habits of the villagers.
While tending to her customers, she pointed at an assemblage of old raffia baskets, saying; "As you can see there is a waste bin under the table over there, and at night we carry them on our heads to dispose them. We have a place where we dispose our waste items in our homes, everyone has a place irrespective of area."
Speaking about the villagers' efforts to reach the waste management agency, the local chief expressed disappointment at the response of officials who ought to know their jobs.
"Yes, we complain that we need the truck, but we are yet to see the outcome. Though the environmental officers do come for inspection, never have we seen Ekiti State Waste Management Agency come to dispose of wastes."
A visit to one of the dump sites revealed that the dump is left to pile forming a giant heap before they are burnt down. Some of the waste materials are seen littered all over the area with many lurking between bushes and grasses while others are washed down by erosion into the nearby river when it rains.
However, according to the state government, adequate provisions are being made to ensure a healthy environment, having secured 20 sophisticated waste collection bins worth over N30m as part of plans to ensure effective waste management and a cleaner environment.
Recall that, in 2019, the state government through its official website published the repeal of the existing Ekiti State Waste Management Authority (Amendment) Law, No. 20 of 2011.
Legal practitioner, Anthony Adeusi, explained that for an existing law to be repealed, a new law must have been enacted. However, no public announcement has been made regarding a new waste management law in the state.
Authorities play the 'blame game'
Attempts made to examine reasons why the waste management authority has not extended services to the Iworoko community yielded no results despite several appeals made by residents.
Our reporter visited the Ekiti State Ministry of Environment, where the Permanent Secretary, Tokunbo Alokan, declined questions on matters related to waste management in the state. He said the sole Administrator of Ekiti State Waste Management Agency (EKSWAMA) is in the best position to speak on issues of waste management.
Also, the director of Environmental Health and Sanitation, Balogun Joseph, held a similar stance, maintaining that his jurisdiction stops at sanitation-related matters.
Meanwhile, two separate attempts made by this reporter to speak with the sole Administrator of EKSWAMA, Bayo Kelekun, about the situation yielded no results.
Mr Kelekun said the agency would invite the reporter to cover his next environmental inspection exercise within Ado-Ekiti township, where he would provide answers to all questions about waste management in the state.
He also declined to give out his telephone contact. At the time of filing this report, we had received no feedback from EKSWAMA.
Experts warn of negative effects, proffer solution
Experts have warned of the effects of poor municipal waste management practices, calling on the government to live up to its waste collection responsibilities and increase sensitization to improve communal waste disposal culture.
Environmental health specialist, Oluwakemi Akintan, while challenging the government to do more in its commitments towards ensuring proper waste management in the state, said: "The capacity that the government is providing is not enough to cope with the number of waste people are generating, they need to ensure proper planning on how to collect wastes from all communities in the state."
Also, Olusola Johnson, a scholar and expert in environmental solutions and innovation, cautioned that individuals should consider taking conscious decisions to reduce the amount of plastic-related waste they generate, stressing that a single plastic material may take over 400 years to completely biodegrade.
He advised households to inculcate the habit of waste segregation, which he described as a technique introduced to manage waste while utilising its value.
"The technique of waste segregation involves sorting and separation of waste into different coloured trash collection bins in respect to the type of waste that it is. This is also known as 'colour coding waste'. For example, green should be for organic waste, yellow for glass, white for paper, grey for metal, red for hazards, and blue for plastics."
There is a need for the establishment of sustainable approaches by state actors to ensure residents of Iworoko Community and Ekiti state at large have access to sustainable waste management facilities.
Civil society organisations (CSOs) also have a role to play in sensitising indigenes on the best waste management system they can practise on their own.
By Nicholas Adeniyi