The World Health Organisation (WHO) has said that although Nigeria made considerable progress in the fight to end tuberculosis (TB), there are however some outstanding challenges that stakeholders need to address collectively to achieve the needed breakthrough.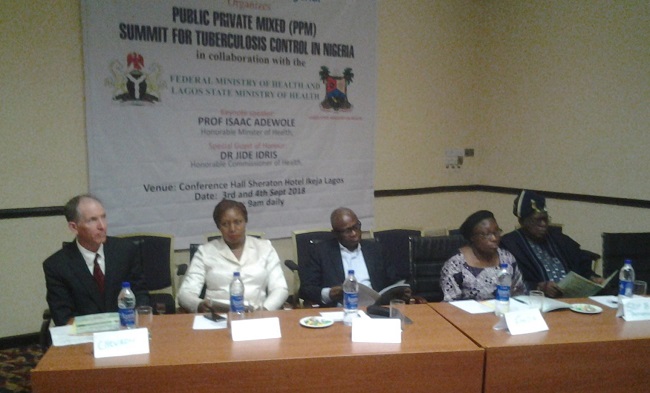 Dr Wondimagegnehu Alemu of the WHO made the submission on Monday, September 3, 2018 in Lagos at the Public Private Mix (PPM) Summit for Tuberculosis Control in Nigeria organised by the WHO Nigeria Country Office, Federal Ministry of Health, Lagos State Ministry of Health and Stop TB Partnership Nigeria.
Nigeria is said to have the second highest number of TB cases in Africa and ranks seventh amongst countries with the highest burden of TB globally. Some 600,000 people become infected with TB in Nigeria every year, and it is estimated that up to 60,000 of these new infections occur in children.
Dr Alemu emphasised that even though the federal and state governments with support of committed partners are working to bring TB under control, Nigeria should nonetheless address the following challenges:
Find the remaining 300,000 cases, which are still missed by the health sector. Of the total 400,000, only 100,000 were reported. In Lagos State, of the three reported cases, two are missed.
Expand quality TB diagnostic coverage nationwide. Both oprimisation of the existing gene Xpert diagnostic machine (390) and adding more.
Increase awareness of general public about TB so that they report to health facilities when they experience the cardinal sign of chronic cough.
Improve screening of chronically coughing cases at health facilities.
Increase involvement of private sector in TB control programme. Data shows that only 14% of private health institutions are collaborating with the national TB control programme, and only one in five (19%) TB cases are being managed at private health clinics.
He commended Health Minister, Prof Isaac Adewole, for increasing the case detection rate from 17% to 24%, representing a 41% increase.
"Hon Minister Sir, declaring 2017 as the year for accelerated TB case finding with clear strategy and actions at all levels has worked. We are very much encouraged with your commitment, and eager tp support your vision of reaching more Nigerians in 2018 and beyond.
Lagos State Commissioner for Health, Dr Jide Idris, said that the state has 926 TB treatment centres covering all 57 LGAs/LCDAs, 108 TB microscopy and 30 GeneXpert sites with at least one GeneXpert machine in each of the 20 LGAs.
His words: "With the support of our partners, we also havevarious case finding activities going on. These include house-to-house case search by community TB workers, tracing of contacts of diagnosed TB cases as well as mobile TB diagnosis using the Wellnes on Wheel truck. Our health workers regularly sensitise on TB during community outreaches, anti-natal and child immunisation clinics."
According to him, most of the challenges of TB control have to do with funding. "There are huge resources in the private sector we wish to tap into to drive out TB from our country," he said.
Board chair, Stop TB Partnership Nigeria, Prof Lovett Lawson, stated that even though daunting, the task of stopping TB is achievable.
"It is our collective responsibility; including the government, development partners, communities and the corporate sector in particular. It requires coordinated implementation of appropriate interventions," said Prof Lawson.