The International Day of the World's Indigenous Peoples was observed on Wednesday, August 9, 2023, with a special focus on youth. Indigenous youth are keen to be catalysts of change and understand their special role in climate action and the preservation of ecosystems, given that they can connect past practices anchored in Indigenous values with modern life.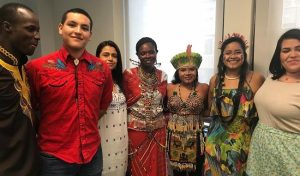 Indigenous Peoples traditionally own, manage, use or occupy at least a quarter of the global land area. And whilst they represent around six percent of the world population, they safeguard an estimated 80 percent of the world's remaining biodiversity.
The interests and potential of Indigenous Peoples therefore feature strongly in the UN Climate Change process.
"As future custodians of the planet, Indigenous youth have important insights into climate action and sustainable resource management that have been passed on from one generation to another," said UN Climate Change Executive Secretary Simon Stiell. "These are invaluable and essential to help us deal with today's existential crisis. Their voices need to be heard, and their contributions incorporated into the process, as well as into overall efforts to drive climate ambition and build resilient societies."
Youth can contribute to climate solutions with contemporary skill sets, making full use of internet and other technology. They can help create a ripple effect towards transformational climate action, helping to inspire new mindsets and to catalyze changes in climate policies and action at all levels.
The Local Communities and Indigenous Peoples Platform
Under the UN Framework Convention on Climate Change, the inclusion of Indigenous youth and youth from local communities features is promoted via the current workplan of the Local Communities and Indigenous Peoples Platform (LCIPP).
Speaking at this year's UN Climate Change Conference in Bonn, María José Andrade, a young leader of the Kichwa people in Ecuador's Kichwa de Serena Community, highlighted the significance of the platform.
"It is important for us as Indigenous Peoples to ensure a generational transition to a more sustainable world. Our elders, our parents, children and children's children need to know and access platforms and mechanisms under the UNFCCC. This is particularly important for Indigenous women and girls," she said.
Among the activities set out in the LCIPP workplan is an annual youth round table at the COP UN Climate Change Conference, organised in collaboration with Indigenous youth and youth from local communities.
The first was held at the UN Climate Change Conference COP27 in Egypt last year and saw the participation of over 100 young people from seven UN sociocultural regions.
At the event, participants highlighted their traditional and sustainable ways of living. These include activities such as planting traditional crops that have naturally adapted to the environment in which they live in, harvesting animals and utilizing every part of the animals so to not leave anything to waste, and using natural materials to build homes and infrastructure.
Indigenous youth need more opportunities to engage
Since the adoption of the Paris Agreement in 2015, delegates meeting at UN Climate Change conferences have consistently upheld the commitment to the inclusion of Indigenous Peoples. But more can be done.
Indigenous youth meeting at last year's round table in Egypt saw the need for more opportunities to engage with their local, regional, and national governments on climate policy development and implementation.
Furthermore, they pointed out that training and capacity building opportunities are needed to allow Indigenous youth to understand climate policies and how it affects them.
And there is an overall need to reform educational systems so that climate change impacts and solutions feature much more strongly.
Indigenous youth are also calling for work opportunities in their home communities that allow them to remain in their homelands.
This way, they can engage in climate policy development and implementation at local level, where much of the crucial action to preserve natural resources and adapt to climate change needs to happen.
Next steps
To continue to make their voices heard and present their solutions, Indigenous youth can make use of the Annual Youth Roundtable and the Annual gathering of Knowledge holders at the upcoming COP28 in Dubai.
Also under the LCIPP workplan, youth can provide ideas to reshape policies and actions at special events dedicated to Indigenous curricula in education systems and to Indigenous technologies.
Indigenous youth can already contribute to the future work of the platform by submitting their input to the review of Facilitative Working Group (FWG) and LCIPP third three-year work plan via the UNFCCC Submission portal.