"When they destroyed the forest, they were actually destroying our homes." Moise Ndjelee sits on a bamboo-made chair, surrounded by other Baka who squat before him to listen as he explains how "strangers" came and "forced them out" of the forest where they used to live.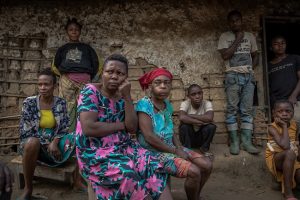 Ndjelee is a Baka, an indigenous ethnic group spread through rain forests in Cameroon, Congo, Gabon and Central African Republic. They have been historically called pygmies, a term that is no longer considered respectful. There are an estimated 250,000 to 500,000 forest people living in the rich forests of Central Africa. In Cameroon, the Baka community represents roughly 40,000 individuals.
For millennia, the Baka have lived as hunter-gatherers, surviving off the forest's bounty of plants and animals and using its natural herbs as medicine. But their way of life is dying – forcibly so. The territory is shrinking for the indigenous forest communities as agro-industries destroy forests, depriving them of their ancestral habitat and customs.
"We grew up in the forest. The forest is our patrimony," says the 80-year-old in Nyabibété, a village in the South region of Cameroon.
Ndjelee explains that, about two decades ago, he had just returned from hunting and was about to prepare dinner when "strangers" arrived and informed the forest dwellers that they had to relocate. "They told us to come and stay here temporarily so that our children can attend school," Ndjelee continues: "We agreed, and that changed our lives forever."
That marked the beginning of another epoch for the indigenous community. The strangers Ndjelee referred to were rubber plantation operators.
What used to be the Baka's rainforest home has been cleared and is now covered by a 450km2 rubber plantation operated by Sudcam plantation.
Predator Rubber Multinational
In December 2011, a Singapore-based company, GMG Global Ltd, won a series of investment incentives from the Cameroonian government. It had acquired two land concessions in the South Region to create rubber plantations from the government through its local partner company, Sud Cameroun-Hévéa S.A.
According to the deal's documentation, Sud Cameroun-Hévéa would get 450km2 of forest on a 50-year lease, which could be renewed for another 25 years. Regarding investment incentives, Sud Cameroun-Hévéa wouldn't pay tax for the first 10 years, thereafter, would pay a continuous flat tax rate of 15% for the next 40 years. The deal indicated that the rent, paid to the Cameroonian government, would be $1 per hectare and $0.5 for unplanted land.
The deal was sealed and then deforestation began.
GMG Global's plantations soon attracted the interest of a rapidly expanding corporation with deep pockets.
In 2016, Halcyon Agri, a leading rubber manufacturing company from Singapore, merged with GMG Global and Chinese Sinochem Natural Rubber. By the end of 2022, Halcyon Agri had in total 395km2 of rubber under cultivation and was selling 1.4 metric tonnes globally. One of the companies in which Halcyon Agri acquired a 100% stake was Corrie MacColl, a British agricultural holding company registered in London. Besides the 45,217 hectares Sudcam plantation, Corrie MacColl also owns the Hévécam concessions consisting of Niété (40,992 hectares), Bissiang (7,643 hectares) and Elogbatindi (3,972 hectares) that are located in the Kribi Region. Halcyon Agri put both the management of the Sudcam and Hevecam plantations into Corrie MacColl's hands.
A momentous change swept over Halcyon Agri on March 22 this year. The China Hainan Rubber Industry Group, a state-owned enterprise listed on the Shanghai Stock Exchange, acquired Halcyon Agri with a controlling shareholding stake of 62.357%. Hainan Rubber is the distributor for 22% of the world's rubber consumption, has 2,760km2 of rubber under cultivation and runs 72 processing factories.
The Sudcam plantation is now one of its assets.
Greenpeace Africa, an independent global environmental campaigning organisation, claims that an "influential member" of the Cameroonian political elite is reported to own 20% of Sudcam. The plantation lies roughly seven kilometres from the Mvomeka'a mansion of the Cameroonian President, Paul Biya.
Halcyon Agri's operations in Cameroon are expanding. Rights groups and activists have warned that the Sudcam rubber operations are encroaching and threatening the Dja Faunal Reserve, a UNESCO World Heritage Site. The wildlife reserve is home to endangered forest elephants, chimpanzees, and gorillas. It contains 107 mammal species, five of which are threatened.
The Sudcam plantation and the adjacent Dja Faunal Reserve are in the northwestern part of the wider Congo Basin, which is the world's second-largest rainforest covering about two million square kilometres. The rainforest is critical for the carbon cycle and can help to lessen the impacts of climate change worldwide. The biodiversity is immense: more than 10,000 plant and animal species, including endangered forest elephants and pygmy hippos. An estimated 60 million people depend on the basin for their livelihoods, including about 40,000 Baka.
Yet deforestation has accelerated since 2000 and the past five years have been particularly bad. The Central Africa Forest Observatory warns: "If the current pace of deforestation and forest degradation continues, 27% of the undisturbed moist forest in Central Africa (including Angola and Uganda) that existed in 2020 will have disappeared by 2050."
"To the best of our knowledge, no rubber plantation has encroached on protected areas. Sudcam in the South region is close to the Dja Reserve," says Jules Doret Ndongo, Cameroon's Minister of Forestry and Wildlife.
Lost Forest
Satellite data recorded by the University of Maryland's Global Land Analysis and Discovery lab and visualised on Global Forest Watch sheds light on how much forest has been lost thus far. Between 2012 and 2018, Sudcam cleared around 12,700 hectares (127 km2)) of rainforest. According to Global Forest Watch, nearly all the forest cleared in the Sudcam concession was old-growth rainforest.
Cameroon is a telling example of how deforestation is fueled by ever-growing demand for rubber products. Global Forest Watch reports that from 2002 to 2021 nearly 8,000km2 of its primary forest disappeared, with the main drivers being urbanisation and commodity-driven deforestation. The price of cocoa, rubber, palm oil and other agricultural products is axiomatically a factor in deforestation rates.
According to Corrie MacColl, deforestation stopped at the Sudcam plantation in December 2018. After independently examining satellite images, Digital Earth Africa concluded that deforestation at Sudcam did indeed stop in 2018, albeit after eight years of intense clearing.
There might be a sleight of hand in play. Instead of clearing even more of its land to grow more rubber trees, Corrie MacColl has started an outgrowers programme, where it aims to buy rubber from up to 13,000 small-scale farmers. The company states that it will only buy rubber planted on degraded land, which will total 270 km2.
Greenpeace Africa's Ranèce Ndjeudja is afraid that the programme "might mean that those smallholders will now be the ones deforesting on behalf of the production of rubber. And, of course, at the end of the day, benefiting Sudcam."
Hell Away From Home
Baka have long been stuck in a crisis about their future, very worried and upset about the future of generations to come.
Since their expulsion from the forest, things have moved from bad to worse, says Ndjelee, a respected elder of Nyabibété village. Together with Nyabibété, the villages of Bitye and Edjom are only a couple of kilometres away from the Sudcam plantation. The forest was once a shelter for the Baka, but now they live in roadside huts in an alien environment, pushed to the forest's edge and away from what they know.
In these villages, the Baka live in tumble-down huts without electricity or ablutions. Ndjelee says their village has grown from barely 25 Baka to more than 100 because of more displacement from the rubber plantation. The settlement still lacks schools, hospitals and recreational facilities that rubber companies promised to construct when they first started exploiting the forest.
"When it rains, we virtually sleep in the rain. They promised us so many things but…", says 45-year-old Simon Likessi, sitting next to Ndjelee, but a middle-aged man squatting behind him quickly interrupts. "Nothing, nothing at all, has been done. No houses, no school, no electricity. We are merely struggling to survive," the man says.
For Baka indigenous women, the living conditions are devastating. The destruction of the forest resources, which the Baka depend on, is breeding poverty and ill health for many of them.
Slyviane Akoulouzhe, a middle-aged woman with an easy smile who lives in Bitye, looks dejected as she points to a 10 square metre hut where she lives with her three children, her three brothers, their father, and mother and four nieces. "Sometimes, I sleep in the open air. It is very hard for us. In the forest, I would have constructed my own house with leaves, but that is impossible here," she says.
Sudcam has met with the villagers several times, but "every meeting they just tell us that everything will be fine," says 28-year-old Cool Mekodane, mother of two.
The life of the whole village has been turned upside down because of the cutting down of trees by Sudcam. "Before, we had everything we needed in the forest for an easy and happy life. We no longer have that here. We lived on hunting and farming, but not anymore. We have nothing," Mekodane adds in Bitye village.
Involuntarily, the villagers have had to accept the new life imposed on them by deforestation, but find it hard to adapt. Their gods, for example, are still in the forest, as are the remains of their ancestors. They often go there to communicate with them, but this spiritual connection has taken a serious hit with the forest disappearing. They are also no longer able to access the plantation grounds.
Perhaps the most worrying for the Baka is the lack of land ownership. Although they were allocated land, it does not belong to them legally. In Nyabibété, crops will not grow on the land, and many children are gaunt and undernourished from a poor diet.
The land where they resettled belongs to the Bantu ethnic group. The new landlords are not hospitable to them, says 19-year-old Emile Ambili, who just enrolled in a primary school.
In socioeconomic and political spheres in Cameroon, the Baka are often discriminated against by their Bantu neighbours. Still, the two groups have developed an interdependent relationship for centuries, with Baka supplying the Bantu tribes with bushmeat and plants in return for cultivated foods such as yams. The Baka hunt, fish, gather honey in the forest, and work for the Bantu, whilst the Bantu cultivate food at home.
"Bantus take us for slaves," he says. "We are encircled by graves. There are even houses that have been constructed on graves because we do not have enough land. This is…" he stops talking abruptly, looking gloomy.
In Edjom, another village next to the Sudcam plantation, there are hopes that the land dispute will soon be something of the past, says 38-year-old Parfait Yemelle, a revered leader of the village.
Yemelle says since 2018 (when Sudcam was engaged in massive deforestation), the government has been working to provide land for the Baka through the National Participatory Development Program (PNDP). The programme, funded by the World Bank and the African Development Bank (AfD), hopes to stimulate development and economic growth across rural areas in the country.
"They (PNDP) decided that traditional leaders should apportion the land to Pygmy communities expelled from the forest and living close to their kingdom… We have been apportioned land already. We are still waiting for our land title. This will avoid future destruction without compensation and also stop land problems," says Yemelle, a father of seven, who has become a celebrity in the village after releasing an album of folk songs and sharing it on social media.
Sudcam has tried to improve their lives, says 40-year-old Pierre Yele, Yemelle's elder brother. "They (Sudcam) have started paying school fees for our children and have also provided a borehole where we fetch clean water," says the father of six. "Every end of the year, they give us rice and wine".
Cameroon's Ministry of Forestry and Wildlife gives permits to companies to cut trees in the forest under the stipulation that at least 10 percent of the income goes to local communities, says Samuel Nguiffo, the Secretary General of the Centre for the Environment and Development, a Cameronian NGO that protects the rights, interests, culture and aspirations of indigenous and local forest communities in Central Africa.
"There was no discussion… and no compensation. (Even so) you cannot find financial compensation for everything, especially with these indigenous people," Nguiffo says "So the question is, do we want to protect them, their culture, or do we want to be part of their destruction? What they did there is very clearly against the interest of indigenous people. The focus is on investment, not on people's rights, not on the environment," he adds.
And it's happening again
Halcyon Agri's annual reports, a requirement of being a listed company, are comprehensive and much of the information in this article comes from those reports. In addition, there are financial notices in the public domain, the company's initial public offering (IPO) documentation and a degree of information on its and Corrie MacColl's websites.
Rubbercam is the exact opposite. This company has nothing to do with Halycon Agri, Sudcam, Corrie MacColl or Hainan Rubber. It doesn't have a website and it refused to engage with reporters. Although preliminary information indicates that a French car dealer owns the company, this cannot be determined with confidence at this date.
The 10km2 Rubbercam plantation, located 50km away from Sudcam in Cameroon's South region, started clearing the land for rubber trees between the villages of Avebé and Meyos-Méla only five years ago. And that meant clearing out people, including Baka.
At the impoverished village of Avebé, people are too frightened to have their names published. They claim that their sacred sites in the forest have been seized and that access to hunting and fishing sites are either barred or severely restricted.
The Avebé Village Development Committee has launched a court case against the government, claiming that the Rubbercam plantation does not have the correct permits. However, Cameroonian courts are notoriously slow. The matter has been ongoing for more than three years. The Ministry of State Property and Land Tenure is investigating the matter. Neither of these processes is expected to return the Baka's land.
Minister Ndongo agrees there is a need to revise forest policy to give "better consideration" to the interests of communities bordering forest and wildlife management areas.
"The updating and modernization of the legal framework governing the (forest) sub-sector have become more than imperative for many years already," he says.
EU's insatiable demand for rubber
Local NGOs and officials are categorical: European Union (EU)'s "insatiable" demand for rubber carries most of the blame for deforestation and negligence of forest communities. From 2000 to 2020, at least 520 km² of rainforest in West and Central Africa was destroyed to make way for industrial rubber plantations.
"The EU consumes more than one million tonnes of natural rubber every year, while it does not produce any. It depends almost entirely on imports from Southeast Asia and Africa, which are global biodiversity hotspots," Minster Ndongo says.
The EU is linked to 16% of tropical deforestation due to international trade. Christophe Hansen, a member of the European Parliament, agrees this is a problem: "We know that we lose every year around 10 million hectares of forests, over 10% directly linked to our European consumption. So this is our complicity in losing more forests, all over the world."
Europe consumes over a million tons of natural rubber yearly, 75% of it in tyres. The EU is a big buyer: the Union consumes 25% of global rubber supplies. Last year, over 318 million car tyres were produced in European plants. Much of the raw rubber, a key ingredient for tyres, comes from plantations in western and central Africa. At €1.54 billion, the EU's rubber imports from Africa are worth 12 times more than its palm oil imports from the region, according to Global Witness, an international NGO that investigates and campaigns to prevent natural resource related conflict and corruption, and associated environmental and human rights abuses.
New EU Legislation: No more dirty rubber
To rectify driving deforestation through consumption, the European Parliament has approved a law (the European Union Deforestation-Free Products Regulation) that bans the importation of commodities produced on land that was deforested after December 31, 2020. The law came into force on June 1, 2023, with a grace period of 18 months.
The new regulation sets mandatory due diligence rules for companies that want to place such products on the EU market or export them. Traders will have to prove that the products are deforestation-free and legal.
"This is very important because I think with this, at least we get our shelves in supermarkets, deforestation-free, which is already a first good start. We are not the only consumers, of course. So we want to incentivise others to go the same path," Hansen says.
According to giant tyre manufacturer, Continental, "as of today, seamless traceability of natural rubber is technically impossible due to the high complexity of the supply chain. Natural rubber passes through as many as seven different intermediaries and processing companies before it reaches your factory gates".
Adam McCarthy, Secretary General of European Tyre and Rubber Manufacturers Association, thinks that the new legislation is "ambitious" but does not give clear guidance to companies who need to implement it.
Stefano Savi, Director of Global Platform for Sustainable Natural Rubber, a tyre lobby group based in Singapore, agrees: "EU rules are not clear and will require a lot of time, investment and are very complex. They may exclude small-holder farmers and will divert dirty rubber to other parts of the world. Let companies be in charge of due diligence."
In response to queries about the EU's new law, Minister Ndongo states: "Thus, while it is agreed that the European Union, in the interests of its populations, is determined to take measures to help improve their living conditions, the fact remains that its development relates to a number of fundamental challenges that the subregion [Congo Basin] will have to address with diligence."
These key challenges include, in his view, the political and economic threats, risks and benefits of the EU's new law. The response to the law also needs, according to Ndongo, an "analysis of the balance of power in the context of global geopolitics concerning the management of forest resources and climate".
Environmental groups agree that the EU plan is an important first step but warn its impact could be limited by loopholes.
As debates ensue on what's right and what's wrong, the Baka continue to sink into poverty whilst the forests they are dependent on are still being chainsawed. And nothing much is done to compensate them. In Nyabibété, Ndjelee is still waiting in vain for justice and reparation. "Our life from before is finished – but we don't deserve this misery," says his 35-year-old nephew Ferdinand Ndjelee.
The EU deforestation law, which is supposed to protect the rainforest and its indigenous inhabitants, unfortunately, comes too late for the Baka in the villages around Sudcam.
By Arison Tamfu, Nathalie Bertrams, Ingrid Gercama and Tristen Taylor
This article was developed with the support of Journalismfund Europe