Like most Nigerian teenagers who have dreams and ambition after secondary school to further their education, Miss Oluwashayo Elubode had high hopes. Miss Elubode is a young and aspiring Agronomist I met when I visited the International Institute of Tropical Agricultural (IITA) in Ibadan, Oyo State, in company of the Youth Voices for Small Scale Farmers which recently toured the Institute.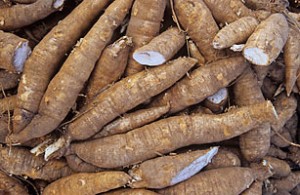 Twenty-nine-year-old Elubode wanted to study Nursing at the Ladoke Akintola University of Technology (LAUTECH) in Ogbomosho, Osun State, but was offered Agronomy; reason being that the institution's Nursing Department had reached it maximum number of applicants to be absorbed into the school that year. Elubode explained that she was disappointed but nonetheless decided to visit the Head of Department (HOD) of Agronomy who explained to her what Agronomic meant.
She said: "When I was offered the course, I did not know or even heard of the word Agronomy. After the brief lecture by the HOD, I was able to understand what the course was about subsequently after five years of studying Agronomy. I was glad I did."
What I saw was a young lady who was happy doing what she does for a living.
Elubode said after her youth service corps programme, she applied for work at IITA to broaden her knowledge and prepare her for further research towards her post-graduate studies as she plans to specialise in Agronomy, which she described as the backbone of agriculture that brings about innovative ways of boosting agricultural production.
At the Cassava Unit in IITA where she is undergoing a six-month training programme, she highlighted the vast potential in cassava, which is touted to herald the next big boom in agriculture in the country. According to her, cassava is a food security crop that is able to transform the country's economy.
"It is well known that Nigeria is the largest producer of cassava in the world. All environmental factors that can boost maximum yield of cassava are available in Nigeria. That is why IITA is undertaking a lot of research in cassava such as improved varieties like the Beta-carotene fortified cassava. The days that cassava is regarded only as a source of carbohydrate are gone. Improved varieties now have vitamins and proteins. There is yellow garri which in the past you have to add palm oil to produce a yellow garri which is more expensive due to the addition of palm oil."
She maintained that, through cassava, a green revolution in the agricultural sector can be achieved. Cassava is a staple food in most homes in Nigeria either processed as garri for eba, fufu or lafu. She urged those into  large scale production in the manufacturing industry to embrace cassava production and and use it as a by-product. If more cassava flour is used in the production of bread this would impact on the income and livelihood of small scale farmers.
Lots of money is used to import wheat flour into this country for bread production. There is cassava fortified with Vitamins that can be processed as flour and use to bake bread and other pasteries. Elubode maintained that cassava flour would add value to bread production and appealed to large scale bakers to introduce cassava flour in the production process.
"I am an agronomist and I have carried out research into this wonderful crop called cassava. It is the next big thing to happen to Nigeria. More youths should come into agriculture. I am glad I am able to contribute my quota to national development. If the youths don't see agriculture as a way of life, very soon the old farmers who are growing weak and old would be no more. Does it mean we would no longer eat in this country?
"The youths have the energy and idea. We are the ones to bring back the past glory Nigeria achieved through agriculture. That means now we can do better with science and research. I appeal to Nigerian youths to engage aggressively in agriculture because there is vast potential in this sector," she said.
Elubode bemoans the gradual switch in science education, as young entrants into higher institutions prefer other courses, but she expressed optimism that through science a lot can be transformed in the country.
Similarly, a young lecturer at the Nassarawa State University in Lafia, Mr Tunde Taiwo, who studied for his post-graduate research at IITA, decried the neglect in the area of science. Taiwo noted that science research in Nigeria is not receiving adequate attention and funding. He said the specialised higher institutions in the country like Universities of Technology and Agriculture are gradually becoming conventional universities.
"There are only three Universities of Agriculture in Nigeria; those at Abeokuta, Umudike and Makurdi. But, because of revenue generation, more non-science courses are being introduced into these schools," he said, even as he called for more support by the government and corporate organisations in the area of science education and development.
Taiwo went on: "I am about going to the United Kingdom for my doctorate degree because there is not enough research materials in my area of interest. I believe that in the UK there will be well-equipped laboratories and not a case where I will be choked with theories and few practicals. Nigerians are intelligent and do well when they go abroad to study because of the enabling education environment.
"The recently presented 2013 budget shows that the education sector has a good allocation from the budget. The success of this budget would be if the funds are appropriately disbursed to the relevant areas where they are needed and proper monitoring of its use put in place."
By Tina Armstrong-Ogbonna