Members of Unguwan Gandu Zuntu, Kubau Local Government Area of Kaduna State said on Friday, August 24, 2018 that access to clean water in the community had significantly changed their lives for good.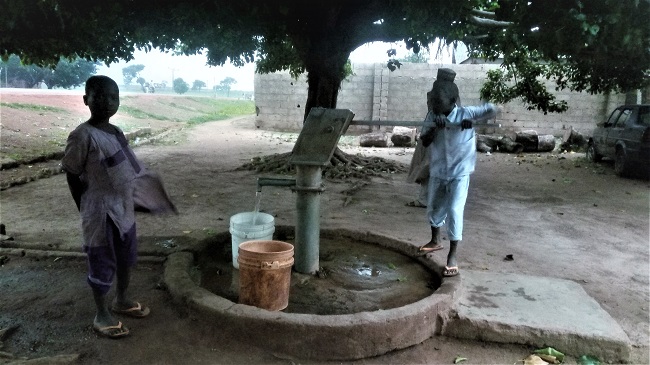 They stated this while interacting with a correspondent of the News Agency of Nigeria (NAN) who was in the community to assess the impact of Phase II of Sanitation, Hygiene and Water in Nigeria (SHAWN) project on the people.
One of them, Mrs Matina Tanko, recalled that families in the area had suffered water borne diseases and other related ailments due to unsafe water and poor sanitation conditions, stressing that life had been tough for both the young and the old in the community.
"We had to walk more than two kilometres from our house to River Lakarbu to get drinking water whenever our only source of water, a well became dry.
"The most disturbing problem was that people washed their clothes and bathed in the river. Not only that, cattle also drank, defecated and urinated in the water.
"Yet, we walked for about two kilometres to get these bacteria and germs infected water for drinking, cooking, and other domestic uses, because we had no alternative," she said.
The Ward Head of the Community, Mr Yohana Tahum, also said that the people preferred to go to the river, early, to avoid the long queue and hours of waiting to get water from the only well in the community.
"People go to the well as early as 3 a.m. to be able to get water between 7 a.m. and 8 a.m. because of the long queue, with our women and school girls suffering the most," Tahum said.
Mrs Saraya Ibrahim, a house wife, however, expressed joy that the community now had access to clean water through a hand pump borehole provided by the SHAWN II project.
According to her, the project, jointly funded by UNICEF, DFID and the Kaduna State Government has changed the lives of the community, away the pains of having to walk long distance to get water.
"Not only that, good sanitation and hygiene practices that become our new way of life, courtesy of the project, has also saved us from constant vomits and diarrhea due to unhealthy living environment.
"We had no idea what it means to live in a hygienic environment until the SHAWN project; and now we live in clean environment, practice good hygiene and built toilets to properly dispose excretes," Ibrahim said.
At Unguwan Masama, also in the local government, Malam Umaru Mukaila, the Water, Sanitation and Hygiene Committee Chairman in the community said every household now had a toilet, to discourage open defecation.
Mukaila also said that the community was also provided with motorised borehole supplying clean water to its 2,500 inhabitants.
Members of Unguwan Masama, Kubau Local Government Area of Kaduna State, were provided drinking water from a motorise borehole provided by SHAWN II Project in the Community.
He thanked UNICEF, the state government and DFID for improving the quality of life in the community through the SHAWN II projects, saying, "We never had it this good."
SHAWN II project is aimed at improving access to sanitation, hygiene and water supply to all citizens through eradication of open defecation, hand washing promotion, sanitation and provision of water facility.
It is being funded by United Kingdom's Department for International Development (DFID) and UNICEF with counterpart funding from the state governments of Kaduna, Katsina, Zamfara, Benue, Bauchi and Jigawa.
By Philip Yatai