A roundtable hosted by the Health of Mother Earth Foundation (HOMEF) held in Abuja on Wednesday, April 27, 2022, beamed the spotlight on genetically engineered cowpea, Bt Cowpea (Vigna Unguiculata), popularly known as beans.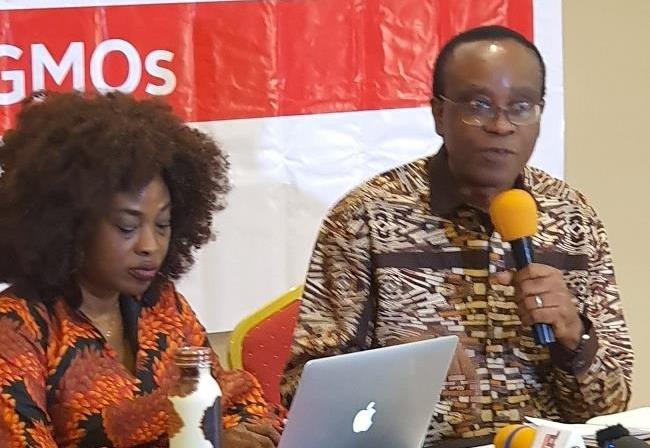 Cowpea is one of Africa's largest indigenous food crops and a major source of protein for the Nigerian populace where it is prepared and eaten in various forms such as ewa agoin, akara and moi moi. It is a staple food crop and an important source of income.
Nigeria, which has had a yearly average production of about 2.7 million metric tons over the last 10 years, is a centre of origin of cowpea and is a major producer of cowpea in the world.  Ironically, Nigeria is also the largest importer of cowpea in Africa.
Nnimmo Bassey, the head of HOMEF, in his opening remarks, reminded participants that the GM beans variety has already been given to farmers across Nigeria who have planted, harvested, and eaten them.
"As revealed in an investigation by Premium Times, the promoters of this variety did not tell the farmers that they were being given GM beans to plant. The excuse given by a top official of the National Biotechnology Development Agency (NABDA) is that they could not explain what GMOs are to the poor farmers. They merely told the farmers that they were being given improved varieties. Deception is not a scientific tool for disseminating any product."
Bassey stated that GM beans would impoverish Nigerian farmers, erode our biodiversity, and pollute neighbouring countries.
"We are calling for the prohibition of GM seeds in Nigeria. We need to stop the spread of these seeds because Africa must not be turned into a dumping ground for risky technologies. We applaud the Senate for commencing the review of Biosafety Act, especially for planning to close gaps that have made the existing regime ineffective."
He further noted that these seeds decrease soil fertility, impoverish small scale farmers and promote land grab for monocultures.
Mariann Bassey-Orovwuje, coordinator of Food Sovereignty Programme at Friends of the Earth Nigeria/Africa, stated that giving GMOs to farmers without their consent is illegal. She wondered why Nigeria would approve a GM cowpea that South Africa had rejected and why the country should adopt a GM cotton that had failed woefully in Burkina Faso.
She added, "The introduction of genetically engineered cowpea is a great cause for concern for farmers, consumers, and civil society organisations across the continent. While the technology is said to be provided royalty-free, the long-term implications of transforming the environment, farmers' varieties, and production practices, will trap farmers into unsustainable, unsuitable, and unaffordable farming practices, and deepen the threat to food and nutritional security. We call for a total ban of GMOs and respect for our small-scale farmers/producers. Respect of their rights to what they produce and how they want to produce it."
She further reiterated that food sovereignty should be respected. This is the "right of peoples to healthy and culturally appropriate food produced through ecologically sound and sustainable methods, and their right to define their own food and agriculture systems. There is an urgent need for our governments to strengthen our biosafety legislation in line with the precautionary principles which advises caution where there is no certainty of environmental and health safety."
Dr Ifeanyi Casmir, a lecturer at University of Abuja, spoke on the science of genetic engineering and inherent risks in the processes. He stressed that inadequate risk assessments were carried out on the Bt Cowpea before they were approved and there is no guarantee of human or environmental health.
The academic further stated that federal government should unburden NAFDAC by reducing the scope of their work to ensure efficiency. He said this because the work overload has led to the penetration of pesticides and other chemicals that have been banned elsewhere.
The roundtable agreed that Nigeria is exposed to untold risks through an opaque system of approval and dissemination of GMOs. Getting poor farmers to plant GM crops and consumers to unknowingly eat such products must be seen as unethical and a crass infringement on the human right of the people to safe foods. The fact that promoters of the varieties are unable or are unwilling; to explain the varieties to farmers and Nigerians is a clear confirmation that the country is not ready for GMOs.
Participants agreed that Nigeria should place a 20-year moratorium on agricultural genetic engineering.