Flooding from Tropical Storm Harvey is overburdening resources in the US as authorities in and around Houston in Texas scramble to save those trapped by the high waters.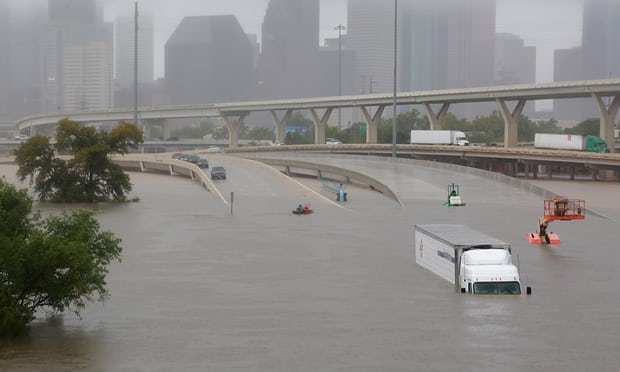 Hopes for an immediate respite from Harvey's wrath seem unlikely as the National Weather Service calls the flooding "unprecedented" and warns things may become more dire if a record-breaking 50 inches of rain falls on parts of Texas in coming days.
The rainfall threatens to exacerbate an already dangerous situation, as Harvey's rains have left many east Texas rivers and bayous swollen to their banks or beyond.
"The breadth and intensity of this rainfall are beyond anything experienced before," the weather service said. "Catastrophic flooding is now underway and expected to continue for days.
The storm killed two people in Texas, authorities said, and the death toll will likely rise. More than 1,000 people were rescued overnight, and Houston Mayor Sylvester Turner warned that some 911 calls are going unanswered as operators "give preference to life-threatening calls."
Here are the latest developments:
A woman who drove her vehicle into high water in Houston was killed, and fire killed a man in Rockport.
Several states and the US military are sending emergency workers and equipment to Texas. In Harris County, though, authorities are having issues mobilising those resources. "We've requested boats, all the things that would normally happen in a well-planned response to an event like this, but they can't get here," Harris County Judge Ed Emmett said.
Dallas announced its plans to open a "mega-shelter" capable of accommodating 5,000 evacuees at the Kay Bailey Hutchison Convention Center. County officials, charitable groups and local hospitals are working to open the shelter by Tuesday morning.
While Turner warned the rain could exacerbate flooding for "four to five days," Federal Emergency Management Agency Director Brock Long said he expects his agency "is going to be there for years."
The Houston Independent School District has canceled school for the week.
Houston's George Bush Intercontinental and William P. Hobby airports are closed until further notice, and Corpus Christi International is closed for at least 24 hours, officials said. Jack Brooks Regional Airport in Beaumont, Ellington Airport in Houston, Mustang Beach Airport in Port Aransas and McCampbell-Porter Airport in Aransas Pass are also temporarily closed, the Federal Aviation Administration says.
Ben Taub Hospital, which houses a Level I trauma center, is being evacuated after flooding in the basement "disrupted the power source," Emmet said.
316,000 customers have lost electricity, Gov. Greg Abbott said.
The Red Cross is serving about 130,000 meals a day, the governor said.
President Donald Trump will travel to Texas on Tuesday, press secretary Sarah Huckabee Sanders said.
Courtesy: CNN