Over the weekend, on September 5 and 6, 2020, people in civilian clothes abducted several activists in Belarus, including members of Climate Action Network, who participated in peaceful political protests.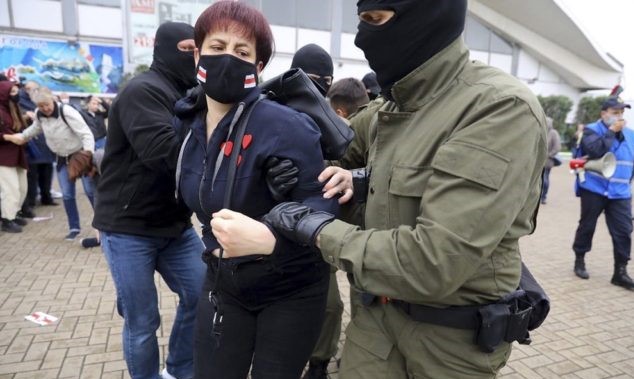 Since the presidential elections in the Republic of Belarus on August 9, mass peaceful protests have taken place in the country against the numerous violations of the electoral process. The protests have been brutally suppressed with thousands of pro-democracy campaigners being arrested. There are wide allegations of human rights abuses occurring to those that have been detained.
CAN along with 350.org, The Belarusian National Platform of the Eastern Partnership Civil Society Forum, the Green Network coalition of Environmental Organisations and the NGO EcoDom condemn what they term "unjustified and illegal detention".
CAN, which says it believes in the right to freedom of expression and supports people's right to peacefully protest for social and political justice in Belarus, demands the immediate release of all those being held illegally, including:

Andrey Egorov, who was abducted by unidentified people on Sunday, 6 September, during a peaceful protest. He is currently awaiting his trial in Jodino prison.
Egorov is a political scientist and activist. He is chairman of the Coordination Committee of the Belarusian National Platform of the Eastern Partnership Civil Society Forum, member of the Green Network Council and a member of the Coordination Council initiated by Svetlana Tikhanovskaya.
Irina Sukhy was abducted by people in civilian clothes from her house before the start of a mass protest on Sunday, 6 September. She has been detained in the Okrestina prison. Following a court case, she is being detained in the prison for five days.
Sukhy is one of the most prominent environmental activists in Belarus. She is chairwoman of the Green Network Council and a representative of the NGO EcoDom, which leads a campaign against the Ostrovets Nuclear Power Plant.
Sukhy's apartment was reportedly raided by representatives of law enforcement agencies who refused to introduce themselves and failed to produce papers justifying the search. The raid and abduction were carried out in the presence of Sukhy's 93-year-old mother.
Anastasia Zakharevich, who was abducted from a store by people in civilian clothes on Saturday, September 5, was charged with participating in an unauthorised mass event and has been sentenced to seven days in prison.
Zakharevich is a journalist with Green Portal, the Green Network Media Resource and a member of the Board of CAN International.
CAN says it supports the demands of the Belarusian National Platform of the Eastern Partnership Civil Society Forum, the Green Network Coalition of Environmental Organizations and the NGO EcoDom for:
The immediate release of all political prisoners who have been abducted and detained for participating in peaceful protests, including our CAN colleagues.
An immediate end to the violence and repression by law enforcement agencies, and swift justice for all those who have been harmed by these repressive actions.
"A proactive position in political protests, including in the fight for environmental protection, is an inalienable and legal right of citizens. If the exercise of these rights are met with violence and repression from the government, civil society will unite and seek justice," adds the group.
Olga Boiko, CAN EECCA coordinator, says: "The attacks on peaceful activists in Belarus who are fighting for their freedom and a better future for their country is a horrible violation of human rights. We cannot build a just and sustainable world without ensuring that the rights of activists are protected. Governments who use repression against their own peaceful citizens cannot deliver on climate and justice demands of the people. This is the time to stand in solidarity with the brave activists in Belarus."
Svetlana Romanko, Managing Director, 350.org in the EECCA region: "It is absolutely unacceptable that our colleagues are kidnapped on the streets and in their own homes, harassed, imprisoned and subjected to legal proceedings that have nothing to do with the law and human rights. An unprecedented lawlessness and violence is now taking place in Belarus, which threatens the entire
"European community and the very institution of human rights in Europe and the world. If we, the EU and the UN do not respond appropriately, we will not be able to cope with the crisis of democracy and the climate crisis in the future, which will be extremely dangerous for all, without exception, people on the planet."
Maria Falaleeva, Climate Policy Expert, Belarus: "Sustainable development of society, in principle, is impossible without respect for human rights, without the right to vote and without the right for citizens to determine the society of their choice and be responsible for decisions.
"The rude and unjustified detention of our colleagues in Belarus shows how dangerous the existing regime is for people who are demanding a comprehensive, democratic and truly sustainable development of their country, regardless of whether they work in ecology, politics or journalism."
Wendel Trio, Director of Climate Action Network, Europe: "It is appalling to see all these human rights violations, arbitrary arrests of civilians, journalists and activists happening at Europe's doorstep. They constitute a serious blow to European values, including freedom of expression and gathering.
"The EU must condemn the attacks perpetrated by the government on activists and take urgent steps to support Belarusian civil society in order to protect the rule of law and democracy across all of Europe. This should include applying sanctions to the Belarus government."