A not-for-profit organisation, TURN Foundation, has urged youths to shun actions capable of degrading the environment.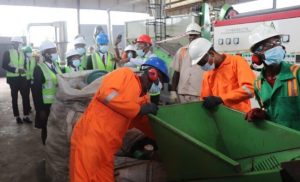 Mrs Ihuoma Njemanze, Project Manager, United Nations Institute for Training and Research, partners in the project, said this in a statement she issued on Thursday, June 22, 2023.
Njemanze said it was part part of the Foundation's "catch them young" projects to teach youths the role they could play in environmental protection efforts.
She said that, as part of its contributions to encourage youths' participation in environmental protection, the organisation recently trained students of Bloombreed High School, Elelenwo, Port Harcourt, on recycling of plastic bottles.
The foundation also set up an "Environmental Protection Club" in the school with a view to stimulating enthusiasm for recycling among students.
Njemanze described the training and setting up of the club as part of activities by the Foundation to mark the 2023 World Environment Day.
According to her, they are essential in highlighting the significance of environmental protection and sustainability via turning waste to wealth.
She said that the Foundation would support the club with learning resources, art materials and excursions.
"Commissioned in February last year, TURN Plastic Foundation boasts of a 1,000 tonnes capacity plant capable of saving over 750 tonnes of CO2 emissions per year, equivalent to planting about 4,500 trees annually," Njemanze said.
"As part of its environmental awareness campaign focusing on behavioral change, TURN Plastic Foundation has set up an innovative initiative termed: Train Up a Child (TUC).
"This is part of the Foundation's dedication to promoting a circular economy and engaging young individuals in interactive recycling activities, demonstrating their commitment to combating plastic pollution and building a greener, more sustainable future.
"The ultimate goal is to raise environmental awareness among young Nigerians and instill a sense of responsibility for future generations," she said.
Njemanze further expressed the Foundation's commitment to establish recycling hubs in 23 schools in Port Harcourt.
She said that the Foundation also intended to empower youths by offering them opportunities to earn income through cash rewards for depositing their plastic waste in designated recycling bins.
"Through these efforts, TURN Plastic Foundation aims to educate both young people and consumers about the importance of plastics recycling, while encouraging the purchase of products made with Post-Consumer Recycled resins (PCR),'' Njemanze said.
She commended the partners, Mr Leo Nwofa and Mrs Uloma Airhienbuwa, for their contributions to the success of the event.
"TURN Plastic Foundation firmly believes that individuals play a crucial role in achieving sustainability and encourages the public to actively participate in environmental preservation.
"The foundation welcomes partnerships and collaborations from the bodies and members of the public," Njemanze said.
She said that the students were taught creative ways to reuse plastics.
"They also took part in a quiz session that tested their knowledge of plastics and plastic waste as well as an informative visit to the TURN Plastics Recycling Plant in Elelenwo," Njamenze said.
Njemanze said the event featured video presentations on origins and environmental impact of plastics to promote sustainable waste management, segregation, sorting, and recycling from an early age.
By Ikenna Uwadileke