The Karu Abattoir in Abuja has been fitted with a Net-zero/Low Carbon Biogas Digester to enable the generation of electricity and heat, as well as the production of organic fertiliser. Promoted by the African Environmental Action Network (EANet-Africa), the ground-breaking ceremony of the facility held on December 14, 2017.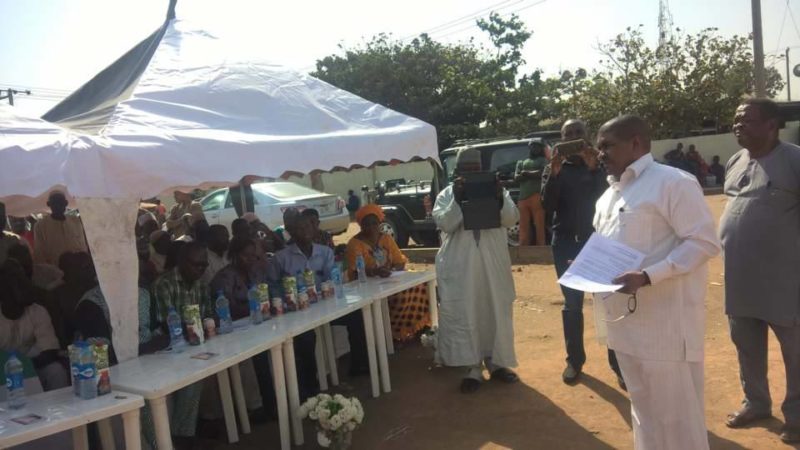 Co-founder of EANet-Africa, Dr Victor Fodeke, described the initiative as an ambitious march towards the decarbonisation of abattoirs in Nigeria, adding that, by generating heat, it reduces fuelwood harvesting and deforestation, generates electricity to power Micro Small and Medium Enterprises (MSMEs), produces organic fertilisers (bio-slurry) for green house farming for food security, and promoting sanitation and reducing volume of wastes.
"We unveil another milestone to conserve our forest resources, and enthrone climate safety and sustainable livelihood. This is a truly mega environmental solution project in compliance with Nigeria's Nationall Determined Contributions (NDCs) and the historic Paris Agreement. There have been several attempts to popularise biogas technology in Nigeria without a detailed roadmap and sustainable implementation strategies," he said.
According to him, the EANet-Africa National Strategic Roadmap will bring on board clusters home-based and community-based biogas digestors in each of the 774 Local Government Areas of Nigeria, Primary Health Centres and agriculture communities to produce 2-5mw electricity in five years in a public-private participatory and focused international support strategy, with the co-benefit of national reduction in municipal waste load by 40%, and enhance sanitation; enhancing conservation of forests sink of greenhouse gases (GHG) by eliminating of fuel-wood harvesting; elimination of indoor house pollution implicated in annual mortality of 135, women and children as bio-slurry will power "Women GreenHouse Farming"; take up a waste-to-wealth campaign and a re-orientation of what is wrongly called waste in Nigeria.
"Preliminary discussion in 2016 with Abuja Environmental Protection Board (AEPB) revealed that 47% of municipal wastes in Abuja are biodegradable and we (EANet-Africa) concluded on establishing a biogas digestor to generate about 7mw electricity for FCT," said Dr Fodeke, who used to be the Director, Department of Climate change in the Federal Ministry of Environment.
He adds: "It is on record that China has over 30 million biogas digestors, while India has 15 million. Biogas technology is popular in East Africa. We are informed that United Kingdom is soon to deploy one million biogas digestors.
"The implementation of these projects with international assistance, and mobilising our innovative internally mobilised public-private partnership (PPP) support strategy can enable Nigeria to reach its Nationally Determined Contributions (NDCs) target of 45% before 2030, enthrone sustainable livelihood, create massive jobs, enhance food security and reduce indoor air pollution and enhance sinks for GHGs in a measurable reportable and verifiable manner."