The Fridays For Future (FFF) Nigeria and Climate Live Nigeria has called for an end to fossil fuels production and usage in the country.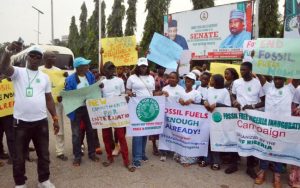 Mr Kingsley Odogwu, National Coordinator and Country Representative of the organisation, said this at the Climate Justice Road-walk campaign on Friday, September 15, 2023, in Abuja.
He said that the campaign was aimed at raising awareness on the effects of fossil fuels and the need for the Federal Government to transit to renewable energy sources.
He said that as world leaders gather at the UN climate talks in New York in Sept., it was necessary for Nigeria to also put its voice and demand a rapid, just and equitable end to coal, oil and gas.
"Our world is in crisis and the biggest cause is fossil fuels, that is coal, oil and gas.
"The fossil fuel industry is responsible for 86 percent of all C02 emissions in the past decade, as they are driving a predatory and destructive economic system that harms people and the planet.
"The science is clear, what the world needs now is a rapid and just transition to an energy and economic system that is efficient, fair and universal.
"A system based on clean energy sources and produced with respect for nature and the sovereign rights of indigenous people.
"Across the world, people are fighting back against the fossil fuel industry, we are resisting the development of new pipelines, mines and infrastructure.
"We are also demanding that financial institutions stop funding fossil fuels and we want big oil, coal and gas companies to be held accountable and pay for the harm they cause," he said.
He said that the organisation would be organising a Climate Music Concert on Sept. 17, to drive home its demands for fossil fuel phase-out and replace with renewable energy sources.
He added that this would protect the natural environment from pollution and over-exploitation.
By Ruth Oketunde