Follow The Money, a campaign being promoted by the Abuja-based Connected Development (CODE) aimed at tracking and monitoring governmental and international aid disbursements, has commended  the Federal House of Representatives (HOR) for  commissioning its committees on Anti-Corruption, Environment and Habitat to begin an investigation over the last administration's "Clean CookStoves For Rural Women Project," a N9.287 billion scheme initiated in 2014 to supply 750,000 units of clean stoves and 18,000 wonderbags to rural women.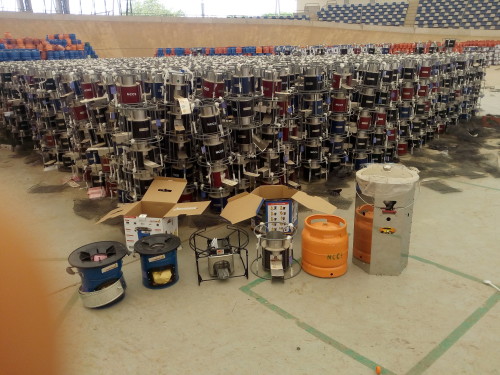 On January 24, 2017, the Reps adopted a motion moved by James Faleke on the urgent need to investigate the N9.2 billion made available by government to provide the stated items.
In September 2015, Follow The Money, which had been tracking the expenditure of the N9.2 billion since it was approved in November 2014, released and submitted a report to the National Assembly and the Independent Corrupt Practices Commission (ICPC), stating that only 45,000 clean cookstoves were provided and exhibited at the Velodrome of the National Stadium in Abuja.
The report also stated that, out of the N9.2 billion, the Federal Ministry of Finance only released N5 billion to the Federal Ministry of Environment for the execution of the project, and the Ministry of Environment only released N1.3 billion (15%) to the contractor of the project – Integra Renewable Energy Services Limited.
On learning about the investigation of the project by the HOR, Hamzat Lawal, the Chief Executive of CODE and Co-Founder of Follow The Money, said: "We applaud such phenomenal initiative by our law makers. We believe that such investigation would trigger proper sanctions for those that compromised the rule of law in the process of the project meant for rural poor women.
"Till today, we have not seen any single beneficiary of the cookstoves. Where are the 45,000 stoves that were procured?
"Ultimately, we call on the respective HOR committees to conduct the investigation in an open forum so that all relevant stakeholders, including the civil society and media, can participate, give feedbacks, share their findings on the white elephant scheme's saga and ensure transparency in the investigation."
According to CODE, the Anti-Corruption committee of the HOR will be investigating details of the contract, number of cookstoves supplied, mode of distribution and details of beneficiaries on a state-by-state basis. The group adds that the Reps will likewise seek to determine the status of the balance of N952,000,000 that is with the contractor since 750,000 units would have been supplied at a unit cost of N464, totalling N348,000,000 out of the N1.3 billion paid out.
In addition, CODE discloses, the committee will confirm the status of the balance of N3.7 billion which is outstanding from the initial payment to the Federal Ministry of Environment.
The lawmakers are expected to report back to the House within six weeks for further legislative actions.