Total's announcement on Thursday, February 7, 2019 that it has made a significant gas condensate discovery 175 kilometres off the southern coast of South Africa has been attracting criticisms from environmentalists.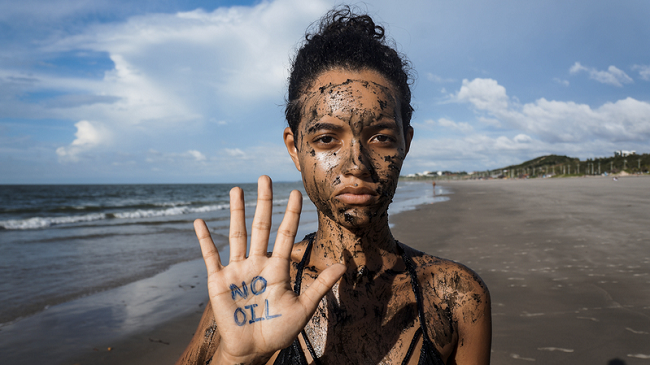 The Brulpadda well ("Bullfrog well") – located off the shore of Mossel Bay – is one of several highly anticipated exploration prospects for the company, which added that the well encountered 57 metres of net gas condensate pay in Lower Cretaceous reservoirs.
Total has previously indicated that the field could hold between 500 million to over one billion barrels of oil equivalent.
The well was deepened to a final depth of 3,633 meters and has also been successful in the Brulpadda-deep prospect.
"We are very pleased to announce the Brulpadda discovery which was drilled in a challenging Deepwater environment," said Kevin McLachlan, senior vice president of exploration at Total.
"With this discovery, Total has opened a new world-class gas and oil play and is well positioned to test several follow-on prospects on the same block."
However, in response to the development, Greenpeace Africa's Senior Climate and Energy Campaign Manager, Melita Steele, said: "Greenpeace Africa strongly condemns Total's reckless oil exploration off the coast of South Africa. Discovering yet more oil and gas is not something to celebrate when burning fossil fuels is driving potentially catastrophic climate change. This is essentially oil that we cannot afford to burn in the face of extreme weather conditions and recurrent droughts.
"Deep sea drilling is far too risky. The possibility for an oil spill always exists, and the environmental impacts of deep-sea drilling for oil and gas are too significant to be ignored, with very little benefit or job creation for South Africans. It is reckless of the South African government to allow oil and gas exploration to go ahead, and unfortunate that this was lauded as a victory at the State of the Nation Address last night.
"According to NASA, 2018 was the fourth warmest year on record, and if we are serious about stopping the worst impacts of climate change, then some fossil fuels must remain in the ground. This country is blessed with some of the best renewable energy resources in the world; it's time to back renewable energy and stop the reckless and dangerous dash for fossil fuels.
"The drilling process also creates massive sound and light disturbances, which has been shown to be detrimental to marine life."
Following the success of Brulpadda and confirmation of its potential, Total and its partners said that they plan to acquire a 3D seismic this year, followed by up to four exploration wells on its licence.
The Brulpadda well covers an area of 19,000 square kilometres, with water depths ranging from 200 to 1,800 metres, and is operated by Total with a 45% working interest, alongside Qatar Petroleum (25%), CNR international (20%) and Main Street, a South African consortium (10%).