The Global Legislators for a Balanced Environment (GLOBE) International has called for the Great Green Wall to be built across several states in northern Nigeria to combat the effects of climate change and desertification.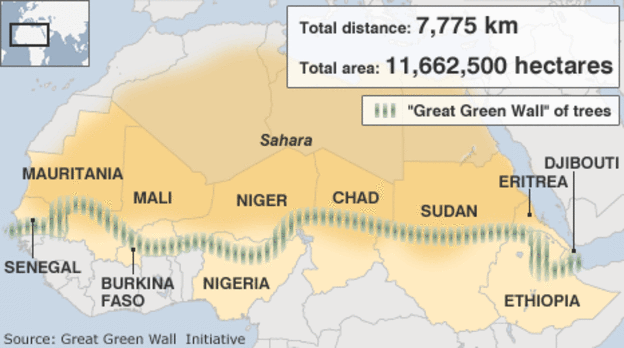 Vice President (Africa), GLOBE International, Mr Samuel Onuigbo, made the call at the launch of the GLOBE-UNEP-GEF project on Wednesday, November 20, 2019 on Abuja.
The project is tagged "GLOBE Legislators Advancing REDD+ and Natural Capital Governance towards Delivery of the 2030 Agenda."
The Great Green Wall is Africa's flagship initiative to combat the effects of climate change and desertification by growing trees across the entire width of Africa.
Onuigbo said there was the need to plant millions of trees and build a Great Green Wall from Adamawa to Bauchi, Borno, Gombe, Jigawa, Kano, Katsina, Kebbi, Sokoto, Yobe up to Zamfara.
He said that it would contribute to the reduction or elimination of the menace of insurgency and farmer-herder clashes in parts of Nigeria and West Africa.
"When people have their means of livelihood taken away through drought, desertification, coastal erosion or degradation, crime becomes an option, hence the rise in criminal activities."
He urged the Federal Government to pay "serious attention" to the Sustainable Development Goals and support policies and laws to protect "our natural capital."
He said that government should also take seriously the issue of its counterpart funding for the project to achieve its objectives.
Launching the project, the Speaker of the House of Representatives, Mr Femi Gbajabiamila, said that the Executive and Legislature were determined to make coordinated and sustained efforts toward combating the scourge of climate change.
Gbajabiamila said government would develop policy, pass legislation and implement plans and projects intended to protect the environment and achieve sustainable economic growth.
The speaker also said there was urgent need to build technical capacity in the sector and make concerted effort to create public awareness on issues of climate change.
According to him, this is necessary so that Nigerians could be more effective partners in proffering and implementing solutions.
Also speaking, Mr Rafael Jimanéz-Aybar, Chief Operating Officer and Programme Director, GLOBE International Secretariat, commended Nigeria for its leadership role in the establishment of GLOBE.
"As early as 2013, Nigeria showed that it is a country that is in a leadership position.
"The establishment of GLOBE Nigeria heralded that and many international commitments of President Muhammadu Buhari have shown the country's commitment to the protection of the environment and sustainable development," he said.
Jimanéz-Aybar, however, called for the commitment of the government to pay its counterpart funding to the project.
The GLOBE project is in collaboration with the United Nations Environment Programme (UNEP) and the Global Environment Facility (GEF).
By Temitope Ponle