Daughter of slain Honduran environmental activist and indigenous leader, Berta Cáceres, to join dozens of community leaders on a caravan from Cleveland to Philadelphia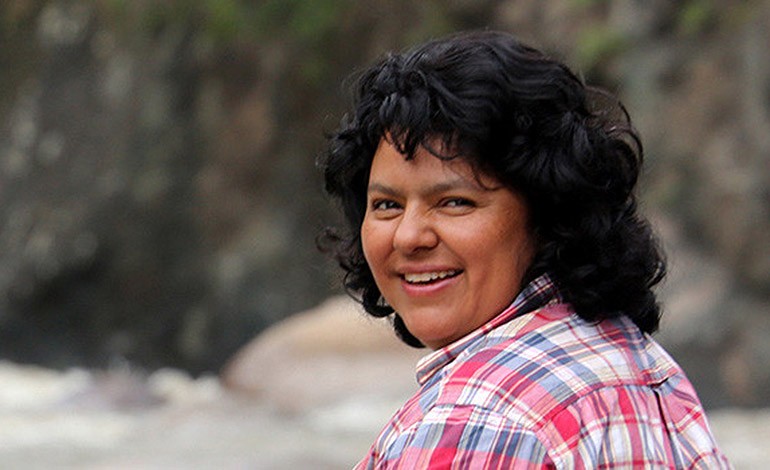 On July 20, more than 45 grassroots Indigenous, Latin, Black, Asian, Muslim, and working class white organisers from across the country will board a bus and launch the It Takes Roots to Change the System People's Caravan from the RNC to the DNC.
Convened by the Grassroots Global Justice Alliance, the caravan brings together leaders on the frontlines of the some of the most cutting edge social movements within the US, including activists fighting on the frontlines of climate justice in coal-impacted Kentucky, organisers with movement for Black lives and environmental justice in Missouri, and immigrant rights leaders from across the country.
The People's Caravan is a call to action from communities of colour and white folks to confront the growing acceptance and public condoning of racism and xenophobia; from women and trans people to reclaim feminisms for the grassroots; from communities living on the frontlines of polluting industries to build a new economy; from veterans and organised communities around the globe to end U.S. military intervention.
"We are in the middle of a storm. The system isn't working, and we can't depend on the two major political parties to change it. We believe it takes roots to weather the storm and change the system. We are drawing on our collective roots, across regions, borders, identities and issues." – Cindy Wiesner, Grassroots Global Justice Alliance
Two members of Berta Cáceres' organisation COPINH (Civic Council of Popular and Indigenous Organisations of Honduras) will be joining the caravan: Berta's daughter, Laura Yolanda Zuñiga Cáceres, and Rosalina Dominguez Madrid. Berta Cáceres was an Indigenous Lenca woman in Honduras who was assassinated at night in her home on March 3, 2016, because of the organizing she did to defend the Lenca Indigenous Peoples' land, rights and territory.
The assassinations of Berta Cáceres and other grassroots leaders in Honduras has put a spotlight on the critical role of US military aid to the repressive regime in Honduras. The caravan joins COPINH in the demand to end all US military aid to Honduras, supporting Democratic Congressman Hank Johnson of Georgia's congressional bill H.R. 5474 to halt all funds to Honduras for their police and military operations.
"Our struggle joins with struggles around the world to defend life in the face of weapons that try to quiet us, in the face of men in uniform who repress us, who assassinate us, in the face of those for whom our lives are disposable, as people with multiple bodies, with indigenous, black and rebel spirits," said Laura Zuñíga Cáceres, daughter of assassinated Honduran indigenous leader Berta Cáceres and member of COPINH.
The Caravan will go from Cleveland to Philadelphia July 20-27, launching with a rally and press conference in Cleveland, and supporting actions and voter turnout in Ohio. The Caravan will then stop in Baltimore along the way to build with the Movement for Black Lives, to honor Freddie Gray and to strategise with the Black community around state violence. In Philadelphia, the Caravan will support actions around immigrant detentions and deportations through the Berks Detention Centre, and around challenging the toxic oil refinery expansion by Philadelphia Energy Solutions in neighborhoods of South Philadelphia.  All along the route with powerful art, a giant puppet and visuals, It Takes Roots organisers will lift up the message that Berta Cáceres did not die when she was assassinated, she multiplied in the thousands of activists demanding justice for all communities' struggles for land, water, and human rights.
"If 2016 has taught us anything, it's that when people assert their right to break free from racism, sexism, transphobia, extractive economies, or any other oppression, the pushback will be hard and painful.  We need to build within and among our communities in order to continue declaring that we're in this together and we won't be deterred," Nay'Chelle Harris, Missourians Organising for Reform and Empowerment (MORE) in St. Louis.
Organisations collaborating with the It Takes Roots People's Caravan: Asian Pacific Environmental Network (APEN), Causa Justa/Just Cause, Chinese Progressive Association, Civic Council of Popular and Indigenous Organizations of Honduras (COPINH), El Comité de Apoyo a los Trabajadores Agrícolas (CATA-The Farmworker Support Committee), Communities for a Better Environment, Grassroots International, Indigenous Environmental Network (IEN), Iraq Veterans Against the War, Kentuckians for the Commonwealth, LeftRoots, Media Mobilising Project, Mujeres Unidas y Activas, Southern Maine Workers Centre, Showing Up for Racial Justice (SURJ), SouthWest Organising Project (SWOP), The Ruckus Society, Uprose, Vermont Workers Centre.