A farmer, Mr Raymos Guanah, has called on the Federal and State Governments to adopt means of storing the perennial flood waters for the purpose of irrigation farming within Delta State.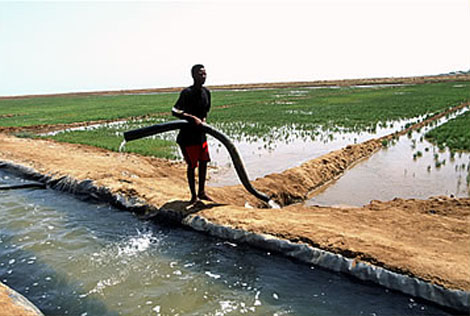 Guanah, the owner of Guanah Farms Ltd., made the call in an interview with the News Agency of Nigeria (NAN) in Asaba, the state capital, on Monday, November 11, 2019.
He said that flood water could be channelled to dams or big reservoirs to form source of irrigation farming.
He said flood water could be useful for dry season farming if well-tapped instead of the havoc it was causing to farmers.
The farmer, whose farm is located at Ngegu-Illah Irrigation Farm in Oshimili North Local Government Area of Delta, urged farmers in the area to embrace dry season farming which had lesser risk.
Guanah, who said his farm of 80 hectares of land was ravaged by the flood between August and September, noted that at the end of the year's farming season he was expecting to have rice at five tonnes per hectare.
He added that he was expecting an estimate of N60 million at the end of the farming season.
Guanah said: "When the flood came, we were not able to recover anything from the farm; we lost all we laboured for.
"Apart from my rice farm, other farmers in the area were also affected by the flood.
"This year's flood was worse. In previous years; we were able to recover some things but this year, we could not recover anything.
"I lost about N40 million in the previous flood, though the Federal Government gave us some assistance, but the assistance was not much compared to what we lost.
"The last flood, the Federal Government through NEMA supported the farmers. Even though we farmers appreciated it but the support was not good enough as farmers need to be encouraged to enable them cultivate more.''
By Mercy Obojegren