A call has gone out to the authorities to as a matter of urgency revisit the COVID-19 Recovery, Policy and Budgets set up by the Federal Government last year and include zero waste plans into it.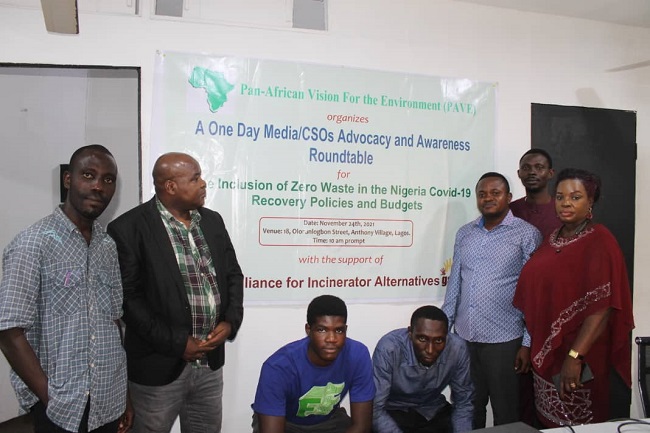 Mr. Anthony Akpan, President Pan African Vision for the Environment (PAVE), who took this position during a One Day Media/CSOs Advocacy and Awareness Roundtable in Lagos on Wednesday, November 24, 2021, submitted that this would be in tandem with circular countries of the world and also reduce hazardous wastes to the barest minimum in Nigeria.
"In response to COVID-19 economic recovery, precisely March 30, 2020, the Federal Government set up the Economic Sustainability Committee. The Committee, made up of membership from various government agencies with representatives from the World Bank, Minister of Finance, Budget and National Planning, Minister of Environment, Minister of Rural and Development, Governor of Central Bank, President of the Senate and Speaker of Federal House of Assembly respectively among others were part of the Committee.'
"The Committee was established to develop a clear economic sustainability plan and identify physical measures for enhancing distributable oil and gas revenue, increasing non-oil revenue and reducing non-essential spending towards securing sufficient resources to fund the plan."
According to Mr. Akpan, "their terms of preference also include to propose monetary spending measures in support of the plan, provide physical and monitoring stimulus package including support to private businesses with emphasis on strategic sectors most affected by the pandemic and vulnerable sector of the population.
"Strikingly, why we are now interested is that there was no inclusion of zero waste in the Nigeria COVID-19 Economic Recovery Policy and Budget."
Dr. Leslie Adogame, who is the Executive Director, Sustainable Research and Action for Environmental Development (SRADeV Nigeria), underlined the need for Nigeria to join the league of circular countries in the word and embrace zero waste.
"We are in the era where circular economy is taking charge, the entire hierarchy of waste management involves many processes. First you generate waste because it is inevitable, but we must be very pragmatic in reduction of waste. You must reduce the waste you produce by way of recycling so that what u come up with will be beneficial to another person."
Speaking further, Dr. Adogame, who's SRADEV partners with PAVE, noted that "COVID-19 is an environmental emergency but people don't get to understand, it is an issue globally and it caught everyone unaware, even the highly developed countries. When it happened last year, governments were busy setting up different committees in place, but nobody is talking about the concomitant effect of wastes emanating from high use of materials used by the medical practitioners in the fight against the pandemic."
"Countries in the advanced world were able to address this because they already had set protocols, emergency management programmes in preparation for this kind of pandemic in place, so addressing the issue is not a problem compared to this part of the world. Therefore, this study is wont to physically and sociologically look at to what extent does COVID-19 situation affect our already poor waste management where zero waste is not even in the context and one biggest challenge we have in Nigeria is that nobody is internalising the context of zero waste into out waste management programme. As vibrant as Lagos Waste Management programme, they stop at the level of recycling and recycling is not the end road for waste management but just one of the steps."
The President of PAVE, while commending Global Alliance for Incinerator Alternatives (GAIA) for their support however enjoined various government ministries, Nigeria National Policy on Plastic Waste Management and other concerned committees and government agencies to see a way of ensuring zero waste plan into the country's waste management plan as this will not only be beneficial to all and sundry, but the economy of Nigeria will also be better for it.
By Ajibola Adedoye-Badmus