The Abundant Nigeria Renewal Party (ANRP) on Thursday, April 18, 2019 urged the Federal Government to prioritise the Great Green Wall project to reduce environmental challenges and heat wave currently being experienced across the country.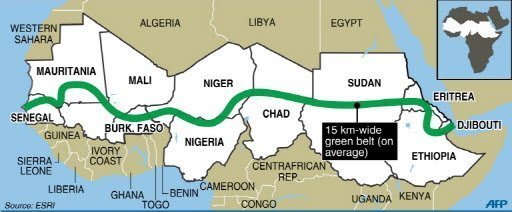 Mr Sesugh Akume, the National Spokesman of the party, made the call in an interview with the News Agency of Nigeria (NAN) in Lagos.
The African Union developed the Great Green Wall (GGW) for the Sahara and Sahel Initiative, launched in 2005 as a strong political response to challenges posed by desertification, land degradation, loss of biodiversity, climate change and drought in Africa.
Nigeria, as signatory to GGW Convention, is committed to the implementation of the initiative and already established the National Agency for the Great Green Wall to coordinate the implementation.
Akume said that the project was established to manage climate change, drought, desertification and afforestation control measures and related matters.
"Prioritising that project will improve the wellbeing of the people and reduce their vulnerability to the impact of desertification and heat wave caused by climate change.
"ANRP calls on the government to also implement the project; a tree-planting endeavour which covers 11 states from the North West to North East of the country with the core aim of pushing back desertification," he said.
Akume also called for intensified advocacy for tree planting to reduce the negative effects of climate change.
"Trees help to reduce the negative impact of climate change; a phenomenon which is already affecting most Nigerians negatively with the heat wave currently being experienced across the country over the past few weeks.
"Our party believes that until and unless conscious and deliberate efforts are made, the negative effects of climate change can only get worse.
"ANRP emphasises that trees clean the air by absorbing carbon in the air, reduce erosion, recharge ground water, and even promote soil fertility.
"Also, trees absorb noise, therefore, reduce noise pollution thereby creating livable spaces for people to dwell and socialise.
"Furthermore, climate change is connected to the decrease in available water for agricultural purposes and vegetation for feeding livestock, as well as unpredictable weather conditions," he said.
Akume said that the party as part of its culture would continue to spread the message on the importance of trees, raise public awareness and mobilise Nigerians to plant trees within their environment.
According to him, the government should lead by example and enforce laws against indiscriminate tree-felling, and to ensure that for every tree cut, two are planted in replacement. 
By Lucy Osuizigbo