The Federal Government of Nigeria has said that it will scale up economic tree planting campaign to fight desertification, control climate change and provide sustainable livelihood to the people in the country.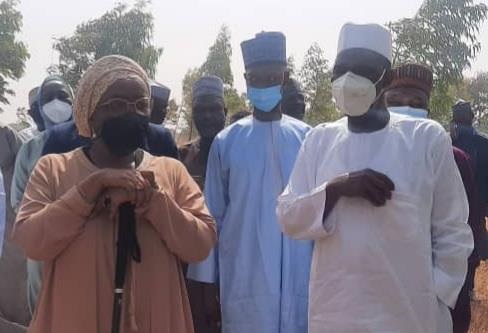 Minister of State for Environment, Sharon Ikeazor, stated this on Saturday, February 5, 2022, while inspecting viable environmental protection projects executed by the National Agency for the Great Green Wall (NGGW), in Gabasawa, Kano State.
Ikeazor said the Federal Government under President Muhammadu Buhari had adopted proactive measures to reduce green house emission through planting of more economic trees.
She said the NAGGW project would invest more on planting economic trees for the benefit of the desert prone communities and the country at large.
According to her, establishment of woodlots is one of the critical interventions under the NAGGW project, adding that the programme would be replicated in more states across the country.
Ikeazor said the NAGGW projects were of utmost importance to the Federal Ministry of Environment aimed at combating desertification in the 11 frontline states of the sahel region.
The aim, she said, was not only to improve the livelihood of the people but to also protect biodiversity and increase national forest cover.
The minister reiterated government commitment towards encouraging development of alternative sources of energy to provide cleaner cooking fuel and discourage felling of trees for fuelwood.
While expressing satisfaction with progress of the projects, Ikeazor commended the Agency for engaging members of the participanting communities as Forest Guards.
This, she said, would encourage community involvement in the projects located in Kano and Jigawa states.
In his remarks, Dr Bukar Hassan, D-G, NAGGW, said that the projects executed included woodlot plantations designed to enhance biodiversity and soil conservation as well as sources for fuelwood.
He lauded the Federal Government for ensuring funding to the project, saying the gesture would protect the environment and improve the social and economic wellbeing of the people.
Also speaking, Dr Kabiru Getso, Kano State Commissioner for Environment, lauded the Federal Government's environment protection programmes in the state.
Getso said that the NAGGW intervetions had addressed problems of desert encroachment and land degradation in many communities across the state.
He pledged government support to the NAGGW and other Federal Government projects in the state.
The minister inspected woodlot at Kumbo and Dajin Kowa community, solar powered borehole and solar lighting at Government Girls Secondary School Gabasawa in Gabasawa Local Government Area of the state.
Others were the rehabilitation of plant nursery at Tona community in Dambatta LGA.
The Great Green Wall is an African Union initiative designed to grow an estimated 8,000 kilometres trees across the entire width of the continent.
It is aimed at addressing issues of desertification, land degradation, biodiversity loss, promote climate change resilience by ecosystems and communities as well as improve food security in 21 member countries.
In Nigeria, the project is being implemented in Adamawa, Borno, Bauchi, Gombe, Kano, Katsina, Kaduna, Kebbi, Sokoto, Jigawa and Yobe states, among others.
By Michael Simire