President Muhammadu Buhari of Nigeria has presented National Environmental Compliance Award 2022 to 16 organisations for their voluntary compliance with environmental standards, rules and regulations effectively.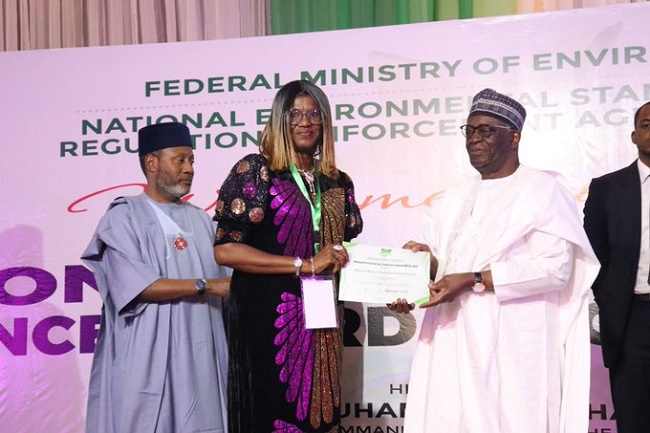 This is contained in a statement by Assistant Director, Public Relations and Protocol, National Environmental Standards Regulation and Enforcement Agency (NESREA), Mr Adeleke Adebayo, on Thursday, December 8, 2022, in Abuja.
Buhari gave the awards to the organisations at the maiden edition of the National Environmental Compliance Awards (NECA).
The President who was represented by Chief of Staff, Prof. Ibrahim Gambari, said that his administration is committed to ensure a healthy environment for all citizens.
He announced the elevation of NECA to a presidential award in order to underscore the importance of environment and its sustainability.
"However, a healthy and sustainable environment can improve the security of the country in the face of global security challenges, triggered by the impact of climate change on livelihoods, employment, food systems and agricultural land."
He said he would continue to support the Ministry of Environment and NESREA to tackle environmental problems in the country.
Buhari urged governors and other relevant stakeholders to cooperate with the agency for effective implementation of its programmes.
"NESREA and the ministry are encouraged to persevere and continue to work in the set direction, knowing that the work of the agency is indispensable within the context of the local and global climate change initiatives."
He praised the recipients of the awards for their commitment in ensuring that they adhered to the rules and regulations of the agency.
According to him, to other industries that have not made it to the award threshold, "I implore you to emulate the exemplary performances of these awardees.
"By so doing, improving the threshold of performance, that by next year, we shall have cause to celebrate you in equal measure if not more".
Earlier, the Minister of Environment, Mr Mohammed Abdullahi, said the awardees which cut across different sectors were selected through a standard process.
Abdullahi commended the President for elevating the status of the award.
He proposed the conferment of a lifetime award to President Buhari in recognition of his environmental enforcement efforts while serving as Head of State and as elected president.
Also, the Director-General of NESREA, Prof. Aliyu Jauro, said between 2019 and 2022, the agency had undertaken compliance monitoring to more than 10,000 corporate facilities.
Jauro said out of the 10,000, over 260 facilities were sealed for various offences.
He said the selection of the awardees was made with regards to environmental documentations such as Permits, Environmental Audit and the level of Corporate Social Responsibility activities carried out by the selected organisations.
By Vivian Emoni