Minster of Water Resources, Mr Suleiman Adamu, has stressed the need for collaborative efforts of every Nigerian to end open defecation in the country.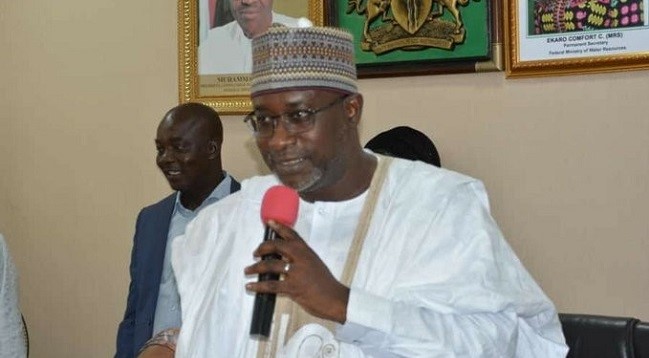 Adamu made the call at the Inter-Ministerial Dialogue on Sanitation in Abuja on Tuesday, November 12, 2019.
He said the purpose of the dialogue, which holds twice a year, was to review the outcome of the last dialogue held in April and get a feedback from the technical team on what had been done so far.
The minister added that the meeting was also to intimate his colleagues on the launch of the open defecation campaign, which would be launched by President Muhammadu Buhari on Nov. 19.
He said on the issue of sanitation, Nigeria was lagging, adding that 24.4 per cent of Nigeria's population still practised open defecation translating to 47 million people.
According to him, from the India experience last year, it is possible to take 47 million Nigerians from practising open defecation by 2025 if India can take 500 million out within four years
"I think it can be done as long as we agree that it is every citizens business to end open defecation.
"If there is no political will on the path of our Chief States' Executives, it will lead to a terrible situation, so we need their support.
"Our approach is community led total sanitation; this issue of sanitation is a personal responsibility, so we expect people to do the right thing.
"We encourage them to change their behaviour to see the need and importance of providing toilets in their houses, while the government in partnership with the private sector provide toilets in public places."
The minister appealed to all Nigerians including the media to give the campaign continued support.
"You can task yourself, go to the local government and ask for land to build public toilets for your communities as your own contribution to end open defecation," he said.
Adamu said in a bid to encourage private sector partnership, he had talked to microfinance banks and they were ready to provide small loans for people to build toilets.
He, however, said the banks were also encouraged to attach a water scheme around the toilets so the sanitation is total.
According to him, there is money to be made in the sanitation sector so at the end, it is a win-win situation for everyone.
Adamu said he had gotten up to 90 per cent support from other ministries in the campaign to improve sanitation in Nigeria.
Also, Babatunde Fashola, Minister of Power and Works, said sanitation was important to any country's prosperity, as he called on Nigerians to commit to ending open defecation in the country.
Fashola said that the Federal Government through his ministry had provided access to water in remote areas in the country.
"Between 2016 and 2018 we had 1,298 of those projects being executed, averagely it employs about 31 people to erect one.
"It means another 40, 238 people have been employed just providing this water supply access and each borehole measured impact is about 300 people.
"A total number of people seen impacted is 389,400 and some of these projects are still ongoing," he said.
He also noted that to successful eradicate polio in Nigeria, there was a need to put an end to open defecation by using the toilet and keeping Nigeria clean.
He explained that the virus that carried the polio diseases was often times found in human faeces and from there infected children.
The Minister of Women Affairs and Social Development, Dame Pauline Tallen, called on every Nigerian to join hands together to intensify advocacy and awareness to end open defecation.
Tallen added that it should not be left to the Ministry of Water Resources alone.
Tallen said open defecation affected women and girls more, saying "everything falls on the women at the end of day."
She said her ministry was committed to intensify the campaign on the use of toilet to make Nigeria clean.
The end open defecation campaign will be launched on Nov. 19 at the Eagle Square, Abuja.
By Okeoghene Akubuike