The Federal Ministry of Health and hundreds of civil society and youth groups have defended the draft National Tobacco Control Regulations 2018 Bill currently before the National Assembly, cautioning that delay in its passage will open the nation to massive health catastrophe.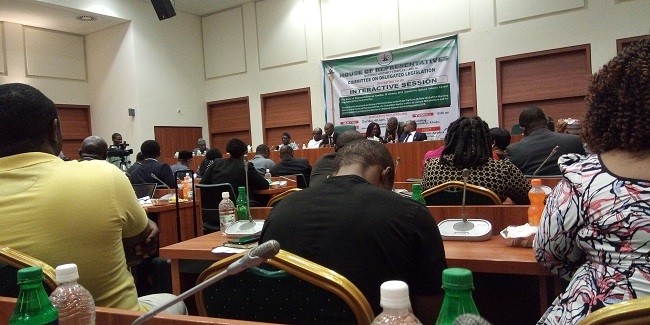 Some of the groups that align with the ministry's position are the Environmental Rights Action/Friends of the Earth Nigeria (ERA/FoEN), the Nigeria Tobacco Control Alliance (NTCA) and Gatefield Limited, among others.
At an interactive session organised by the House of Representatives Committee on Delegated Legislation in Abuja on Thursday, April 4, 2019, Minister of State for Health, Dr. Osagie Ehanire, said that, as custodian of the health of Nigerians, the ministry in concert with relevant government agencies formulated the NTC Regulations as a legal framework for effective implementation of the National Tobacco Control Act 2015.
Similarly, Speaker, House of Representatives, Yakubu Dogara, has promised that the House will throw its weight behind the nation's tobacco control efforts through passage of the draft National Tobacco Control Regulations.
The Speaker said at the interactive session that, on going about it's oversight functions, it is not unmindful that health must trump profits.
Dogara quoted a report by the Environmental Rights Action which estimates the Nigerian government expending as much as $591 million yearly on treatment of disease resulting from tobacco consumption.
In the ministry's memorandum to the committee, Dr. Ehanire pointed out that it was scientifically proven that tobacco is harmful to human health, and contains more than 7,000 chemicals, of which 250 are proven to be harmful and more than 69 known to cause cancer.
Of the over seven million annual deaths linked to tobacco in World Health Organisation (WHO) statistics, he said that low-and middle-income countries like Nigeria bear 80% of the global burden, even as he revealed that over 20 billion sticks of cigarettes are consumed annually in Nigeria, with recent researches showing that 5.6% of adults (4.5 million) in Nigeria currently use tobacco products. Exposure to second-hand smoke in public places in Nigeria is as high at 82% in bars and nightclubs, 36.3% in coffee shops and 29.3% in restaurants.
Because of this, the Regulation addresses the technical areas of the NTC Act which have until now not been enforceable and requires inter-agency collaboration. It prescribes, for instance, a combination of text and graphic pictorial health warning messages to be printed on 80% of the principal display surfaces of all tobacco product packages, like is already in practice in other countries of the world. This will replace the age-long text warning that says: "The Federal Ministry of Health warns that smokers are liable to die young", which the minister described as ineffective.
He cited India and China, the major Asian regional powers, as countries that go beyond Nigeria's recommendation and currently apply 85% combination of text and graphic pictorial health warning messages on their tobacco packages.
To achieve smoke-free environment, the Regulations prohibit smoking in open space, outdoor public place or work space, including service areas, public passengers conveying transport, vehicles conveying or used to convey children; anywhere within 15 metres of a healthcare facility and any other indoor or outdoor public gathering place.
The Regulations require the owner/manager of a public area to conspicuously display warning notices of prohibited smoking areas in English Language and in at least one predominant language of the locality reading: "Warning, No Smoking Area – Smoking here is an offence". It also elaborates the responsibility of those in charge of prohibited smoking areas to discourage smoking, for example, by removal of ashtrays and all accessories used to consume tobacco products.
The Regulations equally outline responsibilities of public authority in prevention of tobacco industry interference and provides a list of authorised agencies charged with enforcement. They include the Nigeria Police, Public Health Officers; National Security and Civil Defence Corps (NSCDC); Environmental Health Officers; Customs; Consumer Protection Council; Standards Organisation of Nigeria, National Agency for Food and Drugs Administration and Control (NAFDAC) and the National Drug Law Enforcement Agency (NDLEA).
All applications for licensing for tobacco or tobacco products businesses will be screened by the National Tobacco Control Committee (NATOCC).
In its submission read by Akinbode Oluwafemi, the ERA/FoEN said that there should not be further delay in approval of the Regulations, blaming climbing smoking rates in Nigeria on low taxation, as well as weak and poorly enforced policies.
He highlighted that tobacco companies are now deliberately targeting children in their marketing tactics, citing a report titled "Big Tobacco: Tiny Targets Nigeria" which exposes widespread sale of tobacco close to 221 primary and secondary schools in Lagos, Nasarawa, Enugu, Kaduna and Oyo states.
The memorandum of the NTCA read by its programme coordinator, Oluseun Esan, addressed the issue of conflict of interest of the tobacco industry, with emphasis that it will be unreasonable for tobacco industry or their proxies to be on delegations to represent Nigeria at international public health forums such as the Conference of Parties to the WHO Framework Convention on Tobacco Control.
The draft Regulations was proposed by the Minister of Health and transmitted to the Federal Executive Council (FEC) which approved it in June 2018. The draft was received by the House of Representatives in January 2019 and awaits their approval for its full implementation.