Minister of Lands, Housing and Urban Development, Mrs Akon Eyakenyi, in this interview addresses a range of issues related to her duty post, even as she lists achievements by government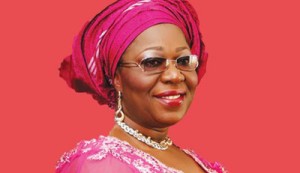 What is the level of Federal Governments collaboration with the World Bank in the provision of affordable houses?
Yes we have a good cordial relationship with the World Bank through the Ministry of Finance. Last year, the Federal Government launched what we called Nigerian Mortgage Refinance Company (NMRC), whose responsibility is to take charge of refinancing the mortgage institutions for the purpose of providing affordable housing to Nigerians. The NMRC, through the Ministry of Finance, was able to tap from the World Bank a certain amount of money for the purpose of establishing support in backing the NMRC Company. About $300 million was given by the World Bank to NMRC through the Ministry of Finance is to be repaid back over a period of 30 years at zero interest rate to help the re-inauguration of the mortgage institutions that we have in Nigeria to support the housing sector.
How affordable, and what makes these houses affordable?
When we say affordable, we are looking at the different cadre of the civil servants we have and target them, for a low income person that is on level 3 or 4 that earns may be N20,000 in a month over a period of time – what level of a home can such a person own through his or her own finance afford? So we are providing one-bedroom apartments, two-bedroom apartments, and three-bedroom apartments. We are also providing a studio apartment, one-bedroom portable that a bachelor can stay conveniently to do everything you want to do in that one room with toilet/bathroom closet and kitchen cabinet and where you will lay your head. We are looking at that different cadre to come and then we now fix prices to fit into the different cadre at a subsidised cost. Why I say subsidised is that government provides the land free of charge and government through the ministry will do the different types design, electrical, mechanical then bill of quantity and the cost of doing that is on government. Apart from that supervision which is the most important thing to ensure that the standard is maintained is also done by the professionals in the ministry free of charge, so that takes off cost of construction, and at the end of the day we will be left only with the cost of materials and maybe the labour for the construction. If it is a private developer that handled it highest is to top up with 50% per cent at least for the time and the resources he or she will bring to do the construction, so that helps using a way to put the cost of construction at a very low rate and that is we meant by affordable. Again the rate at which a private developer will build to sell is different from the rate government sells, because government incurs that cost of land, supervision and all.
Over the years there have been numerous cases of building collapse. What is your ministry doing to curb the menace?
The ministry is making very serious moves to curb that. When I came in there were many building collapse cases across the nation so we had to review the building code that was in existence, though was not implemented. Building code is the rule guiding the putting up of any structure. Some contractors, when they want to mould over a 100 blocks with just a bag of cement, which is unprofessional because it will not make the blocks to be strong and could lead to building collapse. When the mixture of sand outweighs the cement, the building may collapse after a short while. There are standards for laying foundation for different types of buildings and the amount of iron rods applied and mix of concretes are all part of the standard that must be adhered to.
However, we have been able to address the stakeholder to ensure that the building code ethics are strictly followed to curtail the collapse building that we have in Nigeria. The amount there is not to be determined at a go. 100,000 units is going to be put across the entire nation, for the Apo side we are doing a 20,000-unit estate, then we will go to another location using another developer and then to another state where we have land. The important things is what is the cost of construction per one building multiplied by the number of housing that will be built, which gives us the lump sum. Like the developer in Apo for the 20,000-unit scheme, we are looking at N300 million to put in there for the initial takeoff of the project, while the ones in Gwagwalada handled by Signature Homes from Dubai is going to put up about 4,000 housing units and the budget estimated is about $80 million for one develop, and we have various developers numbering about 10 that are going to be putting in 200 housing units; we also have other developers about to mobilise to site and we are processing their documentation, the signing of MOU before they are taken to site of about 200 hectares of land to ensure we give each developer depending on their financial strength and what each is interested in delivery because we will not give more than what they can handle or swallow at a time to ensure timely delivery.
What are the challenges so far?
The challenges I have faced border on sourcing for funding and getting corporate organisations and individuals to partner with government. I think basically that is major, because when you talk about building you need funding. Another major issue that I am facing has to do with land because, in the ministry, we don't own land when we move to a state. Either we go pay to acquire a land for our project and government does not put in money in one direction as there are private issues that government is handling, we now go to the state governors because the Federal Government is bringing projects to their state; for them to partner the state governor, all we need is for them to acquire land as compensation and give us the certificate of occupancy (C-of-O) and a letter of exchange then we will now call in the developers to put up a structure for the benefit of the people of the state. However, some states have not responded and some have responded, and for those who have responded we are mobilising to start development.
What has your ministry achieved within the four years administration of President Jonathan?
I want to start by acknowledging the interest of the president of the Federal Republic of Nigeria, Dr. Goodluck Ebele Jonathan, for the housing sector and his top agenda in providing housing for Nigerians and in four years we have been able to put up 61,000 affordable houses for Nigerian workers and other Nigerians inclusive. But on-going we have the 100,000 housing unit specifically for workers, the flag-off for the first 20,000 was done in Apo late last year by the president himself. We have also on-going 10,000 housing unit projects cross the nation but the first was specifically for workers. The project was commenced in Abuja at Gwagwalada by Signature company from Dubai. Apart from that there are private developers who also come up with housing development projects, we do the censors on the houses that government has encouraged private developers do and then the once done by government PPP partnership ministerial project scheme, and we have various housing schemes and I want to say that we have more than 61,000 housing units that has been provided in Nigeria since in caption of the present administration.