The Health of Mother earth Foundation (HOMEF) and the Alliance for Food Sovereignty in Africa (AFSA) have pledged to work with the media to increase awareness of the public on genetically modified organisms (GMOs).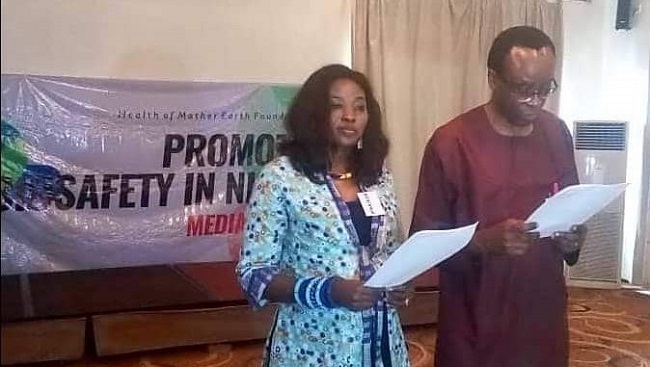 Nnimmo Bassey, Director, HOMEF and Mariann Bassey-Orovwuje, Chairperson, AFSA made the submission in a statement issued at the close of a Media Training on Promotion of Biosafety in Nigeria on Tuesday, September 25, 2018 in Abuja.
The move, they said, would strengthen the voices of Nigerians on these issues of food and biosafety.
"We believe that a knowledgeable media can make a huge difference in our duty to protect our biodiversity, agriculture and food systems," Bassey and Bassey-Orovwuje jointly said.
They however lamented that the National Biosafety Management Agency (NBMA) was not ensuring sufficient safeguards for the people and the environment.
"NBMA approves nearly every application brought to it without due consideration of the impact of proposed activities or of the concerns raised by the public," the activists allege, even as they listed several instances.
The statement reads in part:
"The fact that some of these crops are brought in for feed processing does not reduce their risks as there is no way to prevent the seeds from getting to the hands of unsuspecting farmers.
"Besides the reality that there are no proper risks assessments, the public is largely unaware of the type of food that is coming on their plates. At a dialogue session with farmers in Benin City recently, it was revealed that 98% of the participants had not heard of GMOs.
"The GMO promoters project biotechnology as the solution to agricultural challenges in the nation but these challenges are those that can be tackled by natural means and through adequate support for farmers.
"GMOs with more extreme variants known as Gene Drives are coming on stream. These target whole populations and involve gene editing. They pose special and unique dangers to Nigeria and Africa. One of the dangers is that our regulators-cum-promoting architecture keeps wide open doors to untested technologies. Another danger is that even when risks are known, they are happy to allow experimentations and expose our people, communities and environment to be used as guinea pigs.
"The threats posed by these crops grow with the advances in the technology and the impact of GMOs on health, environment and socio-economic wellbeing of the people stares us in the face.
"To preserve biosafety in Nigeria, the NBMA Act 2015 needs to be reviewed before it is too late. Gaps with regards to access to information, public consultation and participation, liability and redress, labelling and the right to know, appeals and reviews and conflict of interest need to be closed.
"We reprise our call for an investigation of the process by which the NBMA issues out permits for dealings with GMOs, we reiterate our call for a repeal of the Act and a ban on GMOs. Nigerians should not be used as pawns and as guinea pigs in a commercial gambit to open the country to toxic technologies in furtherance of blatant commercial interests."