Nigerians have been told to be rest assured of the protection of their health and the environment by the National Biosafety Management Agency (NBMA) on matters concerning genetically modified (GM) foods.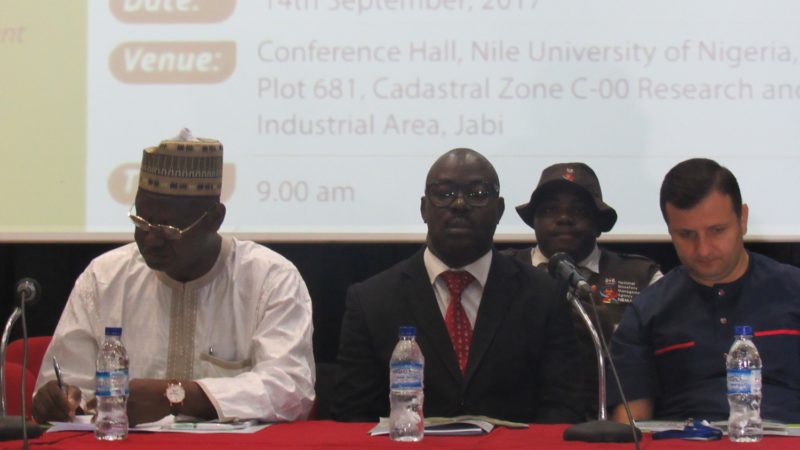 The Environment Minister of State, Ibrahim Usman Jibril, who made the submission in Abuja on Thursday, September 14, 2017 during the Third National Biosafety Conference, stated that the NBMA has capable biosafety regulatory personnel (scientists), "who are well trained within and outside the country to effectively carry out its regulatory functions."
"The NBMA has well equipped laboratory to detect the smallest altered genes in GMOs. The Agency also carries out risk assessments on GMOs currently under trial in the country," the minister added.
His words: "The NBMA is poised to effectively regulate modern biotechnology for the benefit of Nigerians. The Agency is here to safeguard the environment and human health of all Nigerians, taking into consideration national interest and socio-economic issues from potential adverse impacts of modern biotechnology and genetically modified organisms (GMOs).
"The Agency is charged with the responsibility for proving the regulatory, institutional and administrative framework and mechanisms for safety measures in the application of modern biotechnology in Nigeria. This is to ensure the safe practice of modern biotechnology and, use and handling of GMOs to avert adverse impacts on the conservation and sustainable use of biodiversity, considering risk to human health.
"With the creation of the NBMA Act, Nigeria has joined the league of countries in the in the world with biosafety laws and agencies. Countries in Africa with Biosafety laws and agencies include: South Africa, Egypt, Kenya, Mali, Burkina Faso, Tanzania, Sudan, Ghana and Cameroon."
According to him, the only way to achieve economic growth, food security and sufficiency and sustainable environment is innovation of safe smart scientific and technological means of maximising available land resources to increase food and fibre production.
He added: "We must also look for ways to increase investment, through enhanced international cooperation, in rural infrastructure, agricultural research and extension services, technology development, plant and livestock gene banks, in order to enhance agricultural productive capacity.
"This calls for a combination of tools, processes and safe technologies in a complementary way, to provide a form of economic diversification, which would bring with it a new set of skill requirements thereby expanding job opportunities. This is where modern biotechnology comes in and hence biosafety."
The minister in a presentation assured of government's determination to partner with all stakeholders in exploring use of relevant technologies that would, according to him, provide safe and adequate food for Nigerians. He stressed that, as a demonstration of government's commitment, the NBMA was established to enable Nigerians benefit maximally from the practice of safe, modern biotechnology.
"The NBMA works in partnership with other line Ministries, Departments and Agencies, Non-Governmental Organisations, Youths, Women and Farmers Associations and the international community, in line with the United Nations Conventions to protect the environment.
"These partnerships are important if we are to succeed in ensuring food security. I therefore wish to charge all of you to support the government in her efforts to rejuvenate the economy and free our people from poverty," the minister submitted.
Chairperson, NGO Coalition working with the Federal Ministry of the Environment, Chike Chikwendu, in a goodwill message, said: "Given that our environment is already stressed and Nigerians will not support any further steps to degrade it, the Nigerian NGO community, as critical stakeholders in the Nigerian environment space, is therefore desirous to fully understand Nigeria's position on the use of GMOs and other policy issues on the use of modern biotechnology in the economic development of Nigeria.
"In this manner, we will be able to support and sensitise Nigerians accordingly. Currently, as a food insecure nation, we cannot afford to denounce any food production techniques that are not proven to have adverse environmental effects."
Vice President, All Farmers Association, Chief Daniel Okafor, underlined the importance of science and technology, saying that, without it, mankind cannot survive.
"Biotechnology will lead us to another level. Nigeria needs food in abundance and, with agriculture and food science/technology, this can be achieved," he said.
The Vice Chancellor, Ambrose Alli University, Ekpoma, Edo State, Prof. Ignatius Akhakhia Onimawo, frowned at the situation whereby "people have confused bio-fortification with GMOs."
"We need to do a lot of education and awareness raising. Science is about facts, not speculation," he said.
Vice President, Nigeria Biosafety Association, Prof Abiodun Denloye, lamented that "many of what we've heard on biosafety on the media are negative reports." According to him, "it will be unfair to talk about biosafety as if it's a wholesome unwanted technology".
"Every step should be taken on its own merit and we should do away with the attitude of throwing away the baby with the bath water," he said.
Africa Coordinator, Programme for Biosafety Systems (PBS), Dr John Komen, described the conference, which had "Biosafety: Paving the way for safe and sustainable environmental management, agricultural development and economic recovery" as it theme, as a testimony of Nigeria's achievement in the biosafety and biotechnology sector.
"We pledge our support for Nigeria now and many years ahead in the responsible development and use of biotechnology," Komen stated, adding that PBS works with Nigeria and other countries interested in using biotechnology to enhance agricultural innovation.
Nigeria Country Director, PBS, Dr Matthew Dore, disclosed that PBS experts provided technical assistance for the country's first ever confined field trials for "an important food security crop".
"In parallel, PBS provided legal analysis, technical expertise and outreach capacity to support the development of a biosafety legal framework," stated Dr Dore.