The first ever "Global Recycling Day" was observed on Sunday, March 18, 2018, with a call by the Bureau of International Recycling (BIR) for all to not only reduce waste and increase recycling, but also to view recyclables as a resource, and not waste.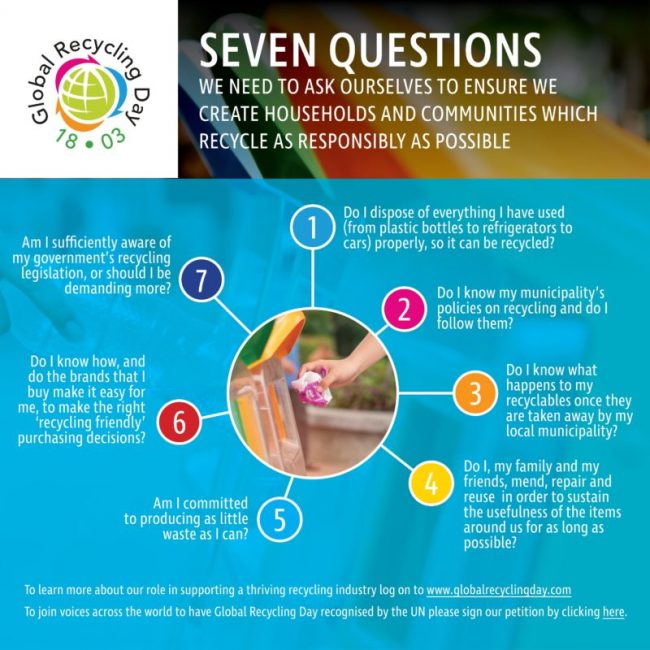 The aim of the Global Recycling Day, which coincides with the BIR's 70th anniversary, is to unite people across the world, highlight he need to conserve the six primary resources (water, air, coal, oil, natural gas and minerals) and celebrate what is described as "the Seventh Resource" – the materials man recycle every day.
Ranjit Baxi, president of the BIR, says: "The goal for Global Recycling Day is to show the world that there is a Seventh Resource, as economically viable as, and more sustainable than, the six key primary resources: air, water, oil, natural gas, minerals and coal. Recycling is a global issue, the environment is a global issue and this day celebrates that and pushes us all – wherever we live – to do more."
The contribution that recycling offers the world is immense, according to Baxi, as, according to him, the industry provides two million jobs, saves 700 million tons of carbon emissions annually, reduces waste, promotes health and hygiene and is projected to add $400 billion to the global gross domestic product by 2025.
He believes that recycling plays such a crucial role in the preservation of the planet, which informs the industry coming together on Global Recycling Day to showcase the work it's already doing and discuss what else can be done.
"March 18, 2018, marks the 70th anniversary of BIR, making 2018 a landmark year to create a day that recognises the vital role recycling and the industry plays in protecting the planet," comments Baxi.
In addition to being a day for encouraging and promoting recycling, Global Recycling Day also served as a day of action, according to the BIR. On March 18, world leaders, international businesses, communities and individuals made clear commitments in their approach to recycling, and consumers asked to answer key questions about recycling, allowing them to think of recycling in a new way.
"We want Global Recycling Day itself to be a day of celebration, championship and change – a celebration of the food and materials around us, a championship of the good recycling can do and a change in our attitudes and practices toward our own waste and recycling habits," states Baxi.
Several official and unofficial events held to celebrate the Global Recycling Day, including speeches, conferences, tea mornings and football games.
On Saturday, March 18, the Chanja Datti Recycling Co. in Nigeria had a 7 a.m. walk at the Eagle Square in Abuja to push advocacy for recycling. Participants at the walk wore a touch of green. Chanja Datti is also running an upcycling contest, where people can create an artistic people or artwork from only recyclable materials and post about it on social media using the hashtag #GRDupcyclingCompetition.
Visionscape Sanitation Solutions Limited, operators of the Cleaner Lagos Initiative, ran a number of awareness raising messages via its Twitter account. Why some highlighted the benefits of recycling and the seven main categories of materials that can be recycled, others announced the occasion.
In a Twitter message, the United Nations Industrial development Organisation (UNIDO), says: "Recycling plays a key role in achieving a more sustainable production and consumption model. It's about action and taking better stewardship of the goods created, used and disposed off everyday."