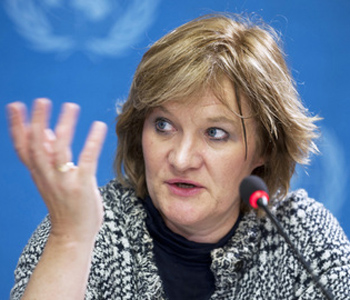 The World Meteorological Organisation (WMO) has said that global temperatures over land and ocean surfaces from the January to June were the hottest on since 1880.
Clare Nullis, WMO spokeswomen, said on Wednesday at a news conference in Geneva that most of the world's land areas were much warmer than average.
She said the regions include nearly all of Eurasia, South America, Africa, and Western-North America, with pockets of record warmth across the areas. All of Australia was warmer than average.
Nullis said the statistics from the U.S. National Oceanic and Atmospheric Administration showed that the average temperature was 0.85 Celsius degrees. According to her, this was above the 20th century average of 15.5 Celsius, and surpassed the previous record set in 2010 at 0.09 Celsius.
She said the combined average temperature over global land and ocean surfaces for June 2015 was the highest for June on record, at 0.88 Celsius above the 20th century average of 15.5 C.
Nullis noted that June 2015 marked the third month in 2015 that has broken monthly temperature record, along with March and May.
"The other months of 2015 were not far behind. January and February were each second warmest for their respective months and April was fourth warmest.
"In addition, the average Arctic sea ice extent for June was 7.7 per cent below the 1981-2010 average, making it the third smallest June extent since records began in 1979," Nullis said.