Students of Mercy Girls High School, Mbawsi, in Isiala Ngwa North Local Government Area of Abia State have converted animal, human and kitchen wastes into bio-gas meant for cooking and generation of electricity.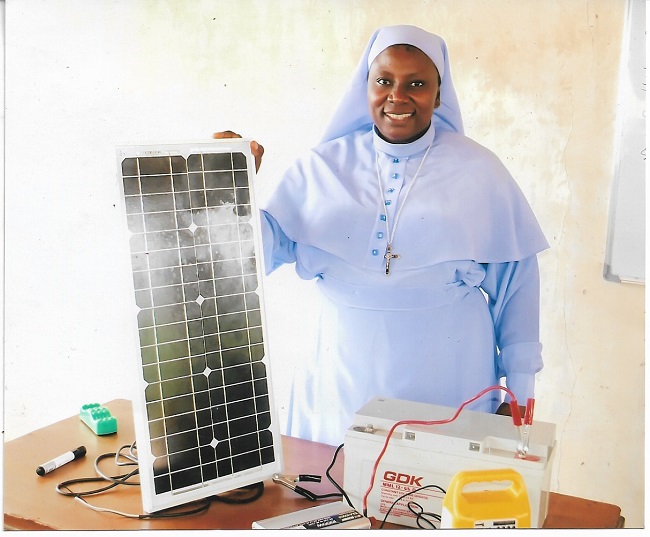 Rev. Sister Lilian Chibiko, the Principal of the school, made this known in an interview with the News Agency of Nigeria (NAN) in Umuahia on Monday, April 15, 2019.
"We have tried it here and we have seen that it works, and the next level is how we can transfer this produced gas to cylinders.
"That is the level we are trying to research more," the principal said.
According to her, since the University of Nigeria, Nsukka (UNN) achieved a similar feat, her school would go on excursion to the institution and tap from its experience.
Chibiko explained that constant research on solar energy was responsible for the biogas breakthrough, adding that "on daily basis, we are into solar, researching more and more to see how we can make it cheaper to our people."
She said that the school was being powered by solar energy built in the school.
Chibiko, a renewable energy and climate change activist, who became the school principal in January, revealed that the school depended on the solar system built by the students for all its energy needs.
"The dormitory, the refectory, computer laboratory, the principal's office, the security post and the nearby convent are all connected to the solar system in the school," she said.
The principal, who is a member of the Daughters of Mary, Mother of Mercy (DMMM) congregation of the Catholic Church, said she had trained teachers and 53 students in the school, including parents in solar production, installation and maintenance.
"Since I became the principal, my teachers have been trained in this solar energy and some of them do go these days for installation and make some earnings.
"Also, my students have been trained in production and installation of solar energy," Rev. Sister Chibiko said.
She said that the solar production had reduced over-dependence on generating set in the school.
"Since this term, I have only bought fuel worth N2,000 which we used only in pumping water and fuelling the mower machine.
"Nobody has ever complained because the students are very happy and it has contributed a lot in reducing pollution and emission of carbon in the environment," she said.
According to her, about 90 per cent of raw materials needed for solar panel production are sourced locally.
She, however, expressed regret that the school lacked the resources to buy the laminating machine which would make its products compete with imported ones.
She appealed to the federal and state governments to give the school assistance, assuring that she was ready to impact such skills on the youths.
She revealed that she acquired the skill while working as missionary in Finland and Uganda.
By Leonard Okachie