Ghana plans to install a total of 56,000 solar systems, two million solar lanterns and 200 mini-grids in pursuance with achieving the global target of access to affordable and clean energy by the year 2030. The country has already 80 percent energy access, acting Director, Renewable Energy at the country's Energy Commission, Kwabena Otu-Danquah, has disclosed.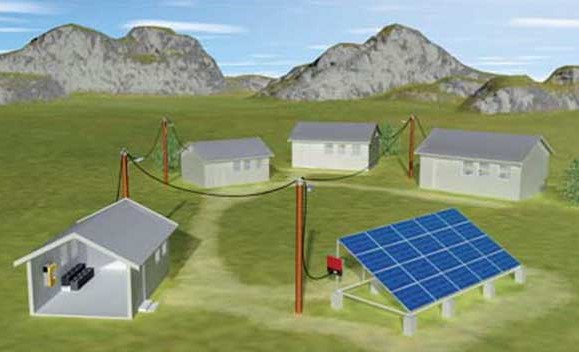 Otu-Danquah, who represented Ghana's Ministry of Power, stated this at the opening of a Smart Villages West Africa Regional Workshop organised by the Smart Villages Initiatives in collaboration with SNV, a Netherlands Development Organisation on Monday in Accra, Ghana.
According to him, 2,400 systems had been installed in public facilities, where the country targets 6,000 systems; 16,800 solar home systems had been deployed with a target of 50,000 and 70,000 solar lanterns had been deployed with a target of two million lanterns by 2030.
"Under the Standalone Renewable Energy-based electrification options, solar systems for public facilities, including schools, clinics and security outposts, are being deployed and to date, about 2,400 systems have been installed. The target is to install 6,000 systems by 2030. Deployment of solar home systems for lighting and phone charging in rural off-grid households is also ongoing. Over 16,800 systems have been deployed to date. The target is to deploy 50,000 by 2030.
"Under the programme to replace kerosene lanterns with solar lanterns nationwide, 70,000 solar lanterns have been deployed since 2013. The target is to replace two million kerosene lanterns by 2030," Otu-Danquah stated.
In addition, Otu-Danquah disclosed that in order to deploy 200 mini-grips by 2030, Ghana had received funding from the Scaling-up Renewable Energy Programme (SREP) to the tune of US$17.5 million to implement 55 solar Photo Voltaic (PV)-based mini-grids in the next three years.
While admitting that there were communities that might not be electrified in the near future as a result of difficult terrain, he explained that government policy had provided for the deployment of decentralised renewable energy-based interventions; adding that the current energy access rate in Ghana stood at 80% through grid extension. "In our mini-grid electrification schemes (solar, wind or diesel hybrids), four demonstration mini-grids have been installed to provide energy access in densely populated remote islands and lakesides communities."
To address the question of affordability, Otu-Danquah stated that Ghana had introduced uniform tariff both for grid and off-grid electrification.
"To ensure that the poor majority who live in the rural areas are not disadvantaged, the tariff has been structured such that the high consuming residential households subsidize the low consuming households. Government has a lifeline tariff scheme in place for consumers below 50kWh/month," he stated.
He added that for the 72 percent population that still used firewood and charcoal for cooking, which in turn, have negative effects on the country's forest and health of women and children, "the Ghana SE4ALL Action Plan seeks to ensure the use of clean cooking fuels and efficient end-use devices.
Dr. Bernie Jones, Project Co-Leader of Smart Villages Initiatives, said that the West Africa Regional workshop objectives included what the major barriers of improving energy access for remote rural communities in West Africa are and how public, private and multilateral investments and actions could complement each other to support energy projects aimed at off-grid rural communities.
Others are how local community participation could improve sustainability of off-grid energy programmes and how improved energy access could increase opportunities for gainful employment, improved productivity and new businesses in remote rural communities.
The workshop is attended by participants from West African countries of Nigeria, Benin Republic, Burkina Faso, Cape Verde, Cote d' Ivoire, Ghana, Guinea, Guinea Bissau, Liberia, Mali, Senegal, Sierra Leone and Togo; with others from Canada, France and Kenya.
By Abdallah el-Kurebe