Due to climate change, extreme weather events like heavy flooding or droughts are becoming increasingly more frequent. Observers believe that poor and vulnerable people and countries need to get better protection against these climate-related risks.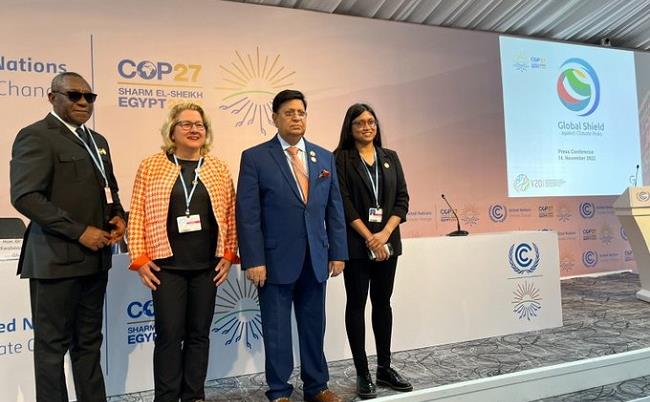 The countries have been calling on the industrialised countries for support, and the G7 countries have therefore agreed with the V20 countries to set up a Global Shield against Climate Risks.
At the official launch of the Global Shield on Monday, November 14, 2022, at the COP27 summit in Egypt, it was disclosed that Pakistan, Ghana, Senegal and Bangladesh would be among the first recipients of funding from the Global Shield initiative, which is aimed at providing funding to countries suffering climate disasters.
The Global Shield, coordinated by G7 president Germany, also aims to provide rapid access for climate-vulnerable countries to insurance and disaster protection funding after floods or drought. It is being developed in collaboration with the "V20" group of 58 climate vulnerable economies.
A statement issued by Germany on Monday listed Bangladesh, Costa Rica, Fiji, Ghana, Pakistan, the Philippines and Senegal as some of the initial recipients of Global Shield packages.
Those packages would be developed in the coming months, Germany said.
In a reaction, Teresa Anderson, Global Lead on Climate Justice, ActionAid International, said: "At COP27 there's huge pressure on rich countries to agree to a financing facility on loss and damage, so that communities on the front lines of the climate crisis can rebuild and recover after disasters. While the Global Shield initiative is a sign that countries recognise the need to do something, this is a distraction.
"Everyone knows that insurance companies, by their very nature, are either reluctant to provide coverage, or reluctant to pay out. But when it comes to loss and damage this is a matter of life and death. An initiative that involves Northern countries subsidising Northern-owned insurance corporations should not be mistaken for loss and damage finance that supports communities on the front lines of the climate crisis."
Stela Herschmann, climate policy specialist, Observatório do Clima, Brazil: "If loss and damage finance was a bank loan, the Global Shield would be the equivalent to let the debtors dictate their terms on how and how much to pay back, and still outsource part of their debt to an insurance company in case they bail. It doesn't work that way on capitalism, nor should it work for climate justice".
Harjeet Singh, Head of Global Political Strategy, Climate Action Network International: "The Global Shield cannot be hyped up as a solution to address the increasing scale of floods, storms and droughts, fuelled by climate change. Disproportionate focus on a new mechanism that does not cover slow onset events such as rising sea levels or loss of language and culture cannot meet the needs of communities on the ground.
"It cannot take away attention from the primary demand of developing countries for establishing a finance facility for Loss and Damage at COP27."
Rachel Simon, Climate and Development Policy Expert at CAN Europe: "The Global Shield cannot be an alternative to the loss and damage finance facility because we need a solution at the scale of the losses, and that means going beyond subsidised insurance. We see the Shield and other new loss and damage pledges coming in, that's exactly why we need to agree this COP on a facility to keep oversight.
"So, we say: 'all of the above'. The EU needs to understand that to move forward ambition in negotiations and support a strong COP27 outcome, it needs to move on loss and damage finance, adaptation, finance and mitigation."
Mohamed Adow, Power Shift Africa Director: "There is a lot of noise being made about the 'Global Shield' but the danger is it as yet another initiative, cooked up by rich country nations, to distract from us getting a proper loss and damage fund set up here at COP27. The funding committed to the Global Shield is not new, or additional. It's just repackaged sums from previously announced commitments.
"Money going to vulnerable communities is welcome but the Global Shield, is the not the all-encompassing protection, the name suggests. It will do nothing for the victims of slow onset climate disasters.
"We can't insure our way to climate protection. After all, climate change is getting so bad some communities will likely be uninsurable unless we see much more drastic emissions cuts."