Germany and France have agreed to continue their close cooperation on climate and species protection.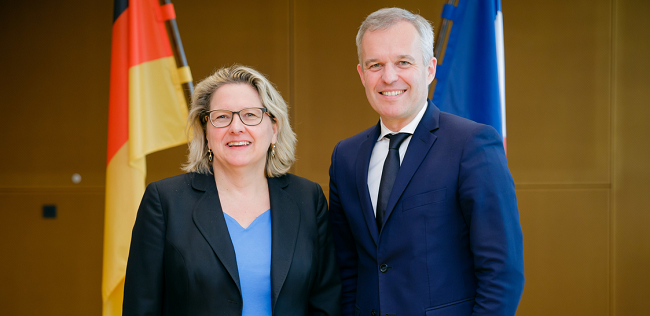 During a visit by French Environment Minister, François de Rugy, to Berlin on Tuesday, April 9, 2019, de Rugy agreed with his host, German Environment Minister, Svenja Schulze, that the Franco-German partnership was fundamental to shaping equitable ecological change in Europe.
The two ministers pledged to work together closely in shaping the European agenda in the coming years, especially during the EU Presidencies of the two countries. France currently holds the G7 presidency. In the second half of 2020, Germany will take over the Presidency of the European Council, which in turn will take over from France during the first half of 2022.
Schulze said: "Climate protection and biodiversity are the survival issues of our time. Many younger people in our two countries also see this. Prosperity and security can only be achieved and maintained through resolute action. Climate protection and sustainability are therefore integral parts of the Treaty of Aachen signed by France and Germany."
The ministers also spoke in an open atmosphere about the challenges facing France and Germany on their path to climate neutrality.
De Rugy submitted: "We can not and will not deny that the upcoming climate changes will have a massive impact on our way of life, to move and feed. Our role as government members is to create intelligent tools to make these changes fair, acceptable and predictable. We believe that a price for CO2 emissions, if well thought out, can be such an instrument."
Last year, President Emmanuel Macron and German Chancellor Angela Merkel decided to set up an inter-ministerial German-French working group on climate change, the "Meseberger Klima-AG", to jointly make progress on approaches and measures in the urgent and ambitious fight against climate change. This includes exchanges with institutional approaches and bodies such as the German Coal Commission, the French High-Level Climate Council, the German Climate Cabinet and the French Grand Débat National.
Schulze and de Rugy want to engage in the ongoing negotiations on the future multiannual financial framework for the use of a significant part of the budget for climate and environmental protection. For example, important EU policies, in particular the Common Agricultural Policy (CAP), should make sufficient contributions.
Both ministers believe that the new CAP must pursue common, ambitious goals, notably in reducing the use of pesticides. Appropriations for environmental measures adopted at EU level should be earmarked. These elements, as well as clear environmental requirements and ambitious national strategic plans, are necessary to avoid any distortions within the EU. Only in this way will a socially just agricultural change be promoted, which will support farmers in their economic and climate-related challenges.
Schulze and de Rugy also agree on stopping the loss of biodiversity. Coalitions will be formed or strengthened at the next meeting of the G7 Environment Ministers. Furthermore, both countries support an ambitious global framework for post-2020 biodiversity under the UN Convention on Biological Diversity (CBD), to be adopted at the next CBM 2020 meeting in Kunming.
Finally, the ministers looked at the European elections at the end of May: "About 80% of climate and environmental policy is being drafted at EU level. Members of the European Parliament fully participate in all this legislation. Participation in the election is therefore of paramount importance to influence long-term decisions. We hope for a strong, pro-European tailwind."