The Global initiative for Food Security and Ecosystem Preservation (GIFSEP) with support of Global Environment Facility's Small Grants Programme (GEF-SGP Nigeria) has provided solar panels to supply electricity to boys and girls hostels in Government Secondary School (GSS), Yaba in Abaji Area Council in the Federal Capital Territory (FCT).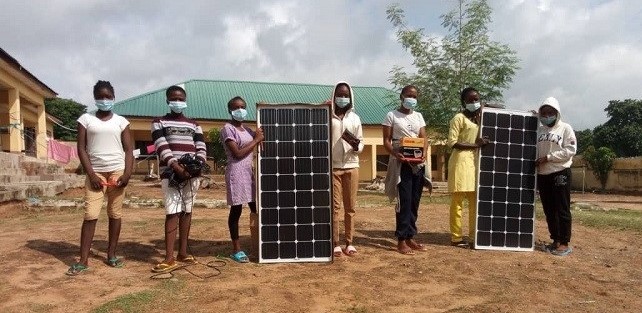 GIFSEP had in 2018 powered a block of classroom with solar to enable the students to study at night. It has now extended power to the hostels so that the students do not live in the dark any longer. The students, who are currently writing the WAEC exams, expressed delight over the development.
The Solar for Schools Initiative is part of capacity building of students to address climate change in FCT schools, according to GIFSEP.
Executive director of GIFSEP, Mr David Michael Terungwa, said the move was triggered by absence of electricity in Yaba town. Yaba community has reportedly been without power since 2016.
Terungwa recalled that when the NGO visited the school to establish an Environmental Club, it discovered that the boarding school had no electricity supply.
"We had earlier powered a block of classrooms with solar so that the students can read and do their assignments at night instead of using candles and lanterns, and now have powered the boys and girls hostels with solar," he said.
The GIFSEP director underscored the need for the country to break free from the use of generators and lanterns and embrace renewable energy. He called on governments and other stakeholders to identity schools with similar issues and power them with clean energy while building the capacities of the students to pursue careers in renewable energy and other related disciplines.
Responding, the principal of the school, Mr Abdulsalam Ismail, thanked GEF-SGP for providing the school with solar facility and promised to sustain its usage for the students' benefit.
GEF-SGP, which is being implemented by the United Nations Development Programme (UNDP) in Nigeria, focuses its attention on environmental management.
Launched in 2009, GEF-SGP supports non-governmental and community-based organisations in Nigeria in efforts to protect the environment, while generating sustainable livelihoods for poor and marginalised people in developing countries.