Stakeholders participating in the Global Environment Facility (GEF) National Dialogue have urged the Federal Government to develop a National Environmental Action Plan and urgently put in place a National Environmental Statistical System.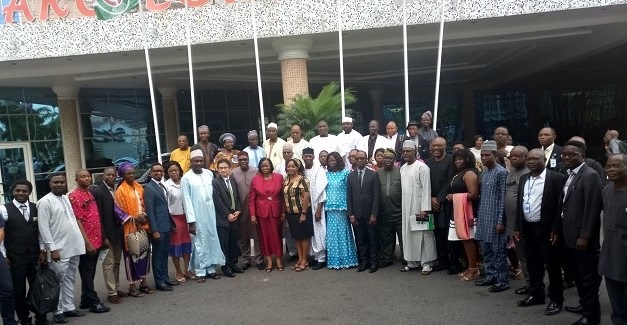 They gave the advice in a communiqué issued in Abuja on Thursday, April 11, 2019 by the Chairman, Communiqué Committee, Dr Stephen Faleti.
The two-day GEF National Dialogue Meeting was organised to facilitate the conceptualisation of projects for implementation in the GEF-7 cycle for GEF CEO's endorsement.
The stakeholders said that the environmental action plan and statistical system would go a long way in providing direction and solutions to address environmental challenges in the country.
They also called for synergy among Ministries, Departments and Agencies (MDAs) to implement environmental projects in the country.
"There is need to have technical needs assessment for climate change in the country.
"There is need for inclusion of representation by organised private sector in future a meeting," the stakeholders said.
The gathering further adopted for further development in the GEF-7 Cycle the "Integrated Environmentally Sound Management of Chemicals and Waste in Nigeria", saying that it is a GEF-able project.
Similarly, "Promoting Clean Energy Technologies for Sustainable SMEs for Development in Nigeria" was found GEF-able for further development, even as the West African Area Coastal Erosion Management Project (WACA), which has a funding of $350 million, was said to be of "great importance to Nigeria".
However, the project on "Integrated Approach to Conserve Biodiversity and Sustainable Land Use for multiple Environmental Benefits in Nigeria" was recommended for a review.
Several presentations were delivered during the technical session to update stakeholders on the initiatives in the environment sector and the Nigeria economy with emphasis on emerging trends and current realities tailored towards the Sustainable Development Goals (SDGs).
The presentations included: "State of the Nigerian Environment", "National Plan on Environment", "Introduction to the Global Environment Facility (GEF) and GEF-7 Programming Directions and Impact Programmes", "Operationalising the GEF", "The Implementation of SGP in Nigeria: Experiences and lessons learnt", and "GEF Sustainable Cities".
Others are "Clean rural electrification for African countries mini-grid program relevant to Nigeria", "Wildlife Tourism for Development: Innovative approaches to accelerate wildlife protection and community development through sustainable tourism", "UNCCD National Focal Point: Strategies and priorities", "UNIDO's focus for GEF-7 in Nigeria", and "Circular Economy".
Besides providing a platform for project submission and country allocation for GEF-7 projects implementation, the meeting was also aimed at developing in line with global programme objectives and design, appropriate response to specific national objectives and priorities tailored towards the country's needs.