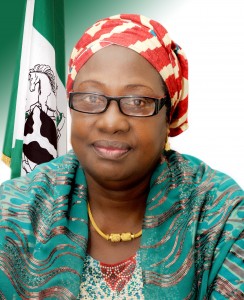 Minister of Environment, Laurentia Laraba Mallam, has commended French oil and gas giant, Total, over its determination to be the first multinational oil corporation to stop offshore gas flaring in Nigeria.
Speaking through her Press Secretary and Deputy Director Information, Ben Bem Goong, from far away Cancun, Mexico, while participating in the Global Environment Facility (GEF) Assembly, the minister noted that the efforts of Total in this direction are worthy of commendation, adding that other oil companies operating in Nigeria should follow the firm's good example and environment-friendly approach.
Acknowledging the devastating consequences of gas flaring on the environment, including global warming and ozone depletion, Mallam asked oil companies operating in the country to see gas flaring as a challenge to the entire world and not just a Nigeria problem, adding that the ecosystem is indivisible.
The minister was reacting to the pronouncement by high level officials of Total at its headquarters in Paris, France where the corporation hosted journalists.
Mallam was in Cancun, Mexico as the head of Nigerian delegation to the GEF Assembly, where she presented the country's position to the 182-member Assembly on the review of the facilities operational structure as well as its general policies and programmes.
Shortly before she left for Mexico, the minister played host to the Mexican Ambassador in her office in Abuja, informing the latter that she would use the opportunity offered by the Assembly to explore possible areas of strengthening bilateral relations between Nigeria and Mexico, most especially on environmental issues such as climate change, biodiversity conservation, sustainable forest management, pollution control and ozone layer depletion substances.
She noted that her resolve to personally lead the delegation was informed by the significance of the 5th edition of the Assembly coming after the successful replenishment negotiations with over 30 countries pledging well over $4.25 billion to fund projects in member countries, which have global environmental importance in the next four years.
According to the minister, the meeting evaluated and reviewed general policies as well as the Facilities' Operational Structure.
Mallam revealed that the GEF is currently the most important source of financing for projects aimed at improving the Global environment.
In his address to the minister, the Mexican Ambassador to Nigeria, the second since the establishment of the Mexican Embassy in Nigeria over five years ago, Ambassador Marco Blanco, said that his country was interested in expanding the frontiers of bilateral relations with Nigeria, maintaining that the environment sector offers a veritable platform for cooperation between the two countries.
Presenting some statistics on his country, Blanco noted that the Spanish speaking country has an estimated population of 120 million people, with 42 Free Trade agreements, adding that Mexico ranks as the 10th most visited country globally.
With similar demographic (population) and economic characteristics, Blanco noted that Mexico and Nigeria have similar environmental challenges which they can confront together for the benefit of their own people.